Traditional Balsamic Vinegar
Learn why traditional balsamic vinegar is different
True traditional balsamic vinegar (short: TBV) is a high end balsamic vinegar and strictly made in Italy (P.D.O. / Protected Designation of Origin) from grape juice that has been concentrated over a low flame (cooked must) and fermented slowly in a series of wooden barrels. Original TBV contains no other ingredients than «cooked grape must» (100% mosto d'uva cotto in Italian).
The balsamic vinegare is produced exclusively in the Region of Modena or Reggio Emilia from passionate culinary enterprises so called «Acetaie» with cooked grape must, through a three-step process: conversion of sugars to ethanol by yeast bacteria then oxidation of ethanol to acetic acid by acetic acid bacteria and, finally, at least 12 years of ageing in barrels of different woods that impart flavor and complexity.
Grapes intended for the production of Aceto Balsamico Tradizionale di Modena have to produce a must with a saccharometer reading of 15° (Oechsle degree) or more, and the maximum production, in the case of viticulture-only holdings, must not exceed 160 quintals per hectare, with a maximum yield in terms of must of 70%. Must intended for the production of the traditional balsamic vinegar is cooked at atmospheric pressure in open containers (Cottura). Cooking, using a direct source of heat, must last for 30 minutes at least while maintaining a temperature of 80° or more.
Blended musts or musts containing additives or substances may not be used. Please note, blending with wine vinegar is not allowed in the production of original traditional balsamic vinegar. After cooking, the must undergoes sugar and acetic fermentation in traditional vinegar production rooms (Acetaie tradizionali), using traditional methods which provide the necessary ventilation and range of natural temperatures. At least 12 years are needed for the optimum maturation, ageing and after care of Aceto Balsamico Tradizionale di Modena. As part of the process the cooked must is decanted several times into numbered and marked vats of different sizes made of wood that is typical of the Region, e.g. oak, juniper, cherry, mulberry and chestnut. When, in the opinion of the producer, the product satisfies the minimum requirements set out in the rules governing production it has to pass a series of analytical and organoleptic tests before being put in special bottles.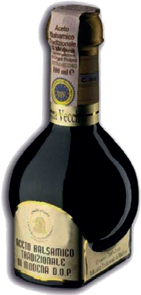 There are only two officially approved bottle shapes. The traditional balsamic vinegar from Modena P.D.O. is shipped only in 100ml bottles (3.4 oz/UK or 3.5 oz/UK) with the shape of a balsamic drop and made of white crystalline glass with a square base. The bottle was designed by Italdesign Giugiaro in 1988. For P.D.O balsamic vinegar from Reggio Emilia the offcially bottles are made in the shape of an inverted tulip.

After bottling a numbered non-reusable label must be placed on each bottle in such a way as to prevent anyone from removing any of the contents without tearing it.
The label of a true traditional balsamic vinegar must contain the following wording: «Aceto Balsamico Tradizionale di Modena D.O.P» for a product from Modena or «Aceto Balsamico Tradizionale di Reggio Emilia D.O.P» for an original product from the province of Reggio Emilia.
Traditional balsamic vinegar of Modena P.D.O. is marketed as «traditional» after 12 years of aging and after 25 years as Traditional extra vecchio.
Traditional balsamic vinegar from Reggio Emilia P.D.O is labeld in three different qualities: argento (lobbster) with 240 — 269 testing points, aragosta (silver) with 270 — 299 testing points and oro (gold) with > 300 testing points.
True traditional balsamic vinegar has the following characteristica:
Dark brown to reddish brown clear colour
Thick and sticky syrupy consistency
Pleasantly acid aroma displaying the smell of the types of wood barrels used
Pleasantly sweet and sour, balanced of all organoleptic characteristics
The earliest official record in which «balsamic» appears alongside the word «vinegar» dates back to the 18th century: a register of wine harvests and sales of the secret ducal cellars for 1747 judging from accounts of the court of the Duke of Modena, Alfonso I d' Este. The tradition of producing a very special balsamic vinegar in the area comprising the province of Modena must go back to 1508 at least. Other sources say, that in the year 1046, the emperor Henry III came to Italy to solve to the problems due to the election of three popes, during a stop in Duchy of Parma, request for gift a special vinegar, produced in Matilda of Tuscany castle in Canossa, that he had heard being the most perfect. In 1965 the Ministry of agriculture has defined the characteristics and methods (industrial or natrual) of vinegar production. Products made like today's traditional balsamic vinegar (TBV) were called natural balsamic vinegar.
The Secrets of Balsamic Modena: from the Cellar to the Table
Balsamic Vinegar of Modena is one of the most iconic Italian gourmet food and, as it happens with Extra-Virgin Olive Oil, it can be pretty hard to tell the difference between quality products and fraudulent imitations.
But don't worry! We had a small conversation with Lorenzo Righi, the owner of Antica Acetaia La Secchia and he revealed us all the secrets to discern great products, how to properly store them and a healthy use of the «black gold» .
What is Balsamic Vinegar of Modena?
Traditional Balsamic vinegar is a reduction of unfermented grape juice, called grape must, which is cooked down and then aged in a series of casks made from different types of wood and without the addition of any other spices or flavorings. Traditional balsamic vinegar is thick enough to coat a spoon and has a delicate balance of sweet and sour. Produced only in Modena or Reggio Emilia, this Vinegar has a protected designation of origin, DOP from the European Union. It is the most expensive you can buy: a gold label vinegar can cost around $200 for a mere 3 ounces!
The most common balsamic vinegar that can be found at most grocery stores is Balsamic Vinegar of Modena (IGP), often written as aceto balsamico di Modena. Look for the letters IGP on the label, which stands for «protected geographical indication».
The Balsamic Vinegar of Modena IGP is produced following the strict regulations. The IGP guarantees that all Balsamic Vinegars of Modena are produced exclusively in the Modena area, with must from grapes grown in the Emilia-Romagna region. Also, the exact percentages of all the ingredients used in commercial balsamic vinegars—grape must, wine vinegar and caramel—are set by law.
Balsamic Vinegar of Modena IGP is way cheaper than the Tradizionale Balsamic Vinegar, therefore it is the best choice if you need a vinegar for everyday use : it's perfect for cooking and dressing but it can also be the main ingredients or the finish touch of your recipe!
Why is Modena the homeland of Balsamic Vinegar?
At this point you may be wondering: why is precisely Modena the homeland of Balsamic Vinegar? Balsamic vinegars and cooked musts were used since the III millennium BC in Asia and Africa. The tradition was exported to Greece, then to Rome where it was used to preserve and dress foods.
Vinegar has been widely used throughout the Middle Ages, but it was in the Renaissance that the fortune of Balsamic Vinegar started and it became an ingredient of the most refined plates and was always present on the nobles' table. Balsamic vinegar was produced not only for table use, but was also used as a medicament and donated as a present to the most important guests. It is said that Lucrezia Borgia, duchess of Ferrara, used the balsamic vinegar during her delivery to ease the pain.
It was the Duchy of Este that gave life to a local and exclusive product such as Balsamic Vinegar of Modena: the Modena and Reggio Emilia areas have a typical semi-continental climate, tempered by the influence of the nearby Adriatic Sea, which is favorable for the development of the native acetic flora. The farmers' ancient knowledge and the innate love for living well and eating well completed the positive situation creating the long-lasting tradition of the Balsamic Vinegar of Modena.
Easy ways to recognize and avoid
a low-quality Balsamic Vinegar
«The first advice is to read carefully the label «, Lorenzo Righi says. «If it it's too long, you are not buying a good product». Industrial Balsamic Vinegar can be rich of chemical additives, artificial coloring, arabic gum and sulfites. As the owner of the Antica Acetaia La Secchia explains, these additives are not forbidden by the law, but are an index of a low-quality, industrial product.
How to store your
Balsamic Vinegar of Modena
Vinegar has been used for decades as a natural preservatives , so we can say that you don't need to follow any special instruction. The most important thing is to always close the bottle with its cork and to avoid the refrigerator or too cold temperatures. Room temperature is preferred, but hotter temperatures does not affect the integrity of the product.
In fact, Balsamic Vinegar does not really go bad. The expiration date that can sometimes be found in the bottle is written in compliance with National Laws, but the shelf-life of Balsamic Vinegar is really long. The thing to remember is that Balsamic Vinegar often becomes cloudy and that's completely normal, the liquid is still safe to consume.
When it comes to checking if it has gone bad, looks for mold first. If you can't find any mold in the bottle, you should taste the Vinegar. The taste you should get is mild acidic with a bit of sweetness (taste a freshly opened bottle of balsamic vinegar, so you will know how it should taste). If the liquid tastes harsh, it's probably bad and should be discarded. If it tastes fine, it's in all probability fine to consume.
How to use the Balsamic Vinegar of Modena
Balsamic vinegar is delicious drizzled over salads, of course. But try it in cooked dishes, too. Balsamic Vinegar holds onto its spicy kick, balancing the rich flavor of meat, poultry, and fish, and adding welcome acidity to vegetables. Because of its acid nature and its persistence, you need just a few drops to make a completely different dish.
The product can be therefore used to give more strenght to simple dishes like salad and vegetables or to enhance the sweetness of wild strawberries or ice-cream . You can also use a good Balsamic Vinegar to make a marinades or to create a healthy dip for fresh veggies. Cheese lovers can instead go for a few drops of Balsamic Vinegar over some bite-size chunks of Parmigiano Reggiano or drizzled over a fresh cheese such as ricotta .
Want to Try a Balsamic Vinegar of Modena IGP?
EatTiamo offers a wide range of Food Box including Balsamic Vinegar of Modena IGP.
We are a team of food lovers with an experienced palate, on the continuous hunt for Authentic Italian Food Delicacies.
Each Month we select the best products, handpack them carefully in Italy and send our EatTiamo Boxes directly to your doorstep, with all the steps to cook a perfect full dinner for 4 people.
We have a network of Italian small producers and we know them by their first name. We've heard their stories and seen the passion that goes into the creation of their Balsamic Vinegar.
balsamic vinegar
The only two ingredients you'll find in a bottle of Metropolitan Market balsamic vinegar are grape must and red wine vinegar, exactly the way we think it should be. Aged together in antique French barrels in the famed Italian province of Modena, the end result is the perfect balance of sweet and savory. Add it to your favorite meat dishes, vegetables, or our favorite—atop vanilla ice cream.
Try our Best of Met specialties at upcoming events and tastings.
"I have been on a hunt for the best balsamic vinegar for as long as I can remember, and I've finally found one that ranks pretty high on the list."
—Heather, founder of Flourishing Foodie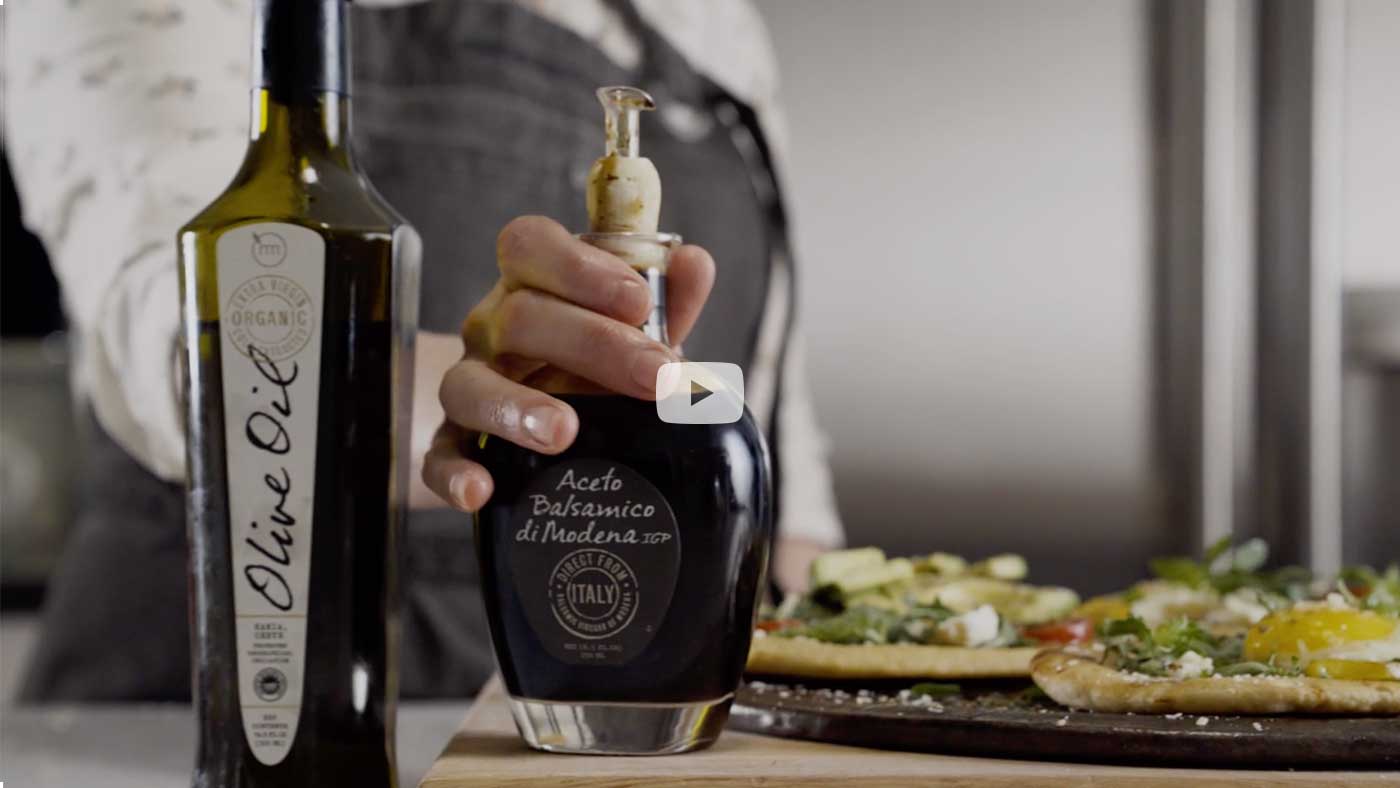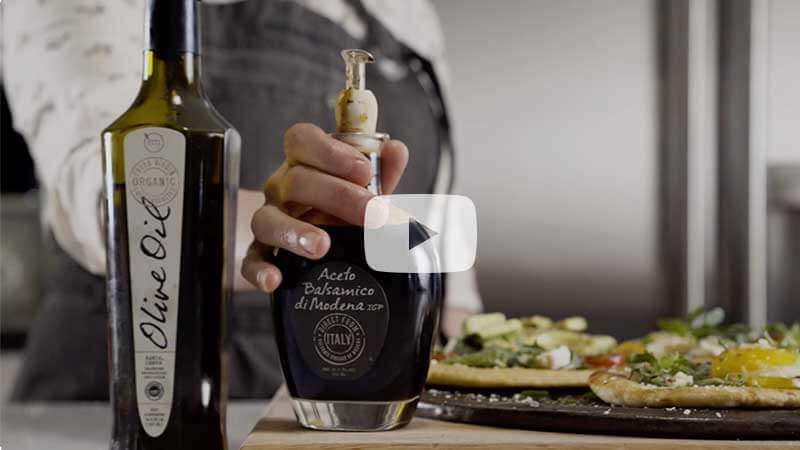 Pantry Essentials
Get a taste of the origins of our olive oil and our balsamic vinegar.
Our balsamic hails from the regal province of Modena, within the Emilia-Romagna region of Italy. Only the highest quality vinegars from this area earn the prestigious Aceto Balsamico di Modena IGP seal, which we proudly display right on our bottle.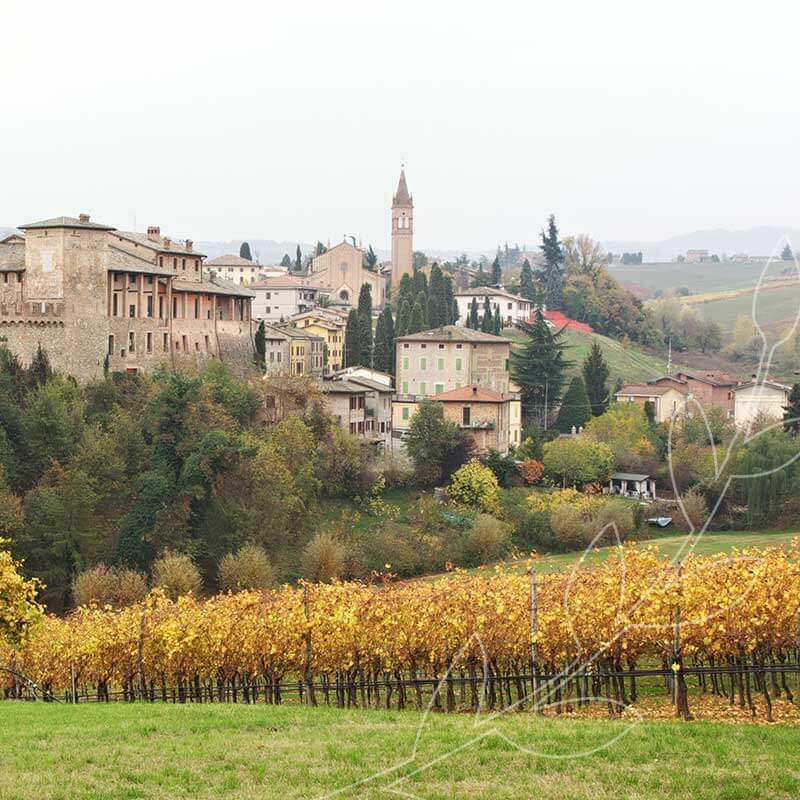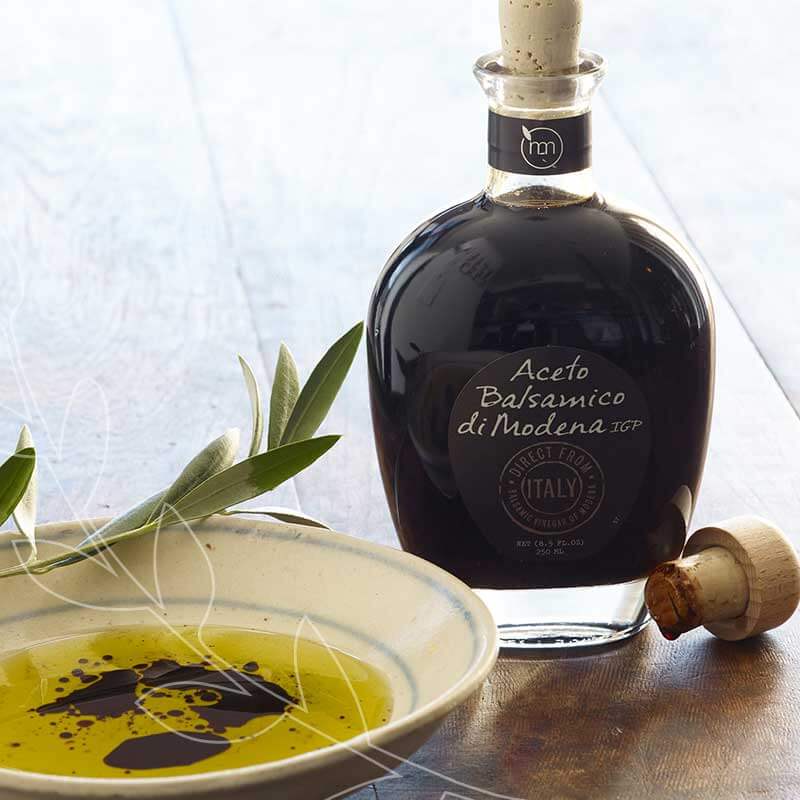 Like many of our private label products, this balsamic is a family affair. One family member is in charge of mixing, and another takes on aging. The two never share the secrets of their role with the other, making each essential to the balsamic and ensuring that they stay together.
A beautiful balsamic deserves a bottle to match. Ours is specially designed with a removable, easy-to-pour glass spout, so you get the perfect pour every time. Tie a ribbon around the bottle and you've got a great gift for the foodie in your life.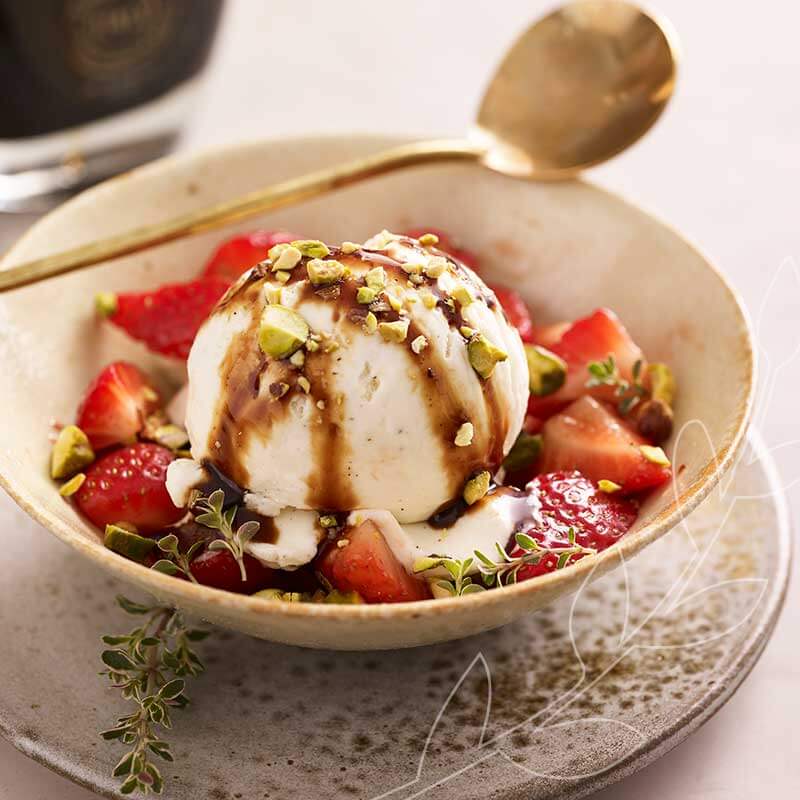 A must-read, get the full story of our balsamic vinegar.
the perfect finishing touch
Drizzle it, swirl it, mix it—the rich, sweet flavor and thick consistency of our balsamic lends itself well to a number of dishes. Check out a few of our favorites and explore our website for more recipe inspiration.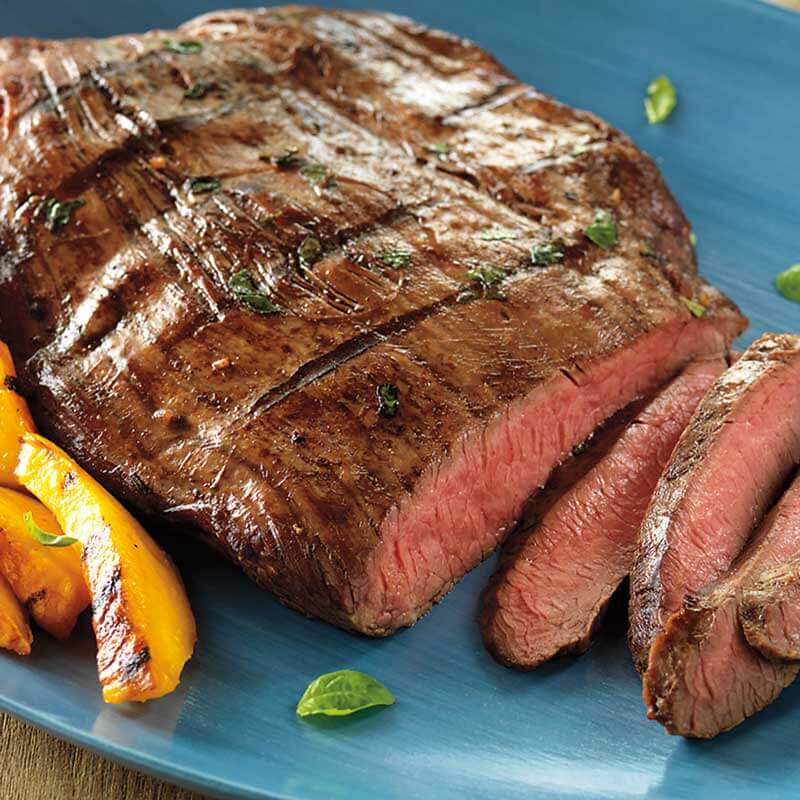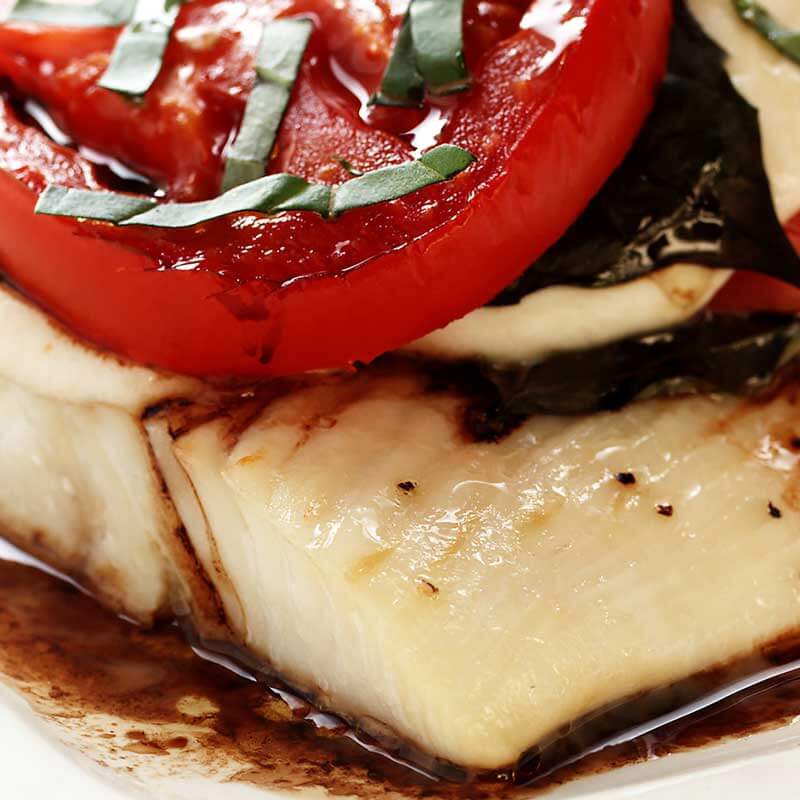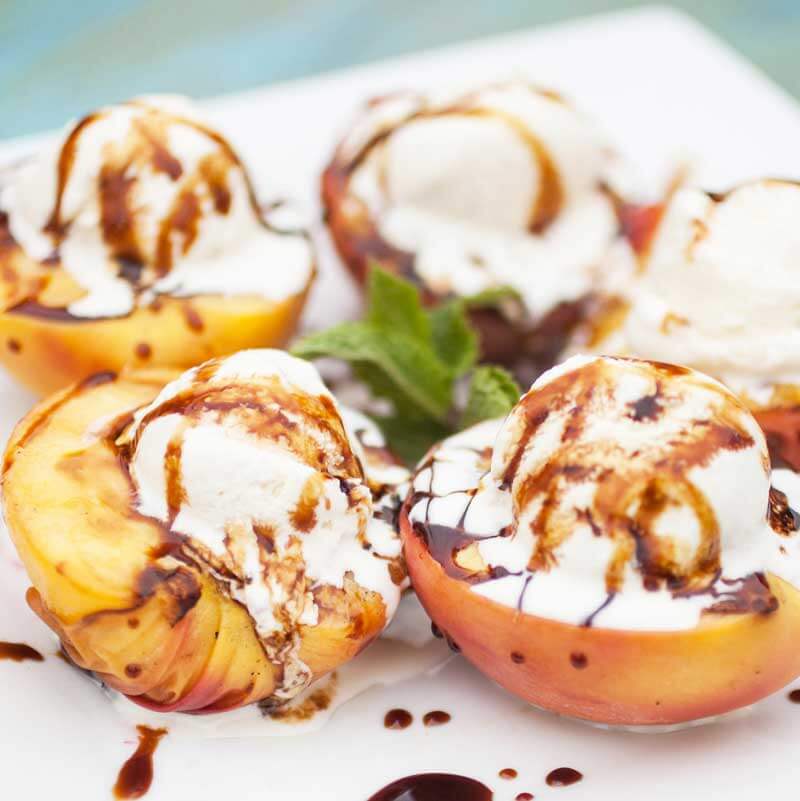 #bestofmet
How do you use your balsamic? We want to see—use #bestofmet or @metmarket to share your culinary adventures.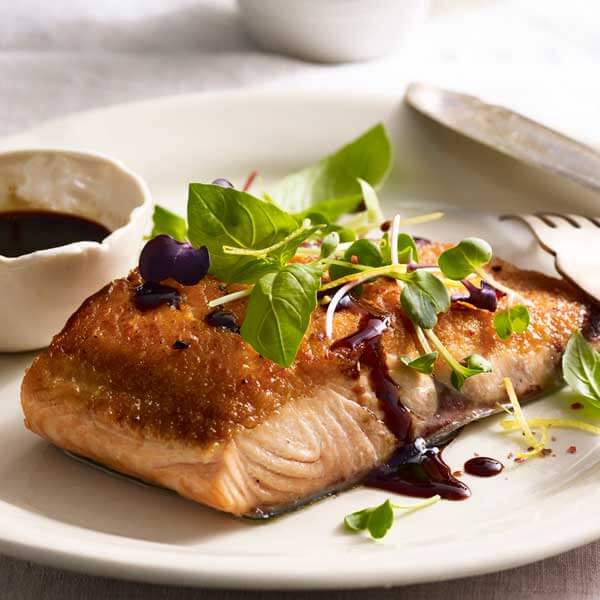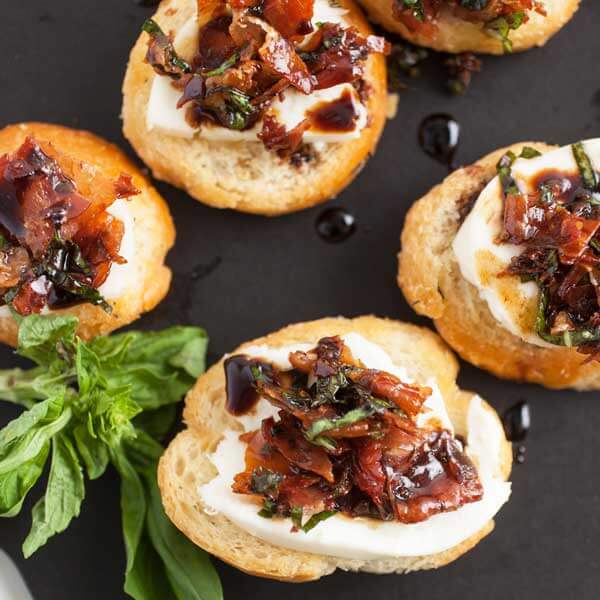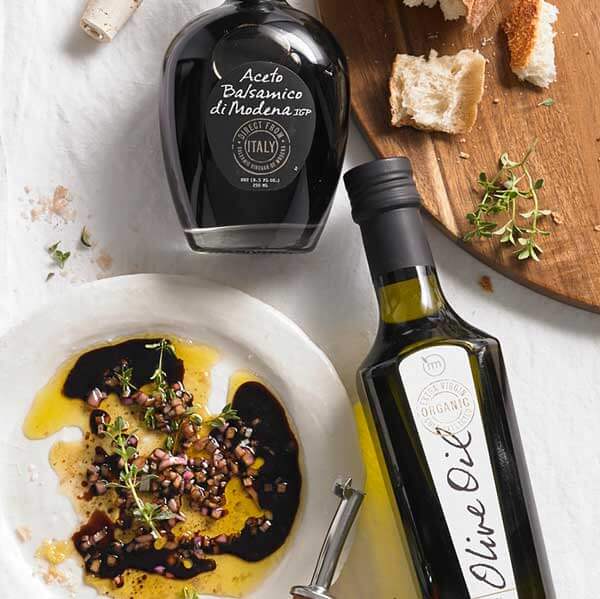 pure and simple
Rich and complex with a beautiful syrup consistency, true balsamic vinegar brings to mind such classic uses as bright vinaigrette dressings and flavorful dips for bread. Metropolitan Market's balsamic vinegar hails directly from Italy. On each bottle, you can find the Aceto Balsamico di Modena IGP seal. This custom stamp proclaims our vinegar's origin in Modena within Emilia-Romagna, the only region in the world allowed to use the seal and one revered worldwide for its sumptuous, sweet-tart vinegars.
The beauty of this distinctive balsamic is found in its simplicity—no colorants, thickeners, or other additives—and it's handcrafted from just two stellar ingredients, grape must and red wine vinegar. Each step of the time-honored production practice is lovingly tended by a multi-generational company; the premium grapes destined for our bottles are first aged alone in antique French barrels; then, they are blended with red wine vinegar and the two are aged further in the same barrels over the span of at least two months.
Along the way of all this mixing and marrying, something magical occurs, resulting in a pure, practically perfect vinegar that enhances every other ingredient it meets. Our customers tell us this true balsamic bears no resemblance to what passes for balsamic in other stores, and it even comes complete with an easy-to-pour spout. So, whether you drizzle it on ice cream or swirl some over salmon, it's sure to be your new kitchen all-star.
Balsamic vinegar of modena
EN

The results of a centuries-old tradition

A journey through the historicity of the Giusti Balsamic Vinegar of Modena collection, the nobility of the Traditional Balsamic Vinegar of Modena, and the innovation of condiments and Gourmet products. Result and pride of skills and experience handed down over four centuries of Giusti family.

HISTORICAL COLLECTION — BALSAMIC VINEGAR OF MODENA

Giusti's most representative collection. Five Balsamic Vinegars of Modena, obtained from diverse recipes and aging processes, classified according to a progressive number of medals.

TRADITIONAL BALSAMIC VINEGAR OF MODENA DOP

The optimal expression of balsamic vinegars. This elixir is the result of aging in the attics of the houses of Modena.

GIFT SETS

A boxed collection, dedicated to admirers for a progressive tasting of the different qualities of Giusti's production.

CONDIMENTS WITH BALSAMIC VINEGAR OF MODENA

A collection of fine Condiments with a rich and aromatic bouquet of aromas

CONDIMENTS — GIUSTI RESERVE

A highly exclusive collection. An elixir produced in extremely limited quantities, in tribute to the antique custom of offering the family's production as a rare and precious gift.

GOURMET CONDIMENTS

Giusti gourmet condiments offer a wide choice of delicate bouquets and more intense aromas, from the sweet freshness of White Condiment, the light acidity of Apple Cider Vinegar, to the sweetness of Saba.

ORGANIC AZIENDA AGRICOLA

A complete collection of products dedicated to the production of Balsamic Vinegars of Modena and condiments exclusively obtained from organic farming.

GLAZES WITH BALSAMIC VINEGAR OF MODENA

The classic and seasoned glazes, transform Balsamic Vinegar of Modena into a reduction. Flavors range from the delicacy of fresh fruits to the unmistakable aromas of truffle and porcini mushrooms.

GOURMET PRODUCTS WITH BALSAMIC VINEGAR OF MODENA

Dedicated to taste enthusiasts, the Giusti Gourmet Collection offers novel forms and novel sweet to savory applications of Balsamic Vinegar of Modena.

VERMOUTH MATURED IN BALSAMIC VINEGAR OF MODENA CASKS

Giusti Vermouth and Giusti Shrub are artisan products subsequently flavored by infusion; the liquor is slowly matured in ancient Balsamic Vinegar of Modena casks selected from the Gran Deposito di Giuseppe Giusti.

Grades of Balsamic Vinegar

Balsamic vinegar has become one of the hottest food trends over the past twenty years, despite it being widely used in Italy for generations. With the increase in demand, lower grades and even imitations have begun to crop up. Use this guide to the varieties of balsamic vinegar to navigate grocery store shelves and know the products you're purchasing.

It's All in the Label

Small differences in the wording on the labels of balsamic vinegar can mean big differences between what is inside the bottle. There are three main grades of balsamic vinegar: traditional balsamic vinegar, commercial grade balsamic vinegar, and condiment grade balsamic vinegar. Several varieties may be available within each grade.

Traditional Balsamic Vinegar

Traditional balsamic vinegar may be labeled as «Aceto Balsamico Tradizionale di Reggio Emilia» or «Aceto Balsamico Tradizionale di Modena.» Vinegar labeled with these names must be produced in either the regions of Modena or Reggio Emilia, Italy. The process by which these traditional vinegars are made takes years and produces an incredibly thick, glossy, flavorful product. Only Trebbiano or Lambrusco grapes are used to make this type of balsamic vinegar. The juice from these grapes is aged in wooden barrels for 12 to 18 years to develop its unique flavor. Traditional balsamic vinegar is the highest grade available and carry the largest price tag.

Commercial-Grade Balsamic Vinegar

Commercial grade balsamic vinegars are mass produced and aged for a minimum amount of time, if at all. These vinegars are made from wine vinegar and often have caramel coloring, thickeners, and flavor added. Commercial grade balsamic vinegar may be labeled simply as «Balsamic Vinegar of Modena» if they are, in fact, produced in that region. Domestic vinegar made in the United States or in other regions can not carry the Modena name. These vinegars still have a uniquely sweet and sour flavor and are perfectly suitable for salad dressings, marinades, and sauces.

Condiment-Grade Balsamic Vinegar

This label is given to a variety of balsamic vinegars that don't quite fit the stringent requirements to be called Traditional Balsamic Vinegar, but have more time and care taken than commercial grades. For instance, vinegars made using the same techniques as Traditional Balsamic Vinegar of Modena, but produced outside of that region may be labeled as a condiment grade balsamic vinegar. Vinegars that are made by the traditional standards and within the designated regions of Italy, but aged for fewer than 12 years are also considered condiment grade. Condiment grade balsamic vinegars may carry the labels «Balsamic Vinegar of Modena PGI,» «condimento balsamico,» «salsa balsamica,» or «salsa di mosto cotto.» These vinegars provide a depth of flavor similar to traditional balsamic vinegar, but at a more reasonable price tag.

Storage of Balsamic Vinegar

Balsamic vinegar can be stored indefinitely in a closed container at room temperature. Although the color may darken slightly and solids may precipitate out, this is normal and does not indicate spoilage. To preserve the best flavor, store between 40 F and 85 F.

Balsamic Vinegar
of Modena PGI

Balsamic Vinegar of Modena (Aceto Balsamico di Modena) differs from wine vinegar in the balanced composition of its constituent elements. Its physical, chemical and organoleptic characteristics are combined in a unique way; in addition, it has a higher content of extractive substances and volatile compounds. This is why there must be a careful choice of the grapes that give Balsamic Vinegar of Modena (Aceto Balsamico di Modena) its unmistakable aroma.

Balsamic History

The practice of cooking the must of grapes can be traced back to the ancient Romans: the so-called sapum was used both as a medicinal product and in the kitchen as a sweetener and condiment.

— Link with Modena

Starting in the 11th century, the production of this very particular vinegar was linked with Modena: over time it would become synonymous of the culture and history of a territory that is unique for its pedoclimatic characteristics and its human knowledge and talent.

Towards the end of the 13th century, the art of vinegar production was cultivated at the Este Court in Modena. But it was only 1747, that the adjective balsamic made its appearance for the first time, in the registers of the cellars of the Dukes of Este: it was recorded as half balsamic and refined balsamic, distinctions which correspond to the current Balsamic Vinegar of Modena (Aceto Balsamico di Modena IGP) e Traditional Balsamic Vinegar of Modena PDO.

— International success and great dynasties

A few decades later – in 1800 – Balsamic Vinegar of Modena (Aceto Balsamico di Modena) began being appreciated and known abroad: it was presented in the most important exhibition events of the time, from Florence to Bruxelles. And it was again in the 19th century that the first dynasties of producers established themselves, some of whom today are among the associates of the Protection Consortium. It was in this period that the production processes were codified.

At the regulatory level, on March 25, 1933 the Minister of Agriculture Giacomo Acerbo acknowledged for the first time, with an official act, the "age-long and characteristic industry of the Balsamic Vinegar in the Modena area". Thirty years later, in 1965, specifications were published in the Gazzetta Ufficiale (Official Gazette) relating to the "Composition characteristics and preparation modalities of the Balsamic Vinegar of Modena". In 1994, the producers took steps to improve the production specifications and to protect the correct use of the Balsamic Vinegar of Modena (Aceto Balsamico di Modena) designation in trade and consumption.

Another milestone in the history of this exclusive and distinctive product, which has become world ambassador for fine Italian eating, was European recognition: in 2009, after a long procedure, the European Commission inserted the Balsamic Vinegar of Modena (Aceto Balsamico di Modena) designation in the register of PGI productions.

Balsamic Territory

The Balsamic Vinegar of Modena (Aceto Balsamico di Modena) production area, according to tradition and in compliance with current regulations, corresponds to the provinces of Modena and Reggio Emilia. In this area there is an abundance of grapes with just the right concentration of sugars and acidity.

— Flavours and knowledge

Modena and Reggio Emilia are located in the plains of Emilia Romagna, along the scenic landscape that follows the course of the River Po and crosses the Secchia and Panaro basins. This is the area of the old Este Duchy: a land rich in history and with a great culinary tradition. It was the farmers' ancient knowledge and the innate love for living well and eating well, together with the pedoclimatic characteristic of the territory, that gave life to a local and exclusive product such as Balsamic Vinegar of Modena (Aceto Balsamico di Modena).

— Optimal climatic conditions

— Unique of its kind in the world

Precisely because it is strictly linked to the knowledge, traditions and skills of local populations, the unique Balsamic Vinegar of Modena (Aceto Balsamico di Modena) is considered a symbol of the culture and history of Modena. This is decreed by the Official Journal of the European Union .

— Vinegar on the table

As symbol of the gastronomic quality of the territory of the two Emilia Romagna provinces, Balsamic Vinegar of Modena (Aceto Balsamico di Modena) is an integral part of the local culinary tradition. As well as being a versatile and intriguing ingredient of countless regional recipes, it is also the main feature of festivals and events dedicated to it.

At the origin of the product

Balsamic Vinegar of Modena (Aceto Balsamico di Modena) is produced from grape must that is fermented and/or cooked and/or concentrated. The grapes comes only from Lambrusco, Sangiovese, Trebbiano, Albana, Ancellotta, Fortana and Montuni vines. To the grape must are added wine vinegar, in the minimum amount of 10%, and an amount of at least 10-year-old aged vinegar. The minimum percentage of grape must is 20% of the total quantity of the product to be sent to processing. The concentration is carried on until the initial mass of must reaches a density no lower than 1.240 at a temperature of 20°C.

Acetification

The processing of Balsamic Vinegar of Modena (Aceto Balsamico di Modena) takes place with the traditional method of acetification through the use of selected bacterial colonies or with the lenta in superficie (slow surface). Next comes the maturation phase: acetification and maturation both take place in barrels, vats or casks made from precious woods, such as sessile oak, chestnut, oak, mulberry and juniper. At the end of the maturation period, analytic and organoleptic tests are carried out on the resulting product by a group of expert technicians and tasters: these tests must be successful for the product be certified as Balsamic Vinegar of Modena.

Labeling

The packaging must bear the words Aceto Balsamico di Modena, together with the Protected Geographical Indication. If the product was aged for more than three years, the packaging also bears the word "Aged".

The Balsamic Vinegar of Modena (Aceto Balsamico di Modena) production specifications require that the assembly of raw materials, processing, maturation and/or ageing in containers from precious wood must take place in the provinces of Modena and Reggio Emilia.

Except for special occasions when Compagnia Del Montale 's Balsamic Vinegar of Modena IGP is a delicious gift, every day is a good day for Balsamic! Outstanding for enriching all sorts of foods: meat or fish, appetizers or fruits, vegetables or desserts. When you drizzle Compagnia Del Montale's Balsamic Vinegar of Modena IGP, there is no room for errors! It is a wonderful seasoning for all culinary cultures because it is the most natural vinegar and its refinement stands in its simplicity. It is the best travel mate for discovering different gastronomies. Like traditional foods of the land from which it originates, try it on Japanese sushi and sashimi, Chinese dumplings, Thai culinary pleasures or Moroccan couscous. Compagnia Del Montale's Balsamic Vinegar of Modena IGP is synonym of style, seduction, elegance, refinement even for your kitchen thanks to its exceptional and unique flavor, expression of creativity, excitement, happiness.

For a proper storage, keep Balsamic Vinegar of Modena PGI in a glass bottle and carefully close it after each use. In addition to this, keep it away from substances that release extremely strong smell.

Compagnia Del Montale srl
P.IVA: IT01497760361
Via W. Tobagi 6A
41049 Sassuolo (MO)
ITALY

Aderiamo ai seguenti Consorzi:

© 2020 Compagnia Del Montale. All Rights Reserved

Chi Siamo
Shop Online
Le Botti
Ricette
Fiere ed Eventi
Privacy Policy
Sitemap

We remind users that this site processes the personal details of users and uses technical cookies to improve the navigation experience and quality of its pages. For further information on cookies, users can consult our Cookie Policy. In continuing to use this site, users declare that they accept our Privacy Policy and permit the use of cookies. Learn more

Privacy Policy

This page describes how the website www.compagniadelmontale.com is managed as regards the processing of personal data of users who access and consult it. This disclosure is made pursuant to Article 13 of Italian Legislative Decree No. 196/2003 – "Personal Data Protection Code".

This disclosure is made with reference to the website www.compagniadelmontale.com only and not also to any other websites that users may access through links

1. TYPE OF DATA PROCESSED

1.1. Surfing data – log files

The IT systems and applications involved in the operation of this website acquire, on a routine basis, some data whose provision is implicit in the use of Internet communication protocols), although such information is not collected for purposes of association with identified persons. The collected data include IP addresses and domain names of the computers through which users access the website, addresses in URI (Uniform Resource Identifier) notation of requested resources, the time of request, the method used to transmit the request to the server, the size of the answer file, the numerical code showing the status of the answer from the server (delivered, error, etc.) and other parameters relating to the operating system and the user's IT environment. These data shall be used for the time that is strictly required in order to obtain anonymous statistical information on the use of the website and to monitor its proper operation.

1.2. Data voluntarily provided by the user

Any sending, freely, explicitly and voluntarily of e-mails to the addresses set forth in this website entails the subsequent acquisition of the sender's address, which is required to respond to the requests made, as well as any other personal data included in the e-mail. Specific summary disclosures shall be progressively referred to or displayed in the website pages that are dedicated to specific services upon request.

1.3 Cookies

No personal data of any user shall be acquired by the website in this regard.
Cookies are not used for transmissions of personal data, nor is any type of persistent cookie or user tracing system used.

The use of session cookies (which are not saved persistently on the user's computer and are deleted when the browser is closed) is strictly limited to the transmission of session identifiers (consisting of random numbers generated by the server) needed to allow safe and efficient exploration of the website.

The so-called session cookies used on this website do not involve other data techniques that are potentially prejudicial to the privacy of user navigation and do not allow acquisition of the users' personal identification data.

2. DATA PROCESSING PURPOSES

The personal data voluntarily provided by users are processed for the following purpose: to respond to any requests for information made by the users.

3. PROCESSING METHODS

Personal data are processed with automated tools for the time that is strictly required to achieve the purposes for which they have been collected.

4. VOLUNTARY NATURE OF DATA PROVISION

The user shall be free to provide his/her personal data by sending messages to the e-mail addresses set forth on the website. Failure to provide the requested data shall prevent the requested service from being obtained.

5. DATA COMMUNICATION AND/OR DISSEMINATION

The personal data of the users whose requests for information are replied to shall be used exclusively in order to respond to the requests made by the same users. No data resulting from the website service shall be communicated or disseminated.

The data processing associated to the services provided by this website is made exclusively by the appointed data processors.

6. THE DATA CONTROLLER

The controller of the processing of data relating to identified or identifiable persons that have accessed this website and/or have sent a request for information is compagnia del montale srl

7. RIGHTS OF THE DATA SUBJECTS

The natural persons that are the subject of the personal data shall have the right, at any time, to obtain confirmation as to whether or not personal data concerning them exist and to be informed of the data content and source, to verify their correctness or to obtain their updating, integration or rectification pursuant to Article 7 of Italian Legislative Decree No. 196 of 30 June 2003. Pursuant to the above Article, the data subject shall also have the right to obtain erasure, anonymization or blocking of data that have been processed unlawfully, as well as to object, on legitimate grounds, to their processing.