Castellina in Chianti
The centre of Castellina in Chianti built up area is the ancient fortress designed in the second half of the fifteenth century by the great architect Giuliano da Sangallo.
Castellina stands more than protected on its hilly bed. The village offers a series of patrician palazzos which are restored military garrisons built first by the associates of the counts Guidi who, originally from Garfagnana , pressed forward into the heart of Tuscany in the attempt to control it either diplomatically or militarily, and later by the Florentines who were constantly on their guard against the Sienese. The centre of the built up area is the ancient fortress designed in the second half of the fifteenth century by the great architect Giuliano da Sangallo.
In Via Ferruccio one gets the feeling of Castellina's former opulence. Right at the end of this street, at the fork leading to the fortress, is the neo-Romanesque church of San Salvatore, rebuilt after being destroyed in the second world war.
A stop-off in Castellina may obviously include tasting at the numerous wine lodges, but you can also get to know the great art of Chianti pork-butchers whose charcuterie is highly prized for its unforgettable flavours.
If we want to find the origin of Castellina in Chianti we have to go far back to the beginning of history. These hills, sometimes wild, often softly rolling, still indicate that mankind has been using them for differenl purposes at least since the 7th century B.C. Towns and settlements founded during this period and located along the most important donkey tracks leading from the mountains down to Castellina in Chianti, are stil] proof of a communication link between the large Mediteranian Etruscan cities like Vulci, Vetulonia and Roselle, as well as the famous tradin' centers of the North like Spina.
Since the 1 3th century A.D. Castellina is part of the «Lega del Chianti», meaning «Chianti Alliance». This was a administrative and military alliance within the state of Florence. Because of its optimal strategic location which guaranteed the control of all surrounding roads, as well as the whole valley of the Elsa river, Castellina retained its military position.
Proof of this is the existence of the imposing fortress, nowadays used by the local town govemment. Castellina was once surrounded by mighty walls and smaller towers, only two gates intermpted the closed defence line. One pointed towards Siena, the other towards Florence. Unfortunately both gates were completely destroyed (the gate towards Florence was destroyed during battles in the second World War). Parts of the defending walls can shall be seen today. Unfortunately most parts have been covered over or been integrated into the later construction of houses.
In 1483 Castellina was once again retumed to the Medici. Due to the surrender of Siena to the troops of Karl Vin April 1555 and the following ammexation of the State of Siena, Castellina in Chianti lost its strategic importance and became a part of the dominion of the Grand Duchy of Toscany.
Castellina in Chianti
Castellina is one of the most charming hilltop villages in the Chianti. Set on the scenic Chiantigiana, it surveys symmetrical vineyards and wooded groves, a landscape dotted with low stone houses and ancient wine estates. Castellina's name reveals its medieval function as a Florentine outpost. In the late 13th century it was the first site of the Chianti League, a group of three Florentine feudal castles, each responsible for a third of the territory. This strategic stronghold fell to a Sienese-Aragonese siege in 1478 but after Siena in turn fell in 1555, Castellina became a picturesque backwater. Tucked into its fortifications, Castellina looks much as it did in the 15th century. La Rocca, the mighty fortress, is now the town hall and home to a small archaeological museum, with tempting wine shops nearby. The circuit of walls encloses a warren of atmospheric backstreets with half-glimpsed views of the Chianti hills.
Get more from To Tuscany
Let us help you discover your perfect villa in Tuscany and Umbria
Let us help you make your trip to Tuscany an unforgettable experience
Essential Castellina in Chianti Information
Top Ten Things To Do
Even if Castellina itself is a key attraction on the Chiantigiana, the Chianti Way also leads to forays to neighbouring Chianti wine hamlets, as well as to San Gimignano, Siena and Florence. Castellina makes a great base for activities as varied as cycling and museum-visiting, wine-tasting and ice cream-slurping. Sample a cookery course or visit a sculpture park: Castellina has it covered.
This is just a taster to the Chianti. See our specific guides to top Chianti towns and villages nearby, all accessed through our Destinations listings, For starters, check out our guides to Gaiole, Greve, Panzano, Radda, Castelnuovo Beradenga. Our additional Chianti guides cover Castagnoli, Volpaia, San Gusme, San Donato in Poggio, and Vagliagli.
Eating & Drinking
Castellina is awash with Chianti Classico. The trademark on bottles of Chianti Classico is the Black Rooster (or Black Cockerel), the historic symbol of the Chianti Military League, depicted by famous artist Giorgio Vasari on the ceiling of the Salone dei Cinquecento at Palazzo Vecchio in Florence. Our recommended wine estates are featured in each of the individual Chianti guides.
As a foodie hotspot, Castellina is peppered with outstanding restaurants, along with appealing food and wine shops. In particular, the ice cream in Gelateria di Castellina is considered the best in the area. Along with a highly traditional attitude to food, the area also offers distinctive delicacies and seasonal dishes, such as truffles and wild mushrooms.
This is just a taster to the Chianti. See our restaurant recommendations below and also see our other guides to top Chianti towns and villages, all accessed through our Destinations listings,
Shopping, Parking & Getting Around
Shopping in Castellina is essentially about good-quality Tuscan food and wine, including edible souvenirs. The ice cream in Gelateria di Castellina is considered the best in the area. Some foodstuffs are so delicious that they might never find their way back home. Stock up on Chianti Classico wines, artisanal honey, bottled sauces and dried pasta. For more shopping options, ranging from ceramics to cashmere at a goat farm, visit neighbouring Radda.
Castellina in Chianti
Capital of the "Sienese Chianti", Castellina is a hilltop town and a popular stop at the southern end of Tuscany's Chianti Wine Road . The town was an original member of the Lega del Chianti (Chianti League) defensive alliance, and retains the look of a fortified medieval outpost.
These days its streets and grand main square are known for their wine shops and craft galleries, rather than armouries, and the castle houses a museum, not a garrison of Florentine mercenaries.
In the Beginning…
Castellina's heyday may have been medieval, but its roots are much more ancient. The evidence lies just outside the town, well signposted from the main road, SS222: the burial site of Monte Calvario . Its mound sheltered by pine trees — and tended by the town museum — has four Etruscan tombs that date back to the 7 th century BC. (Visitors are free to roam the site.) The funeral mound here reputedly inspired a design for a mausoleum completed by Leonardo da Vinci .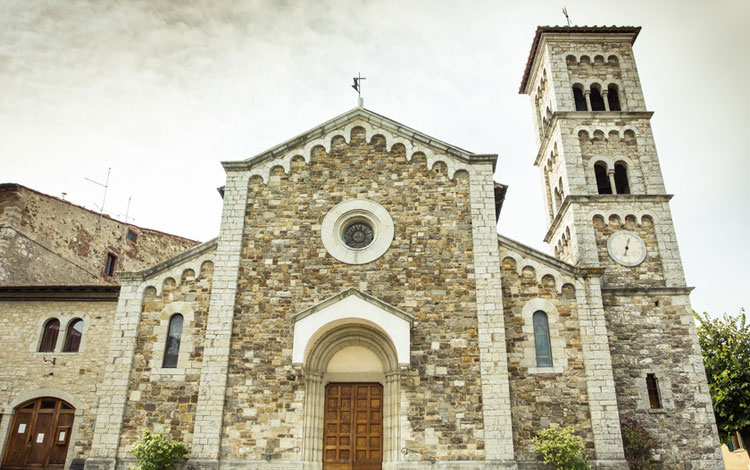 "Modern" Castellina dates at least to the 11 th century , when it was recognized as a fiefdom of Florence — and a key stronghold in that city's long-running rivalry with Siena , which is just 15 miles to the south.
Castellina took on its current appearance during the 15 th century, by which time its proximity to Siena gave it huge strategic importance to the Florentines. Along with Radda and Gaiole , Castellina headed a terziere (unit) of the Chianti League .
In 1452, the town survived a siege by allied forces of the Kingdom of Naples, Spain, Siena and Pope Sixtus IV, before falling to a repeat siege in 1478. Returned to the Florentines in the 1480s, it finally lost its military importance when the Sienese Republic fell in 1555.
Castellina was again fought over, as German forces retreated through Italy in 1944 — when its medieval gate, the Porta Fiorentina , was destroyed by 20 th -century artillery.
Visit This
The town's most unusual feature is Via delle Volte , a subterranean fortified walkway from the Middle Ages. This intact underground street was built by the Florentines in the 1400s, and used for defence and as a lookout. During World War II , it served as a civilian shelter.
The 15 th -century Rocca (fortress) is still standing, having survived the 1452 assault and siege. It now houses the Sienese Chianti's archaeological museum (see below).
The view from its crenelated tower and rooftop walkway stretches for miles in every direction, as far as the Val d'Elsa , Val di Pesa and Siena on a clear day. The view gives you a proper sense of the Chianti countryside. Though famous for its grapes and olives, most of the region is actually covered in forest. It looks peaceful now. but this was the main theatre of conflict between Florence and Siena for centuries.
Inside the castle, the Museo Archeologico del Chianti Senese focuses on finds relating to the ancient wine-making heritage of the area, which dates at least as far back as the Etruscan era .
Along Via Ferruccio, handsome Renaissance-style Palazzo Ugolino-Squarcialupi was built in the 16 th century for the powerful Squarcialupi family, local notables who had remained loyal to the Florentines.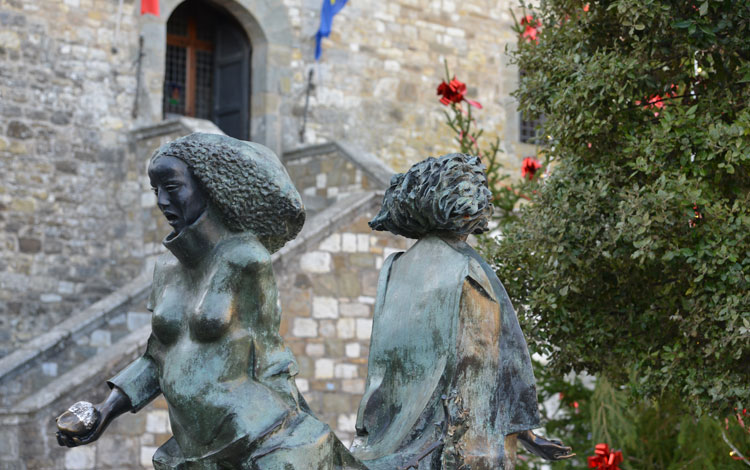 Castellina's streets are known for wine shops and craft galleries, and the castle houses a museum, rather than a garrison of Florentine mercenaries
Eat & Drink This
The Chianti law passed by Grand Duke Cosimo III was the world's first legal classification for wine grapes and celebrated its 300 th birthday in 2016. Castellina, Radda and Gaiole were the three most important towns of this original, official Chianti zone.
In 1924, the wine region adopted the Gallo Nero (black rooster) as its symbol, just as the military Chianti League had done in the 1400s.
Nowadays wines from the heart of the historic Chianti region — awarded DOCG status as one of Italy's great wines — are labeled Chianti Classico , with a Gran Selezione representing the pinnacle of estate wines.
The robust red Sangiovese grape is the main (and sometimes only) ingredient. Cellars in and around Castellina offer sales and tastings, including Castellare di Castellina , Rocca Delle Macie and Podere San Donatino , all in the hills south and west of town.
As well as a thirst for fine wine, you should also bring an appetite. The produce of Chianti is justly famous; this is the spiritual home of la cucina toscana , a "peasant" cuisine where the ingredients speak for themselves, and cooking doesn't involve the complex processes typical of "fine dining".
Classic starters include panzanella , a salad of tomatoes, basil, and yesterday's bread soaked in Tuscan olive oil ; and pappa al pomodoro , a thick tomato soup-stew. The Cinta Senese native breed of pig brings extra sweetness to local salami, sausages and flame-grilled pork steaks.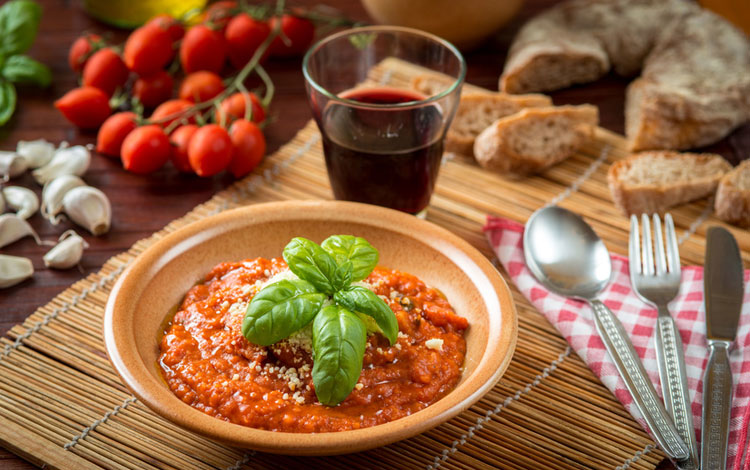 Pappa al Pomodoro
The best local extra-virgin olive oil carries the official DOP label, which guarantees the strictest cultivation and production techniques. They are also marked with a specific vintage (buy the newest).
The Gelateria di Castellina is the Chianti's best ice-cream parlour, with seasonal and creative flavours always on offer.
Castellina's weekly market is on Saturday mornings.
Out of Town: Scenery & Contemporary Art
There are scenic drives in every direction in this part of the Chianti; the SS429 between Castellina and Poggibonsi is especially picturesque.
The outdoor Parco Sculture del Chianti was set up in 17 acres of mixed woodland in 2004. Contemporary sculptures were commissioned from all over the world specifically for the site, where visitors can follow a marked footpath.
Festivals
As you might expect, Castellina's most famous festival centres on food. You probably wouldn't predict the Fiera del Cocomero , however: an all-day market, open-air dining, live music and dancing in Piazza del Comune every August 24. all in honour of the watermelon. ( Cocomero is the local word for watermelon; pretty much everywhere else in Italy, they use anguria .)
Accommodation in Castellina in Chianti
Castellina in Chianti is one of the top destinations for anyone wishing to stay in Chianti near Siena. The small city center, part of the Chianti Classico wine region, is surrounded by vineyards and wine producing estates that also offer accommodation. The city center itself is small but with lots of small shops and restaurants that serve the needs of local residents and visitors alike.
66 Properties found: All Accommodations in Castellina in Chianti
Direct contact
Write directly to the owner, get the best offer!
Online booking
Check availability & Book on property's website
Borgo Di Pietrafitta Relais Add to
Favorites Remove
from Favorites Direct
contact Online
booking
Apartments: 15
Rooms: 8
Location: Castellina in Chianti (Countryside)
Daily price: From € 110 to € 307
Located between Florence and Siena, in the heart of Tuscany the Borgo Pietrafitta Relais is a mix of vacation apartments and B&B where you find a panoramic pool, lush garden areas, relaxing décor and genuine Tuscan hospitality.
La Rocca di Cispiano Add to
Favorites Remove
from Favorites Direct
contact
Apartments: 7
Sleeps: 30
Location: Castellina in Chianti (Countryside)
Daily price: From € 50 to € 230
Weekly price: From € 300 to € 1600
The La Rocca di Cispiano vacation rentals for families & couples, located only a short distance from Castellina in Chianti, boasts spectacular views of the family vineyard, beautiful gardens, panoramic pool and WiFi.
Romitorio di Serelle Add to
Favorites Remove
from Favorites Direct
contact
Apartments: 15
Sleeps: 68
Location: Barberino Val d'Elsa (Countryside)
Weekly price: From € 700 to € 2050
The farmhouse is located in the heart of Chianti and offers 15 apartments furnished in traditional Tuscan style and provided with all of the main services and comforts. Large swimming pool and restaurant at guests' disposal.
Agriturismo Vernianello Add to
Favorites Remove
from Favorites Direct
contact
Apartments: 4
Sleeps: 14
Location: Poggibonsi (Countryside)
Weekly price: From € 609 to € 1029
The family managed farmhouse is located in the Chianti countryside a few kilometers from San Gimignano and Siena. It has 4 comfortable apartments, a beautiful pool overlooking the surrounding hills and a restaurant serving traditional Tuscan cuisine.
Viticcio Add to
Favorites Remove
from Favorites Direct
contact
Apartments: 8
Sleeps: 40
Location: Greve in Chianti (Countryside)
Weekly price: From € 850 to € 1290
Viticcio vacation apartments are immersed in 30 hectares of splendid vineyards near Greve in Chianti, located half way between Florence and Siena. Featuring cozy apartments, WiFi, AC and a saltwater pool.
B&B del Giglio Add to
Favorites Remove
from Favorites Direct
contact
Apartments: 1
Rooms: 2
Sleeps: 4
Location: Tavarnelle Val di Pesa (City)
Daily price: From € 80 to € 120
Weekly price: From € 560 to € 840
Located in a lovely Chianti village, these accommodations offer a charming setting with 2 private rooms & en suite bathrooms featuring lovely views of the countryside. They can be used as B&B suites, or rent the entire apartment for up to 4 persons.
Palazzo Malaspina Add to
Favorites Remove
from Favorites Direct
contact
Rooms: 5
Sleeps: 10
Location: Tavarnelle Val di Pesa (Countryside)
Daily price: From € 80 to € 115
Elegant bed and breakfast in Chianti, located halfway between Florence and Siena. The B&B offers 5 comfortable double rooms, finely furnished and overlooking Chianti hills.
Villa Fillinelle Add to
Favorites Remove
from Favorites Direct
contact Online
booking
Apartments: 1
Rooms: 3
Sleeps: 12
Location: Tavarnelle Val di Pesa (Countryside)
Daily price: From € 180 to € 300
Lush gardens, charming decors & panoramic views. This prestigious medieval Villa has been totally restored for your holiday near Chianti & Florence. It offers two perfect solutions: 4 charming B&B rooms or the entire villa for a deluxe holiday.
Agriturismo La Selva Add to
Favorites Remove
from Favorites Direct
contact
Apartments: 6
Rooms: 3
Sleeps: 20
Location: Siena (Countryside)
Daily price: From € 85 to € 160
The Farmhouse La Selva is located near Siena and is immersed in 38 hectares of green park. These B&B holiday accommodations feature a pool & a hearty breakfast.
Pieve Marsina Add to
Favorites Remove
from Favorites Direct
contact Online
booking
Apartments: 6
Sleeps: 20
Location: Gaiole in Chianti (Countryside)
Daily price: From € 80 to € 230
The warm hospitality of this estate creates an environment where holiday goers can enjoy the Tuscan styled vacation rentals, panoramic vistas, a lovely private pool & romantic spa. Spacious apartments in the heart of Chianti, close to Siena & Arezzo.
Borgo Argenina Add to
Favorites Remove
from Favorites Direct
contact Online
booking
Sleeps: 22
Location: Gaiole in Chianti (Countryside)
Daily price: From € 160 to € 420
A romantic & enchanting way to discover the mysteries of Tuscany at Borgo Argenina, where the B&B and private villas combine the savour perfumes from the kitchen, and the warm hospitality of your hostess for a memorable holiday adventure.
La Casa in Perano Add to
Favorites Remove
from Favorites Direct
contact
Apartments: 1
Sleeps: 6
Location: Gaiole in Chianti (Countryside)
Daily price: From € 180 to € 300
This beautiful farmhouse villa near Gaiole in Chianti features a holiday rental villa for families & friends exploring Tuscany. Great views, a Tuscan atmosphere, attentive service & homey comforts for a tranquil vacation.
Casa Mezzuola Agriturismo Add to
Favorites Remove
from Favorites Direct
contact
Apartments: 3
Rooms: 3
Sleeps: 10
Location: Greve in Chianti (Countryside)
Daily price: From € 80 to € 100
Weekly price: From € 630 to € 850
Three tempting vacation rental apartments for 2 persons overlooking the panoramic landscape near Greve in Chianti. Surrounded by the family olive grove, you have access to a pool, a private garden and day trips all over Tuscany
Belvedere di Viticcio Add to
Favorites Remove
from Favorites Direct
contact
Rooms: 4
Sleeps: 8
Location: Greve in Chianti (Countryside)
Delight in the panoramic beauty of the self catering holiday apartment Belvedere di Viticcio in the heart of Chianti Classico near Greve. The deluxe decor & proximity to small towns & Florence make it the perfect holiday home.
Podere Palazzolo Online
booking
Powered by
Rooms: 13
Location: Castellina in Chianti (Countryside)
Daily price: From € 95 to € 140
Nice farmhouse located in Castellina in Chianti in the heart of the Sienese Chianti. It offers cozy and colored rooms with mini bar and air-conditioning. It has a large garden, a pool and a good Tuscan restaurant.
Full screen Map
We also suggest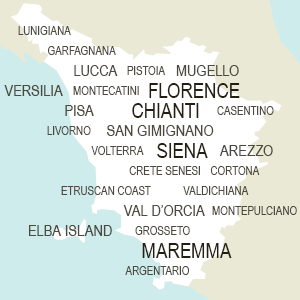 Click on Tuscany's Top Destinations
Tuscany Most Popular Tours
From 79,00 € More info From 60,00 € More info From 55,00 € More info
More about Castellina
Most of Castellina had to be rebuilt after World War II, but the town maintains its charm and several distinguishing characteristics such as Via delle Volte, an underground tunnel built within the defensive walls. From within, guards could observe the surrounding countryside for the approach of uninvited guests. Today, you can walk down the tunnel with its small shops and also observe the same enchanting views — but without the worry of approaching enemies!
How to get there
The town and area is easily reached by car by either following the Via Chiantigiana or «Chianti road» from either Florence or Siena or by exiting at Monteriggioni or Poggibonsi off the Florence-Siena road and following signs to Castellina. The best way to get to Castellina is to drive there; it is unfortunately poorly served by public transportation. The closest train station is called «Castellina Scalo», about 11km from Castellina in Chianti. If you're staying in the countryside, a car is definitely recommended and will make moving around Chianti and its vineyards and wineries very practical.
An interesting shop.
The Enoteca Antiquaria, located in the stately Palazzo Squarcialupi in the center of Castellina in Chianti, is an important wine shop in the entire Chianti region. The wine shop's collection includes Chianti wine from the last 100+ years, thus becoming an important historical archive of Chianti Classico wine itself.
Cosa vedere a Castellina in Chianti: il borgo, la storia, i dintorni
Si viene per il vino, per la bellezza delle sue colline. Si viene per la storia che trasuda dalle pietre delle sue case. Oppure per il patrimonio artistico. Quale che sia il motivo le cose da fare e vedere a Castellina in Chianti sono tante. E si cominciano a cogliere ben prima di essere arrivati. Infatti, già il viaggio verso questa cittadina di meno di 3000 abitanti in provincia di Siena regala da subito mille suggestioni lungo i saliscendi delle colline del Chianti tra cui sembra quasi accoccolata. E da dove ha attraversato i secoli dovendosi difendere e proteggere.
Le cose da sapere e da vedere a Castellina in Chianti
Nell'XI secolo Matilde di Toscana cedette il comune di Salingolpe – come si chiamava un tempo Castellina – alla famiglia dei Conti Guidi. Per la sua posizione strategica tra Siena e Firenze, Castellina fu allora trasformata in una roccaforte e nel corso degli anni, mentre infuriavano le battaglie tra nord e sud, la città fu distrutta, ricostruita e fortificata più volte. E in una di questi rifacimenti pose la sua firma Giuliano da Sangallo, uno dei più grandi architetti ingegnere del Rinascimento, che disegnò la fortificazione dando l'assetto che ancora oggi si nota con le mura a forma di esagono e un camminamento che oggi è quasi sotterraneo e che ancora colpisce: si chiama la via delle Volte.
Fermatevi a buttare lo sguardo dalle feritoie che sbirciano sul panorama del Chianti mentre l'altro lato del passaggio è segnato da porte di cantine e di passaggi che paiono sempre segreti. Da qui si può proseguire lungo la parallela via Ferruccio, la vera strada principale del paese di oggi, dove si trovano negozi, laboratori e locali dove fermarsi mentre si ammirano i palazzi dei potenti dell'epoca come il palazzo Banciardi e il palazzo Squarcialupi.
I segni della guerra. E i reperti del passato
Quindi passiamo senz'altro alla chiesa di San Salvatore che, purtroppo, durante la guerra, è stata devastata ma poi ricostruita e che ospita alcune opere rinascimentali importanti prima di salire alla Rocca e alla sua torre del XIV secolo, da cui si può godere di una splendida vista sulla città e sulla campagna ma non solo. All'interno, infatti, è ospitato il Museo archeologico del Chianti dove sono ospitati gli oggetti ritrovati nella zona circostante e che testimoniano la lunga storia di questo pezzo di Toscana. Abitata sin dalla più antica epoca. Nel museo, ci sono infatti resti dell'età del Bronzo, etruschi e ciò che resta del medioevo di Castellina. E il bello è che per entrare meglio in questa atmosfera sono disponibili dei video e delle postazioni interattive che avvolgono da subito il visitatore.
A questo punto una tappa per un calice di Chianti è doveroso prima di riprendere a scoprire cosa vedere a Castellina in Chianti e nei dintorni. La prima meta è Montecalvario che si trova a breve distanza, raggiungibile con una breve passeggiata. Qui nel 16° secolo fu trovata una tomba etrusca che purtroppo però nel corso dei secoli fu saccheggiata portando via gli oggetti di maggior valore ma resta comunque la struttura formata da quattro sale. Si dice che il carro etrusco che si trova nel museo provenga proprio da qui.
Fonterutoli e la sua leggenda
Uscendo poi da Castellina e seguendo la statale 222 si arriva al borgo di Fonterutoli che storicamente era il confine tra Siena e Firenze. Per giustificare questo limite ovviamente c'è una leggenda che risale al 1200. Vuole il racconto che per trovare il punto dove fissare il confine le due città decisero di far partire, al canto del gallo, dal loro centro due cavalieri: dove si fossero incontrati li sarebbe stato il limite. Ma i fiorentini bararono lasciando un gallo nero senza cibo in modo che questi cominciasse a cantare prima dell'alba. In questo modo il fiorentino partì per primo e percorse più strada arrivando a incontrare il senese proprio qui a Fonterutoli. Da allora il gallo nero divenne il simbolo della lega militare del Chianti e poi anche del vino Chianti classico.
Storie a parte il borgo merita di essere visitato: quello che fu un castello è ora una villa e il borgo è stato restaurato dalla famiglia dei marchesi Mazzei che la possiedono da 24 generazioni ed è ora una delle cantine più celebri della zona. Anche perché proprio un antenato della stirpe, Ser Lapo, firmò un documento nel 1398 dove per la prima volta si parla di Chianti come vino. Voi visitate il luogo, fermatevi a mangiare se volete e poi visitate la necropoli etrusca di Poggino che si trova tra i boschi intorno. Quindi uscite oltre le case e guardate all'orizzonte. In fondo, se è sereno, si vede il campanile di Siena. E le colline del Chianti sono un abbraccio.
Come arrivare a Castellina in Chianti
L'auto è sicuramente il modo più comodo e veloce. Arrivando da Nord e quindi da Firenze percorrere la superstrada Firenze- Siena uscendo a San Donato. Quindi seguire la provinciale 101.
Da Sud, quindi da Siena sempre seguire la superstrada Firenze- Siena uscendo però a Badesse e poi immettersi sulla 222.