Visiting the 5 Towns of the Cinque Terre: The Essential Guide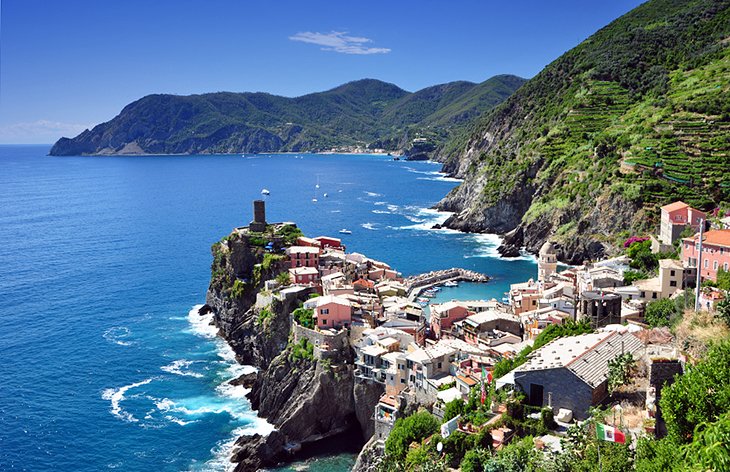 Vernazza and coastline on the Cinque Terre
Few places in Italy are as memorable as the Cinque Terre, a land and culture so unique that it has been protected as a national park and designated a UNESCO World Heritage Site. Perhaps what travelers like best is its almost complete lack of traditional must-see sights such as important artworks, churches, palaces, museums, and castles.
Instead, the ambience and natural beauty are the attractions. Popular things to do include walking the breathtaking paths along the cliffs, pausing over gelato in a café surrounded by candy-colored houses, cooling off with a swim, capturing pictures of some of Italy's best views, and just absorbing the Old World charm.
Until the 1960s, these five towns in the cliffs of the Riviera di Levante, between La Spezia and Levanto on the Gulf of La Spezia, were virtually unknown to tourists and difficult to reach, except by boat. Even today, a car is more of a liability than an asset when visiting the five towns of the Cinque Terre and seeing the coast's attractions.
Trains and boats (in good weather) connect the five towns and run frequently. If you have time to see only a few, Vernazza and Riomaggiore are the most photo-worthy and atmospheric and perhaps the best places to visit in the Cinque Terre.
Note: Some businesses may be temporarily closed due to recent global health and safety issues.
Walking the Cinque Terre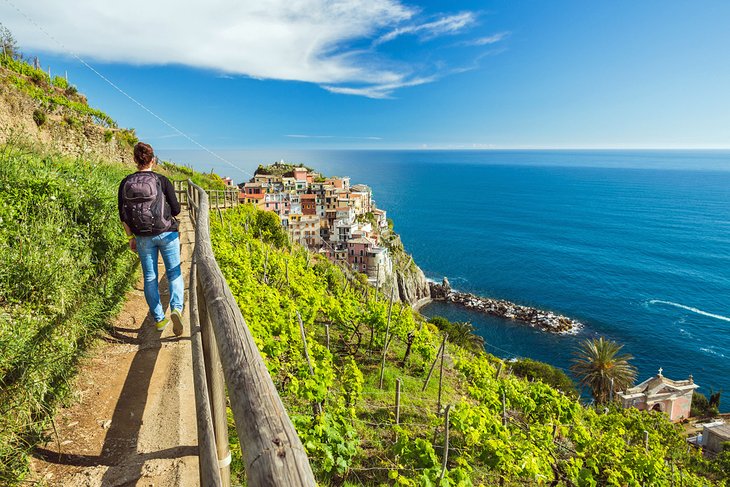 Hiking on the path near Manarola village, Cinque Terre
It's often named one of the best hikes in the world. If you possibly can, walk at least one portion of the path carved in the cliffs between the villages. The shortest and widest of these connects Riomaggiore and Manarola, called, in typical Italian fashion, Via dell'Amore (Path of Love). It's also the most crowded, so if you visit in high season and seek more solitude, walk another section.
Maps are available in park offices (at train stations) where you need to buy an entrance ticket to use the trails. It is also essential to stop there to check the condition of trails and to understand that any or all of them may be closed due to weather or damage.
The prime experience is to hike the entire 12-kilometer Sentiero Azzurro from Monterosso to Riomaggiore, but only for those in good condition with proper boots and no fear of heights. The trail is often very narrow and skirts the face of vertical cliffs with no barriers between hikers and the sea crashing far below.
To walk any section of the trail, you will need to buy at pass. The Cinque Terre Trekking Card gives you access to the paths, while the Cinque Terre Train Card allows you to use the hiking trails with unlimited travel on the Cinque Terre trains. You can buy these at the information desks at every train station in Cinque Terre, Levanto and La Spezia, or online in advance.
1. Monterosso al Mare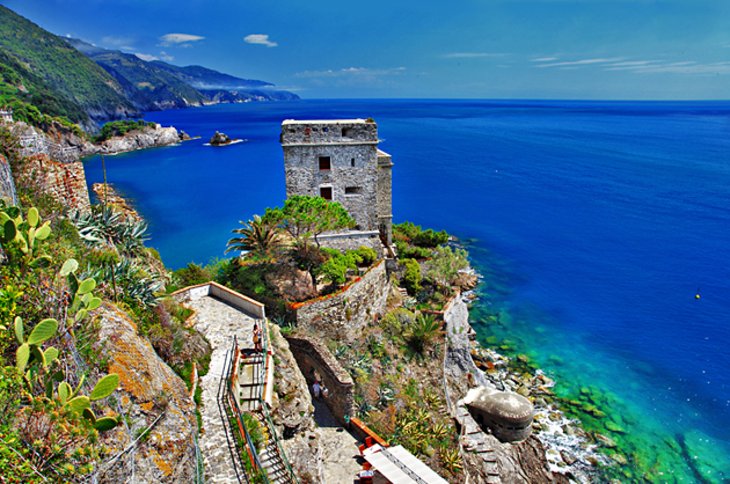 Monterosso al Mare
The largest of the five towns is Monterosso al Mare. It is less photogenic but the only one with a sizable beach. In the old part of the town, near the train station, are the 14th-century Loggia del Podestà and the parish church of San Giovanni Battista, whose campanile was built as a Genoese watch-tower.
On a crag above the sea, the medieval Torre Aurora was built to protect the town from frequent pirate attacks. High above, on the road to Vernazza, the pilgrimage church of the Madonna di Soviore has a painted Baroque interior and spectacular views. The sanctuary serves simple meals of local foods to pilgrims and hikers.
High on a promontory overlooking Monterosso Bay, the Convent of the Capuchin Friars is a monastery founded in 1618. Notable artworks include a Crucifixion attributed to Flemish painter Antoon Van Dyck and Saint Girolamo the Penitent by Luca Cambiaso. The setting and the peaceful, contemplative atmosphere make the convent a restful stopping place.
2. Vernazza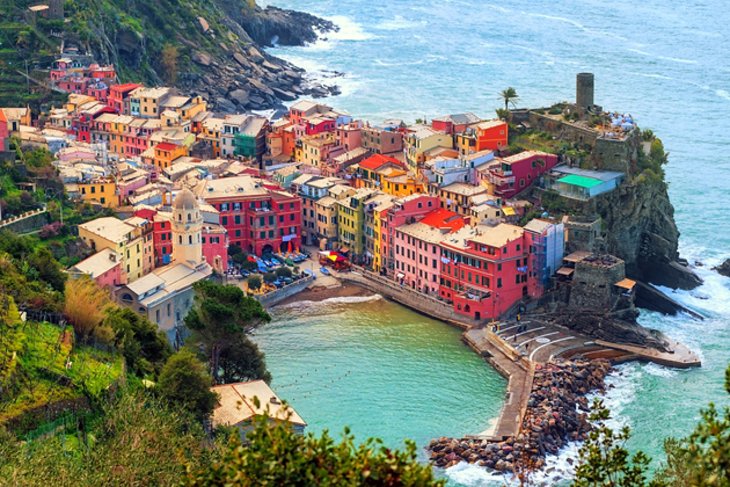 Vernazza
The prettiest of the five villages snuggles in a cleft between rocky cliffs, with colorful houses that seem to be stacked atop each other along its steep, narrow main street. Everything spills into a very pretty little piazza, and below it, little boats bob in the rocky harbor basin when they are not pulled up into the piazza itself.
Scenes don't get much better, nor do places from which to enjoy them. A round tower and a few sections of the old Genoese fortification walls are a reminder of Genoa's war with Pisa in the 1100s.
Even earlier, the town was fortified as a military stronghold to defend the Cinque Terre towns from raids by Saracen pirates. For the best views, climb the steps to the headland opposite the tower and look back.
Each July 20, Vernazza celebrates its patron saint with fireworks and a festival, at the Feast of Santa Margherita.
3. Corniglia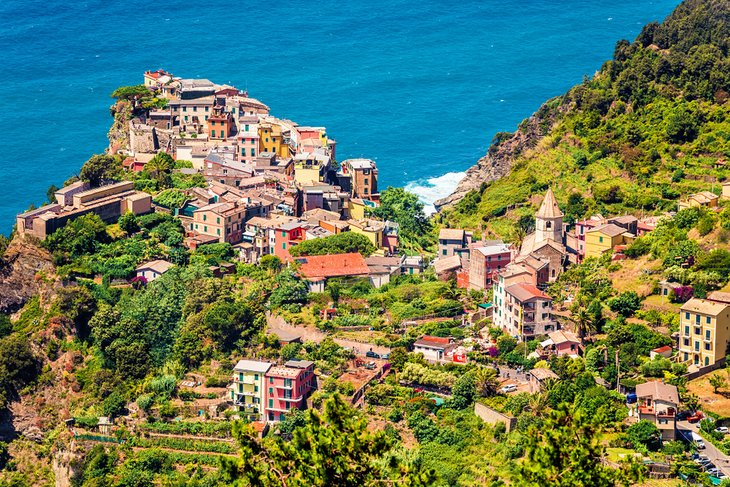 Corniglia
The only one of the Cinque Terre without a harbor, Corniglia stands more than 182 meters above the sea. Also unlike the others, visitors arriving by train must climb up instead of descending into the village.
At the top of the 300-plus steps (which are terraced and not very steep), the church of San Pietro is on the right. It is a good example of the local Gothic style built in the early 1300s, with a painted interior, a 12th-century baptismal font, and a painted altarpiece.
4. Manarola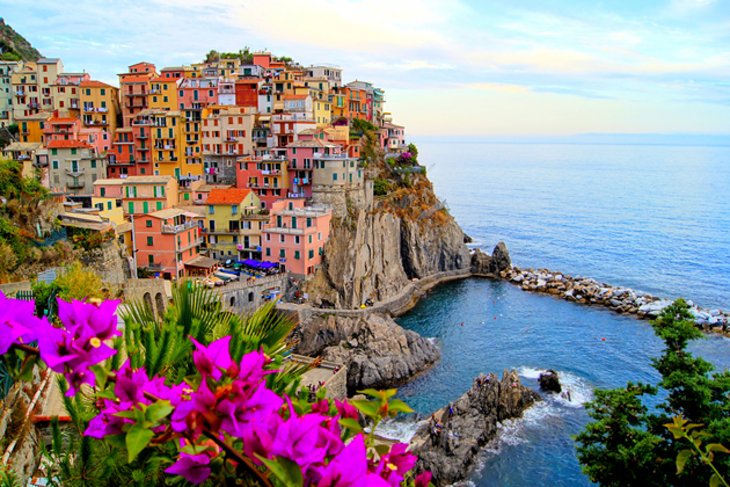 Manarola
Claim a table in one of the little restaurants in the piazza and savor just-caught seafood with a view over the miniature harbor. Above, the 1338 Gothic church of the Natività di Maria Vergine (also called the church of San Lorenzo) has a beautiful rose window of Carrara marble.
Opposite the church are its freestanding bell tower and a 16th-century watchtower. Although few tourists are here to see it, during December and January, more than 10,000 lamps and 200 figures light the surrounding hillsides in what may be Italy's largest Christmas illumination.
5. Riomaggiore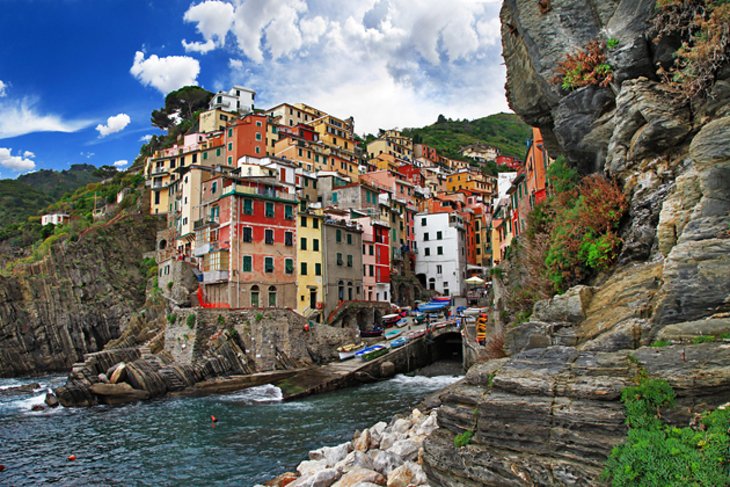 Riomaggiore
At the eastern end of the Cinque Terre, Riomaggiore is the easiest to reach. The 19th-century Italian artist Telemaco Signorini often stayed here and brought the first attention to the village through his paintings, making it the first of the five to be «discovered» by tourism.
Artists and photographers are still drawn to the village, which is caught in the narrow cleft between two steep headlands. Inside the 14th-century church of San Giovanni look for the carved marble pulpit, painted wooden crucifix, and Renaissance triptych.
Northwest of the village, on Colle di Cerricò, a 10-minute climb brings you to parts of the walls and two round towers, all that remains of a 15th-century castle that was later reinforced by the Genoese. As from nearly any height in the Cinque Terre, the views from the castle are spectacular.
If you are driving here from La Spezia, stop at the Sanctuary of Madonna di Montenero to savor one of the best land-based views encompassing the whole Cinque Terre coast.
Tips and Tours: How to Make the Most of Your Visit
You can make the trip to the Cinque Terre from Florence by train, but a far more convenient way if you have only a limited time to spend is to join a full-day tour to the Cinque Terre that includes direct transportation by bus or van. Tours feature the best places to visit in the Cinque Terre and are accompanied by a guide who knows the area, its history, and where to find the best views.
Cinque Terre, Italy
The Cinque Terre (the Five Lands) is a very beautiful National Park in Italy attracting millions of tourists every year.
Main tourist attractions:
— Five very beautiful, vividly coloured villages located on cliffs overlooking the sea.
— Hundreds of walking trails passing through the virgin landscape with very beautiful nature and breath-taking scenery.
— Old castles, walls and other ancient structures.
— Plenty of small beaches that fit every taste, including wild and secluded ones.
Main languages spoken in Liguria are Italian and English. However, French, German or Spanish are also used.
Euro is the only currency in circulation.
Our website describes in detail one of the most beautiful regions of Italy, and gives you tips that can be very handy during your vacation. We recommend you to go through the main pages of our website, and we wish you a great holiday!
Limits and restrictions for visiting the Park of the Cinque Terre in 2021-2022 (limited number)
There has been some discussion recently about whether to impose a limit on numbers because of the constant increase in tourists to the Park. An app which was created in 2017 with a map of the trails (Apple Store, Google Play) will be improved. It is planned that with this app it will be possible to create a virtual waiting list for walking the paid routes in the future. For the moment there is no additional information, nor do we know in which year this will take effect. Keep checking our website because we will be the first to inform you as soon as this information is available.
It is important to note that this limit will be applied only to the paid routes, while you will still be able to visit the villages and the free walking trails with no limitations. Compare the free itineraries with the paid ones on this site: Popular walking trails in the Cinque Terre — bestofcinqueterre.com.
Website was last updated in October 2021.
Monterosso
Monterosso is the largest and the oldest village in the Cinque Terre. It is also home to the largest beach in the region. Even if you are not a beach lover, this is an amazing destination.
More details.
Vernazza
Vernazza, as considered by most of the tourists, is the prettiest village in the region. Unfortunately, after the disastrous 2011 floods this town suffered the most; but any way it has been rebuilt thanks to joint efforts.
More details.
Corniglia
Corniglia — located in the very centre of the region it is the smallest and the highest of the five Cinque Terre villages. Standing here gives you a bird's eye view over the entire National Park Riviera.
More details.
Manarola
Manarola — the second village of the National Park. It is just 500 metres away from Riomaggiore; and all the tourists prefer using the trail hewed in a rock in the 1920s.
More details.
Riomaggiore
Riomaggiore — the first village of the Cinque Terre you come across while travelling from La Spezia. Usually, tourists start their journey exactly from here. Riomaggiore commune is divided into two parts connected by an underground tunnel. The famous Love Trail (La via dell'Amore) begins just here.
More details.
Portovenere
Portovenere — a very wonderful town in the vicinity. Though not a part of the Cinque Terre, but as the entire region, it is also UNESCO protected. Palmaria Island is situated nearby delighting you with its picturesque views.
More details.
The Walking Trails
The Walking Trails are the main attraction of the National Park; there are hundreds of them here. Tourists from all over the world flock here just to walk and experience oneness with nature.
More details.
Beaches in the Cinque Terre
Beaches in the Cinque Terre: there are many beaches here, but all of them are small. Sand can be found only on a few beaches of Monterosso, while others are covered with pebbles and stones.
More details.
Restaurants
Restaurants in the Cinque Terre: details about the best restaurants in every villages of the Cinque Terre, with their map location, photographs and other useful tips.
36 Hours in the Cinque Terre, Italy
This wildly rugged slice of Ligurian coast with its five tiny towns is a delight for hikers, foodies and wine enthusiasts.
A century ago the Cinque Terre were simply five fishing villages on an unforgiving stretch of the Ligurian coast in northwestern Italy. With trains came tourism, and now throngs arrive daily to see it all: the startlingly vibrant color of the Mediterranean, the wildly rugged coastline sliced by scenic hiking trails, and the tiny towns tucked like puzzle pieces into the cliffs. The region has recovered from the mudslides and flooding of 2011 that devastated the towns of Monterosso and Vernazza, and that decommissioned trails along the famous coastal path between the other villages: Corniglia, Manarola and Riomaggiore. But another threat still looms: over-tourism. Possible remedies? Widen the scope of your itinerary to include neighboring towns (Levanto to the north and Portovenere to the south), seek out lesser-known trails and travel off-season when crowds are thinner. The viability of this magnificent but fragile area may depend on such decisions.
36 Hours in the Cinque Terre, Italy
Explore street view, find things to do in the Cinque Terre and sign in to your Google account to save your map.
1. The Path Less Traveled, 3 p.m.
More than just five towns, Cinque Terre is also a national park of nearly 10,000 acres whose natural grandeur is best experienced on a hike. More than 75 miles of trails crisscross this stunning territory, so there's no reason to add to the congestion along the Sentiero Azzurro, the popular coastal path that formerly linked all five villages. Instead, start from Corniglia and follow the red-and-white trail markers into the hills on path 587, where dazzling panoramas await along a less-trodden route. After a sweaty ascent involving a series of steep stone staircases, the path levels off along a ridge where up-in-the-clouds views span the sparkling sea and shrinking town below. When the trail splits, continue toward the hilltop town of Volastra — path 586 to 506 — passing through shady groves and terraced vineyards before eventually descending into the streets of Manarola. The hike takes about two and a half hours.
2. Cliffside Cocktails, 6 p.m.
A strenuous hike ought to culminate with rest and a reward, both of which can be procured at Nessun Dorma. This casual outdoor bar, which opened in 2014, occupies a landscaped terrace on a promontory overlooking Manarola's timeless vista: pastel houses perched on a cliff, fishing boats in a small harbor, tanned teenagers diving off the breakwater into the indigo sea. Claim a table in the gardenlike seating area and order a limoncino spritz, a refreshing riff on the classic that mixes the local lemon liqueur with prosecco and mint in a glass jam jar (8 euros, or about $9).
3. Fresh Catch, 9 p.m.
While most visitors are vying for seats at the same dozen restaurants touted by seemingly every guidebook, shake the crowds by dining at a worthy newcomer in Riomaggiore. Opened last summer, Rio Bistrot is a modern osteria nestled above the village's minuscule harbor serving dishes that showcase the bounty of the local sea. At a table on the stone terrace, watch fishermen haul in the day's catch while savoring buttered toasts topped with plump anchovies from Monterosso (13 euros) and paccheri with fresh mussels from Riomaggiore (15 euros). And book in advance; this spot won't remain undiscovered for long.
4. Good Morning, Vernazza, 9 a.m.
Vernazza is arguably the most photogenic — and popular — village, so arrive early before it's overrun with day-trippers. Pop into Batti Batti', a hole-in-the-wall focacceria, for a take-away breakfast of cheesy focaccia di Recco or pesto-slathered pizza (4 euros each). Then head to the quay to picnic while admiring the lemon-hued church, bobbing boats in the harbor and the pretty main piazza slowly coming to life.
5. Fantastic Voyage, 10 a.m.
The Cinque Terre has fewer historical sites worth exploring than its southerly neighbor, Portovenere, a coastal town so closely related that it falls under the same Unesco World Heritage site designation. From Vernazza, hop on the first Consorzio Marittimo Turistico ferry heading south (30 euros round-trip), and after an hour of marveling at the cinematic coastline from the sea, alight in Portovenere's picturesque marina. Then stroll past colorful houses crammed shoulder-to-shoulder along the waterfront en route to the Chiesa di San Pietro. This striped 12th-century church appears to have grown organically from the rocky peninsula where the crashing waves of the Mediterranean meet the Gulf of La Spezia. Afterward investigate Byron's Grotto, a natural cove nearby named for the 19th-century English poet who, according to local lore, swam from here to San Terenzo across the gulf, over four miles away.
6. Island Lunch, 1 p.m.
There might be no more glamorous way to travel in Italy than by Venetian water taxi, which is precisely the polished vessel that will be waiting in Portovenere's harbor when you reserve a table for lunch at Locanda Lorena. This seaside inn and restaurant, just a few minutes away on the sparsely populated island of Palmaria, has a large covered terrace where well-heeled locals gather at tables draped in white linens to dine on fritto misto, lobster-stuffed ravioli and overflowing platters of grilled fish and crustaceans. Lunch for two, about 120 euros.
Trofie al Pesto at L' Articiocca restaurant, in Levanto. Credit Susan Wright for The New York Times
7. Portovenere Products, 4 p.m.
Before the last ferry departs for Cinque Terre, spend an hour in the shops lining the narrow alleys and steep staircases of Portovenere's historic center. Start on Via Capellini, a stone-paved pedestrian lane where you'll find Olioteca Bansigo, a specialty store celebrating the olive in various forms, from oils and tapenades to beautiful olive-wood serving spoons and cutting boards. Across the street, fragrant basil plants flank the entrance to Bajeicò, a pesto shop selling the local basil-based sauce and related products like fresh pasta. And up a nearby staircase, the tiny ceramics workshop La Bottega di Rena produces pretty handcrafted pieces such as glazed bowls shaped like fishing boats.
8. Seaside Sips, 6 p.m.
Return to Riomaggiore and follow signs for the Via dell'Amore. This romantic cliff-top path, part of the Sentiero Azzurro, is closed indefinitely, but similar views can be found at A Piè de Mà, a cafe and bar in a magnificent location near the trailhead. At a table on the terrace, high above the churning sea, try a glass of Cinque Terre wine from Walter de Battè, a small artisanal producer of the region's floral white blend (6 euros).
9. Ligurian Kitchen, 9 p.m.
Prefer eating among Italians rather than in a polyglot dining room? Then reserve a table at L'Articiocca, a cozy restaurant that opened in 2013 on a quiet side street in Levanto, one train stop north of Monterosso. Once seated on the patio, start with the Levanto specialty gattafin, pastalike fritters stuffed with spinach and wild herbs. Then order the trofie al pesto, twisted Ligurian pasta served in the traditional manner, with potatoes and green beans. The aromatic green sauce is prepared tableside with a well-worn mortar and pestle — a fun flourish that doubles as a free cooking lesson. Service is extremely genial but slow, so use the time between courses to sample rare craft beers produced by small Ligurian breweries, like Birra del Bracco and Genova's Maltus Faber. Dinner for two, about 70 euros.
10. Beach Bliss, 9 a.m.
This may be the Italian Riviera, but the only Cinque Terre town with a wide swath of beach is Monterosso. In high season, rows of umbrellas in a rainbow of colors line the town's spiaggia di Fegina, each hue demarcating a different beach club. Arrive early to claim a spot on the free public beach, or pay for a sun-lounger to spend the morning relaxing in the shade of an umbrella between dips in the turquoise sea.
11. Local Lunch, Noon
Hundreds of steps separate the train station from the center of Corniglia, but the ascent is worth it for a truly local lunch. At Km 0, a small panino shop that opened in 2013, sandwiches and salads are composed of hyperlocal ingredients, like the Pignone panino with Ligurian sausage and fresh stracchino cheese from nearby Brugnato (5 euros). For dessert, walk down the street to Alberto Gelateria, an artisanal gelato shop where Corniglia's own products, like honey and basil, are used to create sensational flavors.
12. Taste Test, 2 p.m.
Maybe it's the short uphill walk, or the lack of ostentatious signage, but few seem to find their way to the tranquil Buranco winery in Monterosso. Hidden amid terraced vineyards and lemon groves, this idyllic estate operates as an agriturismo — a working farm that rents rooms, or in this case, cottages — but impromptu wine tastings are also arranged on the picturesque patio. Glasses of the vineyard's syrah and Cinque Terre white (from 6 euros) are served alongside platters of the property's olives, cheese and pesto crostini. On a wooden lounge chair surrounded by nothing but beatific calm and views of the vines, finish with a pour of sciacchetrà, the Cinque Terre's sweet passito.
Wonders of Italy: The Cinque Terre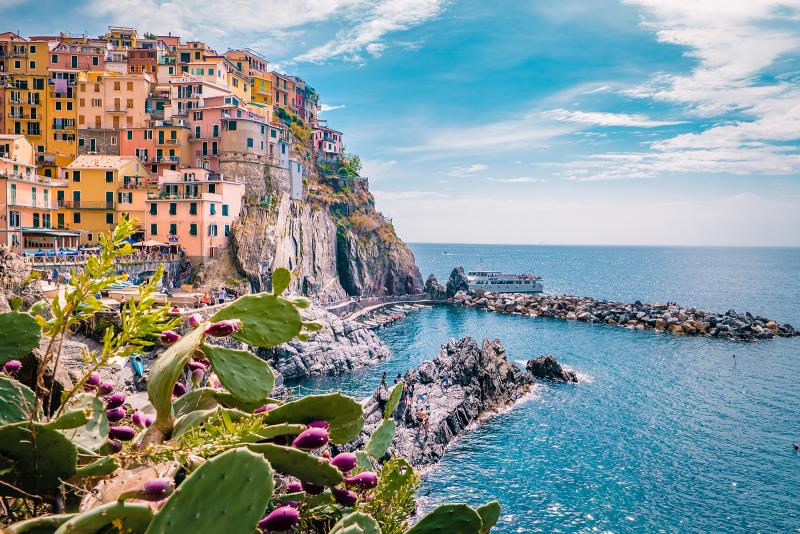 A steep, rocky coastline, small bays and inlets, fishing boats and colorful houses: this is the breathtaking landscape you will find in the Cinque Terre, a stretch of coast on the Ligurian Riviera di Levante in the province of La Spezia. The 'five lands' refer to the five villages, which in ancient times were called 'lands' (terre), of Monterosso, Vernazza, Corniglia, Manarola, Riomaggiore.
Since 1997, the Cinque Terre have been in Unesco's World Heritage list, described as "a remarkable cultural landscape created by human endeavor over a millennium in a rugged and dramatic natural environment. It represents the harmonious interaction between people and nature to produce a landscape of exceptional scenic quality."
Monterosso al Mare is perched on a hill from which it affords a splendid view. Must-sees here are the ancient Castle, the Church of San Giovanni Battista and the Capuchin Convent. The modern area has developed in the lower part of the village, where the beach is; here you'll also find a 14-meter high statue of the god Neptune.
Vernazza is home to a picturesque marina that testifies to its ancient maritime traditions. Visit the Parish Church of Santa Maria di Antiochia, the Sanctuary of the Madonna di Reggio and the Doria Castle, and just stroll its old narrow alleys that descend steeply towards the port square, admiring the arcades and decorated portals.
Corniglia sits on a promontory covered with vineyards and is reached through a long staircase; here's the heart of production of the excellent Cinque Terre wines, including the Cinque Terre DOC, La Polenza and the famous Sciacchetrà. At the bottom of the promontory is Guvano beach, one of the most beautiful of the Cinque Terre: crescent-shaped, framed by a gorgeous natural setting, with a turquoise sea that invites bathing.
Manarola, perched on a rock overlooking the sea, is the village that best exemplifies how humans here have been able to tame this wild and rocky land, building houses and terraces for the growing of orchards and vineyards. Don't miss the views from the promontory of Punta Bonfiglio and the Sanctuary of Nostra Signora della Salute in Volastra.
Riomaggiore is first village you find if you come from La Spezia. It's from Riomaggiore that the famous walking path La Via dell'Amore begins. The path, dug into the rock in the early 20th century, leads to Manarola. Perhaps less known but not less beautiful is the Sentiero Azzurro (Blue Trail), which passes through the Cinque Terre National Park.
Un litorale scosceso e roccioso, piccole baie e insenature, barche da pesca e case colorate: questo è il paesaggio mozzafiato che troverete alle Cinque Terre, un tratto di costa della Riviera Ligure di Levante in provincia di La Spezia. Le 'cinque terre' si riferiscono ai cinque borghi, che anticamente venivano chiamati 'terre', di Monterosso, Vernazza, Corniglia, Manarola, Riomaggiore.
Dal 1997, le Cinque Terre sono inserite nella lista del Patrimonio Mondiale dell'Unesco, descritte come "un paesaggio culturale di straordinario valore creato dall'ingegno umano nel corso di un millennio in un ambiente naturale aspro e drammatico. Testimonia l'armoniosa interazione tra l'uomo e la natura per produrre un paesaggio di eccezionale qualità scenica."
Monterosso al Mare è arroccato su una collina da cui si gode uno splendido panorama. Da non perdere qui sono l'antico Castello, la Chiesa di San Giovanni Battista e il Convento dei Cappuccini. L'area moderna si è sviluppata nella parte bassa del paese, dove si trova la spiaggia; qui troverete anche una statua alta 14 metri del dio Nettuno.
Vernazza ospita un pittoresco porto turistico che testimonia le sue antiche tradizioni marinare. Visitate la Chiesa Parrocchiale di Santa Maria di Antiochia, il Santuario della Madonna di Reggio e il Castello dei Doria, e passeggiate per i suoi vecchi vicoli che scendono ripidi verso la piazza del porto, ammirando i portici e i portali decorati.
Corniglia sorge su un promontorio ricoperto di vigneti ed è raggiungibile tramite una lunga scalinata; qui è il cuore della produzione degli ottimi vini delle Cinque Terre, tra cui il Cinque Terre DOC, La Polenza e il famoso Sciacchetrà. Alla base del promontorio si trova la spiaggia di Guvano, una delle più belle delle Cinque Terre: a forma di mezzaluna, incorniciata da uno splendido scenario naturale, con un mare turchese che invita alla balneazione.
Manarola, arroccato su una roccia a picco sul mare, è il borgo che meglio esemplifica come l'uomo qui abbia saputo domare questa terra selvaggia e rocciosa, costruendo case e terrazzamenti per la coltivazione di frutteti e vigneti. Da non perdere gli scorci panoramici dal promontorio di Punta Bonfiglio e dal Santuario di Nostra Signora della Salute a Volastra.
Riomaggiore è il primo paese che incontrate se arrivate da La Spezia. È da Riomaggiore che inizia il famoso sentiero La Via dell'Amore. Il sentiero, scavato nella roccia all'inizio del XX° secolo, conduce a Manarola. Forse meno conosciuto ma non per questo meno bello è il Sentiero Azzurro, che attraversa il Parco Nazionale delle Cinque Terre.
How to Travel to Cinque Terre
The dramatic scenery and laid-back lifestyle of Italy's Cinque Terre has made this small area a must-see, on par with Florence, Rome, and Venice. Our comprehensive guide will tell you how to get there — and have the best possible trip.
Cinque Terre comprises five small towns (hence the name, which translates to "Five Lands") on the western coast of Italy in the region of Liguria, just above Tuscany. Situated within a national park, it's characterized by terraced agricultural land and colorful towns that appear to rise from the Mediterranean Sea. The area is home to some 4,000 inhabitants, but attracts 2.4 million tourists per year, many of whom arrive by cruise ships at one of two nearby ports. The principle attraction is the beautiful but rugged landscape.
While Cinque Terre is a popular day trip from Florence, the charming towns and hiking trails that unite them deserve a longer and slower visit, so we recommend staying for three nights in order to fully absorb what this territory has to offer.
When To Go To Cinque Terre
• High season begins after Easter weekend and lasts through October. The busiest months are May through August. The high season gets very crowded, so try and book a room at least three months in advance.
• In the low season, rain is common—the rainiest month is November. Rainy days means staying inside and reading a book, so this isn't the best time to visit if you've traveled far to get here. If there are heavy rains, hiking trails may be closed for safety reasons.
• Like most areas in Italy, food and religious festivals take place frequently. Expect fairs for lemons (in May) and anchovies (mid-September), both of which take place in Monterosso al Mare. Each town celebrates a different patron saint.
How to Get There
Part of Cinque Terre's charm is its relative inaccessibility. Local trains best serve the area, while individual car access is highly discouraged. Group travelers tend to arrive by organized bus or boat tours.
By Plane:
• Arriving from abroad, the closest large airport is Pisa International Airport (PSA), considered Tuscany's hub. Serving 20 airlines including charter and low-cost airlines, most flights in to Pisa arrive from other European destinations.
• Pisa Airport has its own train station (Pisa Aeroporto), which has been closed since 2013 in order to construct an automatic train line, though it's expected to be completed in late 2016. There's a temporary bus service from the airport to the nearby Pisa Centrale station: take "LAM Rossa" in the direction "Pisa". Tickets cost €1.20 and can be purchased from the information office at the airport.
By Train:
• Once in Italy, train is the best way to reach Cinque Terre. There's a local train, the Cinque Terre Express, which runs along the coast between the stations of La Spezia Centrale and Levanto. It stops at all five towns (Monterosso, Corniglia, Vernazza, Manarola, Riomaggiore), and you'll need to take it to move between them once you're in the area (unless you opt to hike on the oft-challenging trails). As of summer 2016, the cost of the Cinque Terre Express is €4 per trip. During the off-season, typically from November to March, the cost drops to €1.80. This train does not offer reserved seating.
• Arriving from Pisa Airport: From Pisa Airport, go to Pisa Centrale station and take a train to La Spezia Centrale. This train may be "regionale," (no reserved seating), or "Intercity" or "Frecciabianca" (with reserved seating); prices start at €7.50. Transfer at La Spezia station for the Cinque Terre Express.
• Arriving from Florence or Rome: There are a few direct trains per day from Firenze Santa Maria Novella station to La Spezia Centrale; others require you to change trains in Pisa. Prices start at €13.50. At La Spezia, change for the Cinque Terre Express.
By Car:
• Private car access is discouraged in the Cinque Terre, so if you are driving, park in La Spezia or Levanto, and then take the Cinque Terre Express train into the park area. There are small and expensive parking lots at the top of each village. Some hotels have parking available, so be sure to ask before arriving at your accommodation.
By Boat:
• In the summer (March through October), there are daily ferry connections to Cinque Terre from La Spezia, Lerici, Levanto and Portovenere, though they're suspended in bad weather.
Getting Around Within Cinque Terre:
By train:
• Take the Cinque Terre Express, described above.
By bus:
• A new mini-bus service called Explora5Terre launched in July 2016 and offers service between all the towns. This is a hop-on, hop-off formula with panoramic views, air conditioning, and an audio-guide aimed at individual travelers. Day passes cost €22, with discounts for children.
By boat:
• There are tourist ferry connections with a hop-on, hop-off formula as well. Day passes cost €30, with discounts for children.
By foot:
• The traditional way to move between towns is by foot. Access to the main hiking trail (592) that runs along the coast is only permitted with the Cinque Terre Card, but note that the first two sections, connecting Riomaggiore to Manarola and Manarola to Corniglia, are closed due to landslide (a reopening date has not been set). In-land trails are available but require a good level of fitness or hiking expertise.
Travel Tips
• Cinque Terre is famously crowded, so be prepared for crowds during your visit. The good news is that the tour groups congregate on the central streets of each town from about 10 a.m. to 4 p.m. during the high season. In the early morning and evenings, the pace slows down and you can experience the small Italian town feeling. Even mid-day, it's possible to get away from the crowds on some of the side streets.
• Be prepared to walk. These towns are pedestrian-friendly only. Not only are there virtually no options for assisted transportation, but the towns themselves are hilly, so it's common to encounter stairs—sometimes a hundred at a time. If you have mobility problems, consult with your chosen accommodation to find out if they are accessible and if they can assist you with bags or any other needs.
• Due to the vertical nature of the towns, keep in mind that you'll have to carry your bags from the train station to your lodging. Wheeled bags are adequate to get from the bottom to the top of the town when you arrive by train, but be advised that at some point, you will encounter stairs. If you're on a longer trip and have the possibility to do so, consider packing a backpack and leaving your large bag somewhere to pick up later.
Again, since the towns are walking-oriented and hiking is a major activity here, we cannot stress enough the importance of packing appropriate footwear, like running or hiking shoes. People dress casually here, though stores and restaurants expect clients to cover up before entering.
• Be aware that the hiking trails that are currently open are quite challenging. Many visitors have a romantic vision of walking between the villages, but unfortunately, the easiest stretch of the coastal trail is closed for the long term due to landslide. Trails can and should be taken at your own pace, and though being a regular hiker is not a prerequisite, being active and in good health is. Paths often begin with a strong vertical and can be narrow at times. Always hike with a bottle of water, and in the summertime, a hat and sunscreen. There are no services along the trail.
• The National Park sells an optional Cinque Terre Card that provides access to the coastal hiking trail (the others are free access), occasional guided tours, and free Wi-Fi. The card also comes in combination with a train pass. Prices vary based on length of stay and activated options.
• Internet and cell service are not guaranteed in this area. Cinque Terre Wi-Fi, included in the Cinque Terre Card, services the train stations. There's no citywide Wi-Fi beyond there, and some cell phone carriers don't offer coverage, so be sure to check with your accommodation in advance if having internet access is essential to you.
Where to Stay in Cinque Terre
The five villages are very close to one another, so there's no need to stay in a different one every night; choose one town as a home base, and visit the others by train or foot. Keep in mind that most of the lodging available in the Cinque Terre is in privately run B&Bs and room or apartment rentals. There are few hotels, so you'll want to start your search early and check for availability at multiple properties. Expect a bit of lag time on requests made by email.