Understanding «Made in Italy» Fashion: Spotlight on Gucci
"Made in Italy" is considered a national Italian economic resource. That's because Italy is a major sourcing hub for luxury fashion brands. From Prada to Armani, the "Made in Italy" label is one of authenticity and quality. While some luxury brands are branching out further into the global market, others are staying true to their original, mostly Italian manufacturing process. Let's take a closer look at the world famous Italian-produced brand, Gucci.
Gucci's Start in the Luxury Fashion Market
Gucci is an Italian brand founded in 1921, featuring luxury clothing and accessories. Founder, Guccio Gucci began his career designing leather goods for the upper class. Before he knew it, his work became synonymous with elegance and wealth. From equestrian gear to high-end fashion, Gucci has survived the test of time and aged into one of the oldest and most respected Italian apparel and accessories brands. From $500 belts to $3,000 dresses, Gucci is known for creating high quality bold designs and signature staple pieces for the luxury market – and consumers absolutely love it.
What Makes Gucci So Expensive
The reason for Gucci's expensive price tag is the result of having a Made in Italy brand centered by craftsmanship, lux materials, and artistry. Consumers want the latest and greatest apparel with the best quality possible – and Italian manufacturers can easily complete this task, even for massive global markets like the one Gucci serves.
Gucci relies on a wide variety of sumptuous fabrics and textiles for their products. Coated canvas (GG Canvas), Guccissima leather, and Flora are examples of what you're wearing when you buy from Gucci. These raw materials are used to complete the manufacturing process in a more ethical way, keeping the brand's masthead out of controversy. From technical designs to the distinct "G" logo, Gucci's fed into the admiration high-end shoppers have for Italian luxury brands praised worldwide.
Gucci Men's Fall 2020 Fashion Week
Taking Advantage of the "Made in Italy" Brand Mark
Gucci embraces quality over quantity, which is another reason they can set their products at a higher price. By staying loyal to the Italian heritage and manufacturing process, Gucci strategically attracts consumers that typically wouldn't buy such high-end fashion items, as well as traditional luxury shoppers.
Gucci is now one of the most desirable brands, especially amongst millennials. In 2018, Gucci sales almost doubled due to the rise in demand. Gucci understands the power behind well researched trend forecasting, which has helped the brand continue to appeal to new demographics, without sacrificing either price or quality. Over time, the brand has maintained a solid price point while carefully breaking through their own exclusivity barrier through a natural evolution of their brand.
Gucci is a contemporary brand that pays close attention to detail and knows how to stand out in the market. The brand reputation has given prestige to both the name and its "Made in Italy" classification. As long as Gucci executives continue with their current creative approach, futuristic sourcing innovations, and individualistic designs, the brand will continue to top the list of global luxury fashion brands.
Доставка товаров из США
Главная трудность шопинга в интернет-магазинах Соединенных Штатов — оплата и пересылка. Языковой барьер, сложности с конвертацией валют, таможенные затруднения — все это препятствует комфортным покупкам за рубежом, что приводит к неприятным сюрпризам в виде огромных тарифов на пересылку и разочарованию в связи с долгой доставкой из США. Справиться со всеми проблемами разом поможет наш сервис. Shopotam организует выкуп товаров и их пересылку в Россию с 2010 года. На сегодняшний день сервис доставляет заказы из любых американских интернет-магазинов. Даже из тех, которые нацелены на внутренний рынок и не высылают товары покупателям из других стран.
Задача посредника Шопотам — организовать выкуп и последующую доставку товаров из Америки. Это особенно актуально, если вы собираетесь приобрести лот на аукционе как можно дешевле. Наши специалисты знают, как сэкономить на аукционных торгах. Просто сообщите ссылку на нужную вам вещь, а мы примем участие в торгах и приобретем ее по подходящей для вас стоимости.
Доставка из США — не единственная наша миссия. Сегодня наш сервис сотрудничает с тысячами магазинами из 200 стран, где вы так же беспрепятственно можете выбирать товары без ограничений. Для этого скопируйте URL изделия и вставьте его в поле «заказ по ссылке». Не забудьте указать важные характеристики приобретаемых вещей в соответствующих полях. Если все сделано правильно, то сотрудники Шопотам сразу же приступят к работе: выкупят нужную товарную позицию и организуют ее доставку из Америки. Одновременно будут решаться сопутствующие вопросы: перевод и конвертация валют, обсуждение с продавцом нюансов заказа, заполнение таможенных документов и прочие трудности, возникающие при зарубежном онлайн-шопинге. Отныне благодаря Shopotam обеспечить доставку товаров из США можно будет быстро, недорого и с комфортом! Все вопросы решаются дистанционно через личный кабинет на сайте посредника. Теперь вам не придется отказываться от покупки только потому, что продавец не сотрудничает с международными перевозчиками, из-за чего доставка из Америки в Россию ранее была невозможной.
Сколько стоит доставка из США в Россию
Стоимость доставки из США в Россию зависит от составляющих этой услуги. В расчет берется расстояние пересылки, размеры отправления и выбранный тарифный план. Чтобы хотя бы примерно представлять, какие будут транспортные расходы, воспользуйтесь калькулятором, указав данные параметры. На выбор покупателей предоставляется два тарифа: «Базовый» и «Беззаботный». Первый включает только самые необходимые опции, без которых доставка товаров из США невозможна. Комиссия при этом минимальна — отличный выбор, если вы хотите как можно больше сэкономить. Подключив «Беззаботный» план, вы бесплатно получите множество дополнительных услуг, с которыми шопинг в Соединенных Штатах станет еще более приятным и безопасным. Например, вы сможете защитить свои отправления, проверить их перед отправкой, а также получить несколько изображений содержимого посылок.
Оплачивая доставку из Америки в Россию, учтите, что за комиссию сервиса придется заплатить отдельно. Она начисляется за выкуп, обработку и оформление заказов. Как правило, ее размер составляет определенный процент от стоимости вещей. Но если вы заказываете в одном магазине несколько изделий, то вы неплохо сэкономите, так как комиссия за каждый следующий товар будет ниже. Всем клиентам Шопотам за потраченные на комиссию сервиса средства начисляются бонусы, которыми потом можно расплатиться за услуги посредника при очередной покупке. За счет этого доставка товаров из Америки станет еще более доступной! Чем чаще вы покупаете в Штатах, тем больше получаете бонусов и экономите на покупках.
Доставка из США в Россию будет еще дешевле, если пользоваться различными промокодами и участвовать в акциях сервиса. Следите за новостями в соответствующем разделе, где нередко появляются сведения о возможности снизить расходы на пересылку. Почаще заходите на сайт, чтобы не пропустить выгодные спецпредложения для зарубежных покупок, или оформите подписку на рассылку новостей!
How To Spot Fake Gucci Bags: 7 Ways To Tell Real Purses
Emma Stone and Margot Robbie are just two of the countless high profile celebrities who are fans of Gucci.
The Italian luxury brand, which is getting a creative reboot under creative director Alessandro Michele, boasts some of the most gorgeous bags and purses that any fashionista would want in her closet.
Italian made Gucci shoulder bag in GG Supreme canvas with snakeskin trim and embroidered flower and bird appliqués
Gucci's global popularity makes the brand a target of counterfeiters. If you have been considering buying a Gucci bag from an unauthorized reseller, make sure to closely inspect the bag first.
In November 2019, NBC Washington reported that handbags worth over $2.2 million were seized earlier the same month at Washington Dulles International Airport. The counterfeited brands included Chanel, Prada, Dior, and Gucci.
"Counterfeit consumer goods fund transnational criminal organizations, are manufactured in unregulated facilities and with substandard materials that may potentially harm American consumers, hurt our nation's economy, and steal revenue and brand integrity from U.S. businesses and trademark holders," Casey Durst, director of Customs and Border Protection's Baltimore office, said in a statement.
While not all unauthorized online stores sell fake Gucci bags, you should always be on guard when buying designer goods online.
Where to Buy Authentic Gucci Bags
For fellow bag lovers who are looking to add a new Gucci handbag to their collection, the following retailers offer the best selection of Gucci products online.
To protect yourself from scammers, follow the seven steps below to authenticate a Gucci bag.
1. Check Dustbag and Authenticity Cards
All Gucci purses come with high-quality dust bags and authenticity cards. Typically, Gucci dust bags are colored light honeycomb or dark brown with a printed GG logo or the Gucci brand name.
While some counterfeiters also place their merchandise in dust bags, boxes, or paper bags, the imitation packaging will exhibit signs of cheap materials and production. Check the symmetry and spacing of the Gucci label on the dust bag.
2. Logo Should Be Precise
The logo displayed on the exterior of a Gucci bag may differ depending on the style. The standard Gucci logo is the interlocking Gs, which are typically placed on the front of the bag, flap or closure.
Inspect the Gucci logo for accuracy
Some styles do not have this gold-plated GG logo. In some cases, the Gucci name is embossed or printed on the leather.
3. Monogram Pattern Should Be Clear and Symmetric
Gucci bags with the monogram style will feature the familiar pattern that has the double GG logo. Inspect the consistency and spacing of this pattern.
Fake Gucci bags often feature irregularities upon closer inspection
The G on the left should be forward facing and the G on the right should be backward and upside down. Fake Gucci monogram bags will have irregularities upon closer inspection, like different sized Gs and inconsistent spacing.
4. Body Made From Premium Leather
Authentic Gucci bags are made from the finest quality leather and materials. While fake leather may seem genuine from afar, there will be several signs of fabrication. Cheap, synthetic leather will look unnaturally perfect because it is machine-made.
Authentic Gucci handbags and purses are made from the finest quality leather and materials
Real leather, on the other hand, will have imperfections on its surface grain. Genuine leather also has a natural musty smell, while fake leather bags will have a chemical or plastic smell. Fake leather will also feel rubbery, instead of smooth and buttery.
5. Interior Tag Should Be Intact
Real Gucci handbags have a heat stamp or label stitched on the interior that displays the brand name with the registered trademark and the words "Made in Italy."
Look for a heat stamp or label stitched on the interior
The underside of this label shows the bag's serial number or production code, which is usually two sets of 6-digit numbers (for new models). On some bags, especially vintage models, the number sequencing may vary.
6. Hardware Should Be Top Quality
The hardware is an important part of any designer bag. Counterfeiters sometimes perfectly copy the look of the bag but fail to replicate the hardware.
Genuine Gucci bags feature high-quality hardware
Genuine Gucci bags feature high-quality hardware that is either gold plated or made of solid metal. Zippers, locks, and other metal hardware will have a Gucci engraving that displays a high-quality finish with even spacing and proper font.
7. Stitching Should Be Even
The stitching on Gucci bags can also be used to feature the brand's logo or as a design pattern on the bag's leather.
Fake Gucci bags often feature broken threads and uneven stitching
Watch out for broken threads and uneven stitching, which are typical signs of counterfeited goods.
Real Gucci purses exhibit perfectly even stitching
Real Gucci purses exhibit perfectly even stitching, done with thread that's the same color as the leather.
Questions and Answers
How much do Gucci bags cost?
The cheapest clutch and belt bags retail for $650 at Farfetch while the most expensive Gucci handbag is a Sylvie medium top handle bag made from genuine crocodile leather. It retails for $34,000!
Are real Gucci handbags made in Italy?
Yes, all Gucci handbags, purses, and wallets are made in Italy. Gucci watches are manufactured in Switzerland. Fragrances, cosmetics, and glasses are produced in other European countries and in Japan. The company does not make anything in China.
All authentic Gucci handbags, purses, and wallets are made in Italy
During the pandemic in 2020, Gucci had to put its manufacturing activities on hold in Italy. At the time, the brand had six production sites between Tuscany and Marche.
What is the classic Gucci bag?
The Sylvie shoulder bag is Gucci's signature shape from the '60s and '70s. The first Sylvie bag was crafted in 1969 with chain and buckle closure detail.
Is Gucci cheaper in Italy or France?
No, prices on Gucci are the same around the world. Discounted products are exclusively available through Gucci's physical outlet locations. Unfortunately, sales are not offered online.
For more tips on how to authenticate a Gucci bag, watch the video below.
Celebrity Fans of Gucci Handbags
Kylie Jenner shows off her infamous booty with her Gucci "Sylvie" embossed satchel
Vanessa Hudgens and Kendall Jenner casually stroll through town with their oversized and mini Gucci bags
Small red Gucci purses instantly perk up Jenna Dewan Tatum and Margot Robbie's white outfits
Olivia Culpo, Emma Stone, and Kourtney Kardashian are only a few household names who love their Gucci
Stylish but also functional: the smaller Gucci purses and backpacks are great for running errands
Victoria's Secret beauty Karlie Kloss tours China with her Gucci "Gg Marmont" bag in black
DO YOU LOVE SHOES? Win free shoes, organize your shoe closet, see the latest styles + more
How to Spot a Real (or Fake) Gucci Bag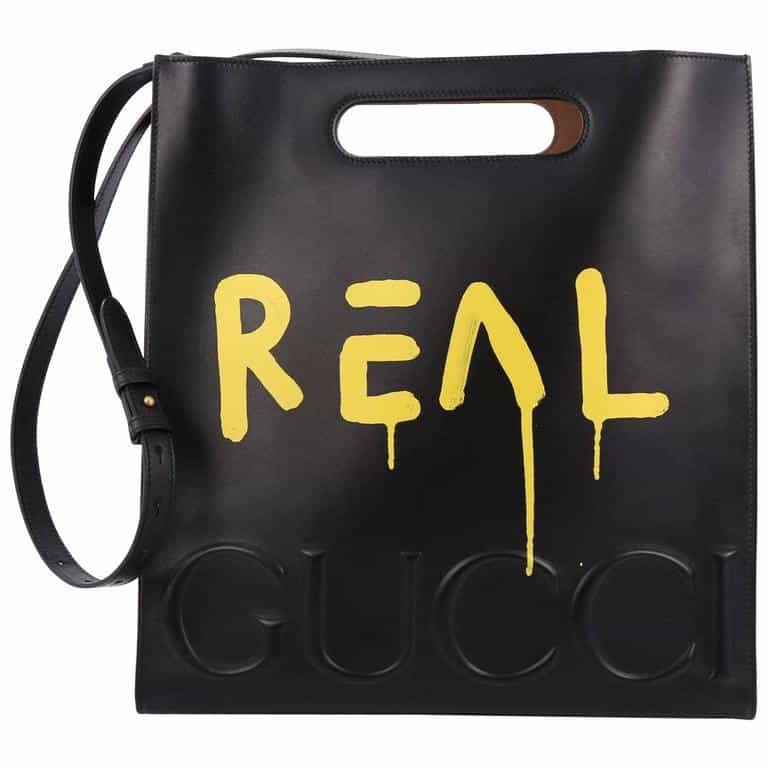 GucciGhost tote, Fall/Winter 2016. Offered by Trendlee
Gucci is "the hot bag right now," says Alexandra Ridolfi of A Second Chance Couture. "If we have the newer ones, they fly off the shelves." Since 2015, when designer and creative director Alessandro Michele first sent his youthful, fanciful visions down the Gucci runway, the 96-year-old brand is once again fashion's darling.
But long before Michele, this heritage brand was a favorite of counterfeiters. The brand's 2016 partnership with Trevor Andrew, a.k.a. GucciGhost, who made his name tagging New York City with his own take on the iconic Gucci logo, raised some eyebrows at the company — until it raised sales.
"The Real bag (above) was a rather clever take on the ever-growing market for counterfeit goods," says Julie Zerbo, founder and editor in chief of the Fashion Law website. "It's always interesting to see the law make its way onto the runway because, to be frank, the creative aspects do not exist in a vacuum, completely separate from legal and branding concerns."
And what about your purchasing concerns? To help you avoid falling victim to the purveyors of fakes, we've compiled expert advice on identifying imposter Gucci bags.
Controllato Card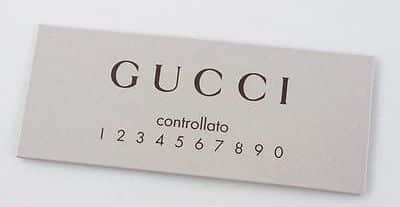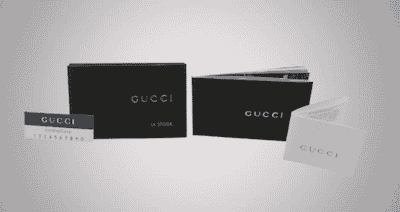 Top: An authentic controllato card. Photo via ebay. Bottom: A fake card and accompanying materials from a site for replica Gucci bags.
The controllato card comes with every new Gucci bag, evidence the bag was inspected after completion. (Controllato means "checked.") While every new genuine Gucci bag will have one, its existence does not authenticate the item.
Counterfeiters who can copy a leather bag can also duplicate a simple paper tag. And it is simple; real controllato cards have the Gucci logo in the center, below that the word "controllato" in lower case letters and below that are the numbers 1234567890. Then again, a fake might have this, too.
Gucci Tag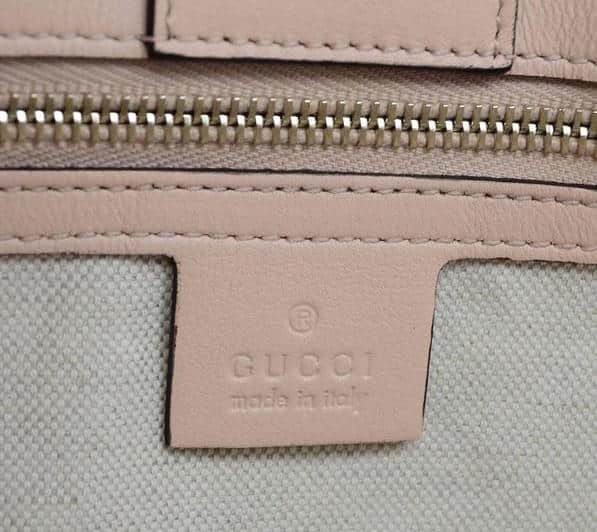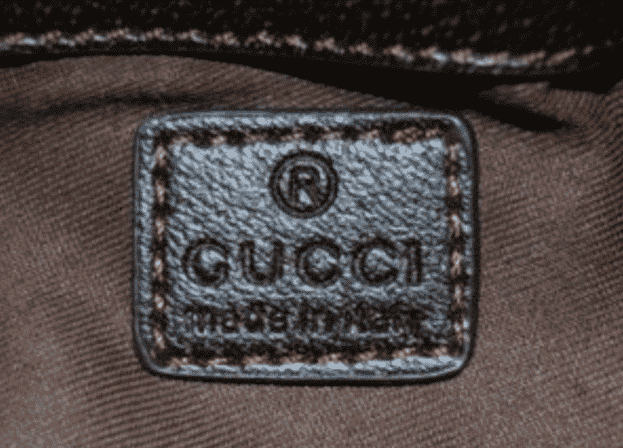 Made where? Be suspicious If you can't read a stamp. And note the boxier "G" and "C" fonts on the real tag at top.
Inside a Gucci bag, there should be a leather tag stamped with ®, Gucci and "made in Italy." Check this stamp it carefully for the correct font, spacing, spelling and positioning (generally centered). Also, keep in mind clarity of the stamp itself; real Gucci heat stamps are clear and even, not muddled.
Serial Number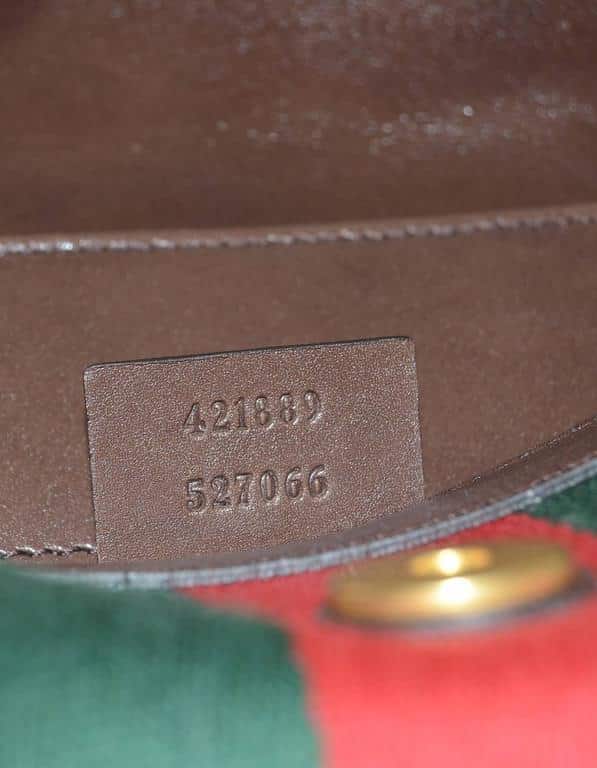 Image courtesy of A Second Chance Couture
The serial number is on the reverse side of the leather Gucci tag. It's usually made up of two numbers, one atop the other. (It may also be formatted in one continuous line.) On top is the style number and below is the supplier code. The number "corresponds to a style," explains Ridolfi. "If you Google that number and what comes up is a totally different bag, that's a red flag."
For example, "if you have a hobo, and when you search for that number you get a wallet, clearly something is off." The serial number should include a total of between 10 to 13 numbers. Because these are heat-stamped into the leather, they present a good opportunity for to assess quality. As with the tag, if the stamp is uneven, sloppy or hard to read, it's time to reconsider.
Hardware
For Gucci, every bit of hardware is a branding opportunity — one that won't be wasted with sloppy, imperfect engraving. Image courtesy of E-Collectique Luxury Resale
Cheap hardware is a common indicator of a replica Gucci bag. Real Gucci hardware is sturdy, solid metal, and most pieces — from the snaps to the zipper — are cleanly engraved with "Gucci." Fake hardware may be lightweight, chipped, flakey or even rusted. Restorers are extremely careful with real Gucci hardware. "You would never want to put real Gucci hardware on a fake bag," explains Anthony "Tony" Rago, of Rago Brothers Shoe and Leather Repair.
Know Your Gucci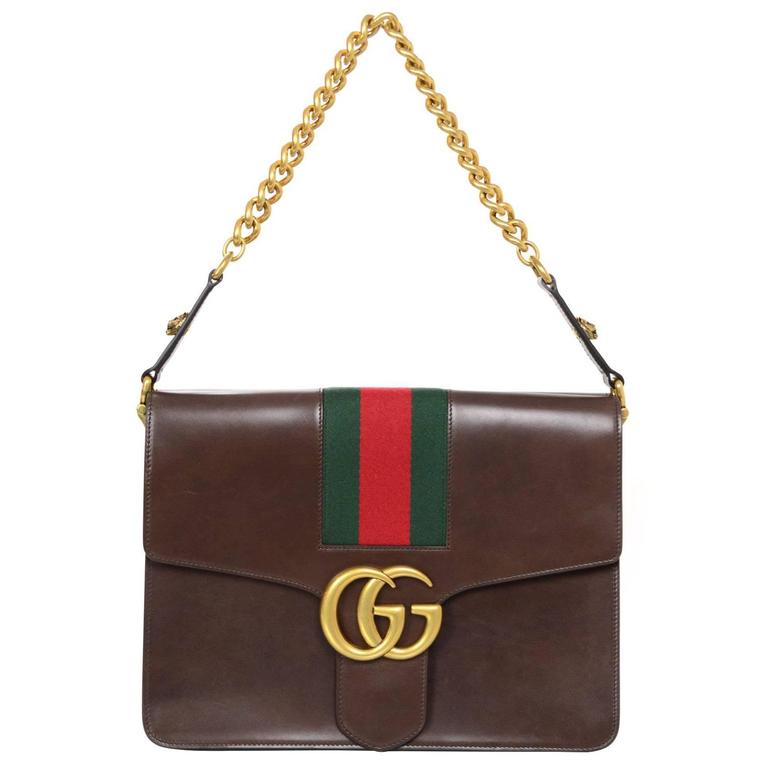 Gucci Marmont shoulder bag, 2016. Image courtesy of A Second Chance Couture
Gucci offers a bounty of styles, which can make it especially challenging to spot a fake. Spend time on the website or in a boutique familiarizing yourself with what's available and, importantly, with the details of each bag.
"You can find a really junkie one, and think, 'How could someone have said this was a Gucci!?'" says Rago. Unfortunately, it's not always so obvious. The pros look for everything from the stitching to "how the edges of the straps are folded or put together, as well as the length or width of the strap." Counterfeiters use common penny-pinching tricks, too. For example? "They'll cheat and put hardware on one side only to save money."
Where Is Gucci Made? Is It In Italy?
This post may contain affiliate links. That means if you click and buy from that link, I may receive a small commission (at zero cost to you), which helps me maintain the quality of this blog. Please see my full disclosure policy for details.
Gucci is a luxury Italian fashion brand based in Florence, Italy that belongs to the Kering Group (owns Balenciaga, Bottega, and Yves Saint Laurent). Does this mean that Gucci is made in Italy? If not, where is Gucci made?
Gucci products are some of the most desirable and loved in the world. Handbags, footwear, clothing, scarves, you name it, and the Italian brand sells successfully. But, does the place where they are manufactured and the materials sourced influence the buyers' decision? I believe it does, but not massively.
I have checked hundreds of product descriptions on Gucci's website to verify if the brand lists where the products are made and researched a lot online to bring the best outcomes possible in this article.
Let's find out if Gucci takes pride in its owns roots and manufactures all its products in Italy or if, like many other luxury brands, Gucci outsources in China and other Asian countries.
Where Is Gucci Made?
Gucci is mainly made in Italy (I would say 99% of the products are made there). However, the brand also has some watches manufactured in Switzerland, perfumes in France, a few jackets in Vietnam, and some portions of its footwear in Spain.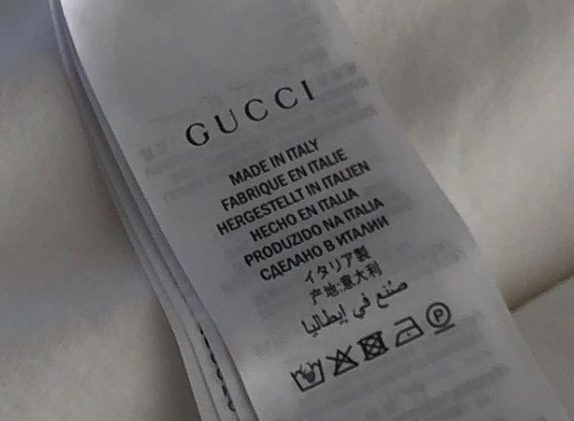 I love to see a brand manufacturing most of its products in its country of origin. For example, Gucci is Italian and produces practically everything in Italy. However, it was surprising to find a few jackets made in Vietnam. I almost gave up finding where clothing was made since "Made in Italy" was a constant.
The Gucci website doesn't provide any information on where perfumes and makeup products are made. The same happened when I was researching where Dior is made.
This is what I have found in my research over hundreds of different Gucci's products for men, women, kids, and homeware:
Italy – Every category in Menswear, Womenswear, Kids, Accessories, and Homeware
Switzerland – Watches
Spain – Construction of the shoes, since the materials are made in Italy
Vietnam – Some Jackets
France – Perfumes
Bear in mind that I didn't check every single product on Gucci's website, and I could have missed some countries, but after so many "Made in Italy," I doubt it.
Is Gucci Made In Italy?
Yes, almost every Gucci item is manufactured in Italy, except the watches (Swiss-made), some perfumes (made in France), some footwear (some made in Spain), and jackets (some made in Vietnam).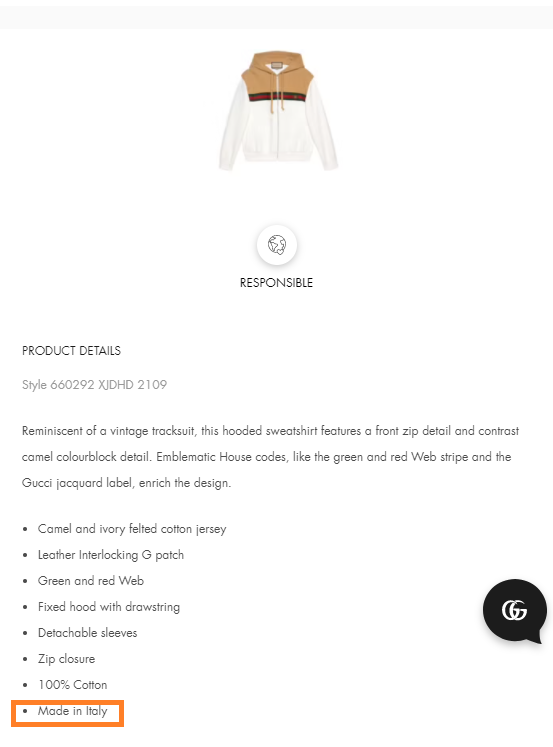 According to the Kering Group, 95% of the Gucci manufacturers are based in Italy. The brand uses a small percentage of suppliers outside of Italy for specific phases of component production. For example, some shoe's materials are all from Italy, but the shoe's construction is made in Spain.
Gucci has factories in Scandicci, Tuscany, and Marche. In 2021 the Italian luxury brand opened a new hub in Trecate, in the Piemonte region of Northern Italy. It's close to the brand's headquarters in Milan (also new and huge). Gucci also has a site based in Padua, in the Veneto region, developing and producing all the Kering eyewear collections. Gucci grabs all its leather materials from factories in Prado.
Why Is Gucci Made In Italy?
Like its sister Balenciaga, Gucci is made in Italy not because it's an Italian brand, but because the concept of "Made in Italy" brings a certain refinement and prestige to the brand. It expresses the excellence of craftsmanship and tells clients that the best materials are used. Italian brands like Dolce & Gabbana and Versace are also Made in Italy.
Some customers become a bit skeptical when they pay thousands of dollars for a luxury item and don't see "Made in Italy." Gucci knows that and keeps producing all its collections in its country.
Is Gucci Made In China?
No, Gucci is not made in China. However, you may find many counterfeit Gucci products on the market, so be careful.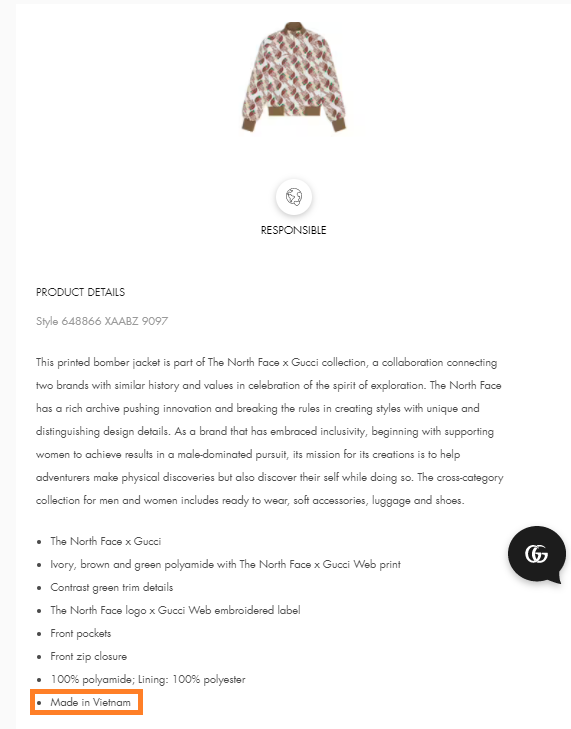 You may think, "why would Gucci be made in China if it is a luxury brand?" Because many high-end brands like Marc Jacobs, Armani, Burberry, Prada, etc., have some of their products manufactured in China.
As you know, it was surprising to find some of the Gucci jackets made in Vietnam and for the brand to write that on its website. Some luxury fashion brands would write "Imported" in the product description.
Why Is Gucci Not Made In China?
Over the years, items manufactured in China acquired a negative reputation. People have the perception that poor quality and harmful materials are used when the products are manufactured.
When Balenciaga decided to move the Triple S shoe production from Italy to China, the company suffered a backlash. But, as being part of the same group, Gucci learned not to infuriate its customers.
A New York Times article from 2007 stated that many warehouses in Italy have Chinese labor paid very poorly. So many Gucci products can have the Made in Italy label but are made by the Chinese. Many years have passed, and I could be sure if the situation has changed or not.
Common Questions About Where Is Gucci Made?
Some of the most common questions about where is Gucci made?
Where Are Gucci Bags Made?
All Gucci bags are exclusively made in Italy and should have a leather tab located at the top of the inside of the bag saying "Made In Italy." If not, you probably have a fake Gucci bag.
Where Are Gucci Belts Made?
All Gucci belts are made in Italy and will be marked as so with a Made in Italy.
Where Are Gucci Watches Made?
All Gucci watches are made in Switzerland, in an atelier situated in La Chaux-de-Fonds. You can expect excellent quality from a Gucci watch since its equipped with either ETA, quartz automatic, or Ronda movements.
Is Gucci Made In Turkey?
No, Gucci products are not made in Turkey. When I visited Turkey, I noticed that many Gucci clothing and bags are sold there, and they were all fake. You could tell because of the price and the quality of the products.
Is Gucci Made In Japan?
No, there are no Gucci products made in Japan, and if you have some, look out for the Gucci stamp to check if they are authentic. Unfortunately, they will be fake.
Is Gucci Made In Bangladesh?
No, Gucci products are not made in Bangladesh. However, you can find some jackets made in Vietnam.
Conclusion About Gucci Made In
Where is Gucci made? Gucci is an Italian luxury fashion brand that manufactures almost all its products in Italy, except for a few items. The costs of its products are so high that customers expect the goods to be handmade in Europe and be of the finest quality possible.
Do you have any Gucci products? Please share with me in the comments where they were made.