Italy & Greece Cruise
Countries Visited:
Italy, Greece & Turkey.
Major Cities Visited:
Italy: Rome, Florence, Pisa, San Gimignano, Venice, Verona & Naples.
Greece: Crete, Mykonos, Santorini & Athens.
Turkey: Ephesus.
Tour Overview:
Major Tour Highlights: Vatican Museum with the Sistine Chapel, the Colosseum, Rome's many fountains, Academy Museum with the Statue of David, old town of Florence, Leaning tower of Pisa, the towers of San Gimignano, Venice Plaza Square, Gondola Ride in Venice, Acropolis, Parthenon, Mars Hill in Athens, the most beautiful island – Santorini.
Tour managers throughout.
Special Guest Educator: S. Michael Wilcox.
Tour Information
This special Cruise & Land Tour has it all. It gives you the very best of Italy & Greece and Ephesus in Turkey. If you have ever dreamed of doing Italy and Greece, jump on board. This fantastic vacation is for you! Italy is hard to see from a ship as there just isn't enough time in port to really experience cities like Rome and Florence. With our well-planned land tour, we will be able to take the time to really enjoy Rome and Florence as well as visiting places the ship does not stop – places like Cinque Terra, San Gimignano, Tuscany, the Italian countryside, so much more. We even visit Verona, home of Shakespeare's Romeo and Juliet. Throughout your land tour, we will stay in deluxe hotels and tour in deluxe buses.
We have added to your land tour of Italy a wonderful 9-night Mediterranean Cruise that includes the following ports of call Mykonos, Santorini one of the most beautiful Islands in Greece, Crete, Athens, Naples, & Ephesus. This really is a great cruise that offers the best of Italy and Greece. To make everything even better, your guest educator S. Michael Wilcox who can also bring even more to your trip. This truly is a wonderful tour.
Pricing
Package Price Includes:
The complete Package Price Includes:
9-night cruise inside cabin on Royal Caribbean's Odyssey of the Seas to Rome, Mykonos, Santorini, Athens, Crete, Naples, & Ephesus.
$300 in ship port charges and fees.
$116.97 in ship taxes.
Deluxe hotels in Rome, Florence, and Venice area.
All transfers to and from airports, hotels, and ship.
All tours, buses, and guides in Rome, Florence, Cinque Terre, San Gimignano, Tuscany and the Italian countryside.
Special Guest Educator: S. Michael Wilcox.
Fun For Less Tour Staff throughout your tour and cruise.
Shore excursions are not included: You have the option to purchase our discounted shore excursion package.
Airfare is not included. You have the option to purchase our group airfare.
Package Price: $4,295 *
* Per person cash discount price, based on double occupancy. Does not include International air or tips.
Itinerary
This is a partial list and is subject to change as needed to accomplish everything we can in each area we visit. We will have local guides who will make sure we see the very best in the time we have.
Day 1: September 21: Fly to Venice
We depart our home and travel to Venice.
Day 2: September 22: Verona – Venice
This morning after arriving into Venice we will drive the short distance to Verona, home of Shakespeare's Romeo and Juliet. This is one of the most picturesque old cities in Europe. After a tour of the old town, you will have time to explore and have lunch at one of the many sidewalk cafes. This evening we will head to Padova to overnight at your deluxe hotel.
Day 3: September 23: Venice
Today we will start our tour of Venice. Today we will visit this beautiful city. We will have plenty of time to walk the many old streets and bridges found in Venice. You will have time to enjoy a gondola boat ride and eat in one of the many quaint sidewalk cafes. We return to Padova where we will overnight.
Day 4: September 24: Cinque Terre
We drive to the stunning coastal cities called Cinque Terra. The only way you can access these colorful fishing villages is by taking a train or a ferry boat from town to town. We believe the best way to visit these cities is by our own private chartered boat. This will be a highlight day! Later this afternoon we will travel to Florence where we will be staying for the next two nights.
Day 5: September 25: Florence
We will have a full day to enjoy Florence and all that it has to offer. We will spend the day visiting the center of the Renaissance, whose liberating ideas helped pave the way for the reformation. This city is the home to the Medici family, Michelangelo, Leonardo de Vinci, and Dante. We will take a guided tour of the old city, visiting such sites as the Piazza del Duomo, including the beautiful Baptistery Doors that inspired Michelangelo. We will also visit the original statue of David in the Academy Museum. You will have time to shop in the old streets of Florence and also time to enjoy the many sidewalk cafes before returning to our hotel this evening.
Day 6: September 26: Florence / Pisa / Rome
We will spend the day traveling through the Tuscany Countryside visiting small villages, San Gimignano and Pisa before heading to Rome where we will overnight.
Day 7: September 27: Rome
Today we will visit a separate country, Vatican City. We will visit St. Peters Basilica (the largest church in the world), St. Peters Square, the Vatican Museum, and the Sistine Chapel.
Day 8: September 28: Rome
This morning we will visit the Pantheon and Trevi Fountain, which has been made famous by many movies including "Three Coins in a Fountain". Mid-afternoon we will head to our cruise ship to check-in.
Day 9: September 29: Naples
For those who purchase our optional shore excursion package, we will drive along one of the most beautiful coastlines in the world on our way to the city of Sorrento. Sorrento is fabled to be home to the sirens who attempted to lure the mythological figure Ulysses onto the rocks. We also take you to the fascinating city of Pompeii which was buried by Mt Vesuvius in 79AD. You will be able to walk through the ancient streets that are considered to be the very best example of ancient Roman life. Pompeii was home to many wealthy ancients who craved a leisure lifestyle. For this reason, Pompeii is home to many lavish baths, temples, and richly decorated mansions. As the ash and pumice stone rained over Pompeii time stood still, preserving life as it was in 79AD.
Day 10: September 30: Fun Day at Sea
Today will be a free day to relax and enjoy your day at sea.
Day 11: October 1: Santorini, Greece
Not all islands are created equal. Santorini is a 10 on a scale of one to 10 and is the most beautiful of the Greek Islands. For those who purchased our optional shore excursion package will have a tour of this beautiful island.
Day 12: October 2: Athens, Greece
For those who purchase our optional shore excursion package will have a wonderful sightseeing tour of Athens and the Acropolis. There is a lot of walking on this tour, including stairs, make sure that you have good walking shoes. Some of the sites you may see along the way include; the Temple of Zeus, the Tomb of the Unknown Soldier, the Parliament, the Presidential Palace, and the Panathinaikon Stadium. The tour highlight will be the Acropolis where you will travel 150 stairs up to the top of this famous hill. We will see the Propylaea Entrance, the Erectheum, the Temple of Wingless Victory, and of course the Parthenon. We will head to Corinth Canal and the ruins of Corinth where Paul taught and wrote letters.
Day 13: October 3: Mykonos Greece
We will not be offering a tour in Mykonos. You will have a free day to explore the beautiful island of Mykonos. The best way to enjoy Mykonos is to simply wander the twisting narrow streets, visit local museums (there are several including; a folklore museum, archaeological museum even a windmill museum), shop for local souvenirs or take a cab to one of the local beaches. If you are interested, the cruise line does offer excursions.
Day 14: October 4: Ephesus Turkey
The ship is parked in Kusadasi, a fair distance from Ephesus. For those who purchased our optional shore excursion package will visit Ephesus and the surrounding area.
Day 15: October 5: Chania, Crete, Greece
If you purchased our shore excursion package, today we visit Chania, Crete. The tour includes stops at the Tombs of Venizelos, the ruins of Aptera, and a city tour of Chania. If time permits you will have time to shop and enjoy Chania on your own before returning to the ship.
Day 16: October 6: Fun Day at Sea
Today will be a free day to relax and enjoy your day at sea.
Day 17: October 7: Rome
This morning we will say goodbye to our beautiful cruise ship and visit the magnificent Coliseum and Forum. Overnight in Rome.
Day 18: October 8: Fly home
This morning we will head to the airport for your flight back to the US and home.
The charming medieval village San Gimignano
Like the more famous Montepulciano, San Gimignano is a hill town set in the heart of Tuscany.
Just 52 kilometres (32 miles) south of Florence.
This small and charming town can be easily visited in a day trip from Florence or Siena.
But if you love small Tuscany towns, it's worth staying a couple of nights and savoring the atmosphere.
What to See and Do
Known as the Town of Fine Towers San Gimignano is graced with beautiful architecture, particularly its well preserved tower houses.
The historic centre of the town was declared a UNESCO World Heritage Site because of its more unique and well preserved architecture.
The town has been able to preserve fourteen towers out of the 72 that once stood.
You can climb to the top of the tallest tower, Torre Grossa, to enjoy the amazing views over the town and surrounding countryside.
Piazza del Cisterna, named for the old stone well that used to provide water to the town, is in the centre of San Gimignano.
If you are here on a Thursday be sure to visit the market.
The Weather
San Gimignano is hottest and busiest in the summer.
Especially July and August when average high temperatures are in the low 30's C.
There will be a drop in tourists in June and September.
So if you prefer it a little quieter, these months are a good time to visit.
Temperatures are still relatively hot.
We don't recommend going here in the autumn, because it is the wettest time of year in Tuscany.
Festivals and events in San Gimignano
A highlight is the yearly Medieval Harvest Festival "Ferie delle Messi". It is held the third weekend in June.
How to get to San Gimignano
San Gimignano is close enough from Florence for s daytrip, and even closer to Siena (47 kilometers / 30 miles).
It is easy to get here by car, but you can not drive right into the historic heart of the city.
Use one of the parking lots on the edge of town, or ask your hotel if they have a special arrangement for vehicular access and parking.
You can also get here by bus from Florence or Siena, but you'll have to change at Poggibonsi.
There is no train station in San Gimignano, the nearest one is in Poggibonsi.
So take the train to Poggibonsi, from there take the local bus to San Gimignano.
Where to stay and hotel tips
There are many good hotels, villas, guest houses and Bed and Breakfast possibilities within the heart of San Gimignano. .
There are even over 200 lodging options in the immediate area around San Gimignano.
Depending on what you look for in accommodation you should be able to find something to suit your tastes.
Book well in advance for June, July, and August.
Many accommodations are fully booked already a year in advance.
Relais Cappuccina is a great four star hotel and offers wonderful views of the town.
If you prefer to check out some of the local heritage: Hotel La Collegiata is a 16 th century former Franciscan convent.
It is situated a few kilometres outside the town, charming and has a beautiful pool area.
If you want a special experience in middle of town you should stay in the Al Pozzo dei Desideri.
You have to walk from the parking lot 10-15 minutes away, but in return you get a romantic night in a 12th-century building at the main square of San Gimignano.
Its rooms overlook either the city's historical centre or the Tuscan countryside
Search hotels and more.
More from Italy
Enjoy the famous Venice Carnival, 12 February – 1 March 2022
Ivrea Historic Carnival – Battle of the Oranges, February 2021 is Cancelled
Rivivi Medieval Festival, Piacenza, Italy September 2021
Attractions in Florence
Taste Florence Food Festival, 28 – 30 June 2021
Stragusto Food Festival in Trapani, Italy. July 2021
The picturesque village Lucca in Tuscany
Cinque Terre – The Five Lands
The charming medieval village San Gimignano
Upcoming Events in Italy
Translate (Google translated – English is the default language)
Affiliate Disclosure
Responsibility of letter
We will always do our best to collect and submit the correct information and strive to give the best service possible to you.
Travel journal: Italy & Greece
We went because: We took this trip for our anniversary. Our three-week journey began in the magical city of Florence. From there, we made day trips to Cinque Terre and San Gimignano (my favorite city in Tuscany). We then flew to Sicily, where we visited Palermo and Taormina. Lastly, we flew to the breathtaking island of Oia Santorini, Greece.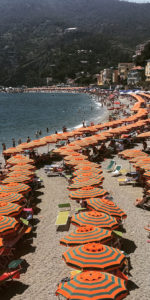 Cinque Terre
Hotel recommendations: Our favorite hotel was the Portrait Firenze in Florence. The accommodations offer first-class luxury. The property was calming and serene with a modern vibe. The service was truly beyond compare. Our other favorite was the Belmond Villa Sant'Andrea in Taormina. This hotel has lush manicured grounds and is perched atop a cliff overlooking the Ionian Sea. We spent our time being pampered and sipping prosecco on the beach overlooking the sea.
Where to eat: Before our trip, I researched restaurants and made reservations for most of our meals. The perfect place for pre-dinner cocktails at sunset is SESTO On Arno, a rooftop bar with 360-degree views of Florence and the hills of Tuscany. For dinner, Buca Mario—the oldest restaurant in Florence, dating back to 1880—and Buca Lapi—dating back to 1886—are two local favorites. Upon entering, we were guided through a series of cave-like cellars with arched ceilings. From impeccable service to sumptuous food and fine Italian wines, both of these historic restaurants offered memorable dining experiences. After enjoying pasta for two weeks, we were ready for a change, and the fresh Mediterranean dishes of Santorini offered just that. The island is a foodie's dream! For lunch, we would lounge by the resort pool and enjoy fresh squid and tomato fritters with local beers (complete with chocolate sprinkles on the rim). Our favorite meal was at Ambrosia. Its popularity makes securing a reservation quite challenging, so advance planning is essential. The extra effort is worth it to take in the incomparable view of the Caldera. Santorini is renowned for the most beautiful sunsets in the world. To say it's romantic is an understatement.
Favorite historic landmark: The Capuchin Catacombs of Palermo in Sicily. They were originally intended as a place of honor and burial site for dead friars; over time, local citizens also were buried there and some bodies remain preserved today. While it was very somber, and a bit macabre, it was also a once-in-a-lifetime experience.
Local attraction worth a drive by: We hired a private driver for a trip through Tuscany. Each village has something different to offer, and the locals are so friendly. Our favorite spots are Siena and San Gimignano. These medieval towns offer spectacular views and some of the best wines in Italy.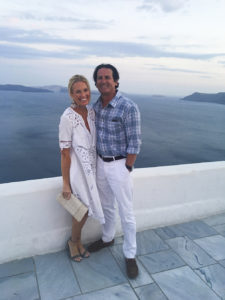 Leslie and Errol in Santorini
A great experience off the beaten path: Cinque Terre consists of five picturesque mountain villages. Although the drive can be treacherous at times, it was definitely worth it for the beautiful views, scenic trails, crystal clear waters and charming villages.
Worth the splurge: We rented a yacht for the day in Santorini and cruised the Aegean Sea. We snorkeled, visited a volcano, had a chef prepare a fabulous meal and watched the sunset with live music. It was off-the-charts romantic and worth the splurge.
Not worth the splurge: Expensive wines. The wines in Italy and Greece are amazing, so you don't have to spend much to enjoy a nice bottle. Some of the best wines in Tuscany are considered table wines.
Something surprising we learned on the trip: We had never been to an Italian opera, so we took a gamble and went to one in Taormina, which turned out to be very enjoyable even despite the language barrier.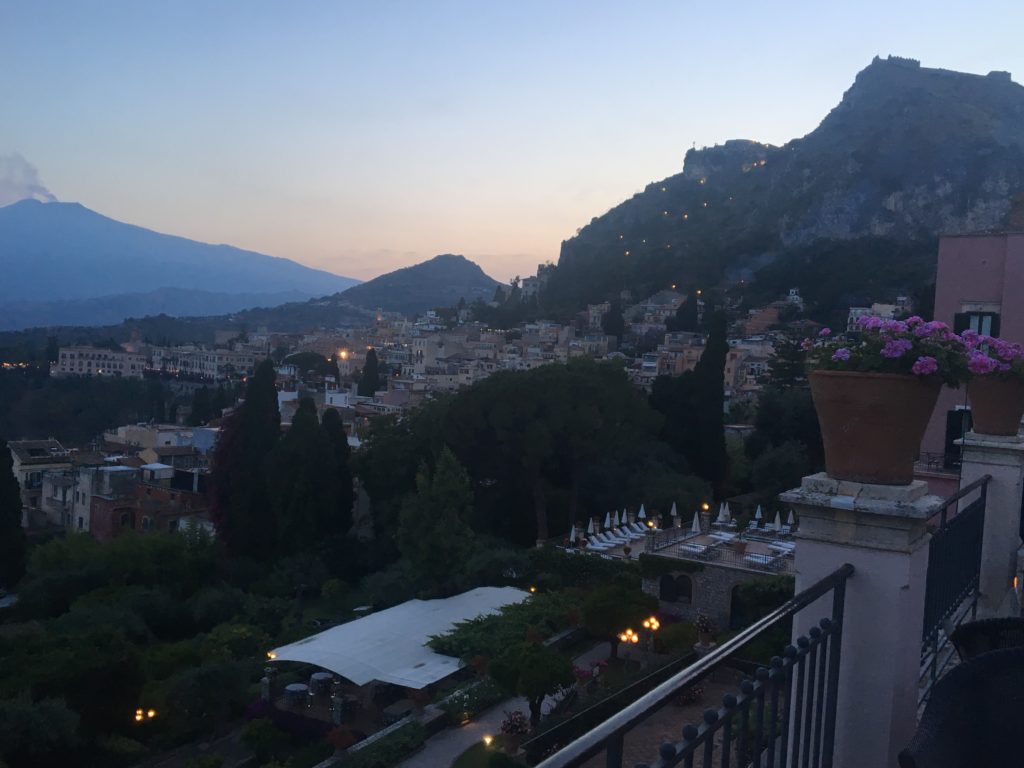 Sunset in Taormina overlooking Mount Etna
Insiders' tips: While group tours are more affordable, private tours allow much more flexibility. Also, when planning to travel abroad, you can book everything yourself online. I booked our flights and hotels directly on a travel site and all of our excursions through tour guide services.
We would suggest this trip to others because: Whether you're looking for adventure, to soak up history, to dive into a different culture or just to enjoy some rest and relaxation, Italy and Greece are special
destinations.
Санторинии gimignano италия
If you've already visited the popular destination of Florence and Pisa, or if you're in the mood to experience small towns in Tuscany, the Tuscany Accessible Countryside Tour of San Gimignano & Siena Disabled is for you.
Two of Tuscany's most photographed cities are on this tour: San Gimignano and all of its towers, plus the town of Siena, home to the famous seashell shaped Piazza del Campo. In between your accessible San Gimignano tour and your accessible Siena tour, you'll see some of the beautiful Tuscan countryside while your local tour guide explains everything around you.
The Tuscany Accessible Countryside Tour of San Gimignano & Siena starts with a professionally licensed tour guide meeting you in the lobby of your hotel and escorting you to a wheelchair accessible van. To get to Siena, you will cross a good part of Tuscany before the van will bring you to the Siena city center near the Duomo, one of the most important cathedrals of the Gothic style in Italy. Inside you'll see the Piccolomini chapel and the architectural plan to enlarge the cathedral.
Your Siena accessible tour will continue across the main street of Siena with a description of the story of the city and the Palio race, with all the "contradas". Your visit continues in the Piazza del Campo, one of the most beautiful squares in Italy, with the Campanile del Mangia and in the "Buon Governo" paintings explaining good and bad government inside the City Hall.
After leaving Siena, your accessible tour will venture to the hilltop town of San Gimignano (shown in the photos below).
The town of San Gimignano is a UNESCO World Heritage Site, and 14 of the original 72 towers still remain. This unforgettable skyline is the result of years of neighbors competing with one another! The town has been here for millennia and has been under the Etruscans, Romans, self-rule, Florentines, and Grand Duchy of Tuscany.
Inside the town, you'll visit the fortress where the Siena soldiers peered down on possible enemies from Florence and other places. There is a lovely view of the surrounding countryside that is accessible to disabled visitors. The Tuscany Accessible Countryside Tour of San Gimignano & Siena also includes the beautiful La Collegiata cathedral and its 12th century frescoes, representing the Old and New Testaments.
If you'd like to visit more beauty of Florence, you can choose the Essentials of Florence Walking Tour.
Tour Highlights
– Siena's Piazza del Campo
– Duomo di Siena Cathedral
– Piccolomini chapel
– Campanile del Mangia
– City Hall of Siena
– San Gimignano's 14 towers
– Piazza della Cisterna
– Piazza del Duomo
– La Collegiata
– Via San Matteo
Accessibility Description
The Pisa & San Gimignano Accessible Shore Excursion has a 3 Star Sage Accessibility Rating. While the entire route is step-free and the tour uses a wheelchair accessible van, there are some hills in San Gimignano and Siena which could be challenging for some disabled visitors.
Siena has been here for over 2000 years…while the hills made for a great defense against neighbors, they present serious challenges for disabled visitors! Many of the hills are steep enough that wheelchair users may need assistance. Some hills (like the one shown on the right) are so steep that they should be avoided completely! This accessible Siena tour uses the flattest streets possible to visit the tourist sights.
Your accessible Siena tour guide will lead you to the wheelchair ramp when you visit the Duomo di Siena Cathedral.
The Piazza del Campo slopes down to the Siena City Hall where a wheelchair ramp is available into the building.

The main street through San Gimignano, Via San Matteo, leads uphill from both of the city gates. In the middle of the city is a Piazza del Cisterna. The severity of the slope is not too bad and is shown in the photos below:
Some parts of San Gimignano have uneven bricks for pavement (shown on the left). The photo on the right doesn't show it too well, but the brick paths on both side of this extremely steep street actually have small ledges on them….this street is definitely not wheelchair accessible! Fortunately, your accessible San Gimignano tour avoids all streets like this!
If you would like visit the most accessible cities in Tuscany, you can choose the Accessible Private Driving Tour of Pisa and Lucca.
Tour Details
Tour duration: 8 to 9 hours
Cost: €830 for 1-2 people, €880 for 3-4 people, €930 for 5-6 people.
* €20 off if booked as part of an accessible Florence travel package. (Note: if your package includes more than 3 tours total, discounts will be applied to maximum 3 of the tours).
Days of the week the tour is offered: 7 days a week
Meet-up time: 8:00 am
Meet-up place: Hotel lobby
Dress code: Covered knees and shoulders
Maximum number of people on tour: The van has room for 2 wheelchairs plus 5 seats OR no wheelchairs and 8 seats
Entrance tickets: Not included. Some entrance tickets are free for disabled visitors if they have an ID card from their home country stating the percent of their disability.
To review our cancellation policy, please click: HERE. Tours run rain or shine.
Not included: Entrance tickets, snacks/meals, and gratuities.
15 days in Italy, Santorini & Mykonos Town Itinerary
Created using Inspirock Europe travel route planner
Fira, Greece
Start off your visit on the 1st (Sun): kick back and relax at Perissa Black Sand Beach and then surround yourself with nature on Santorini Sailing. Here are some ideas for day two: delve into the distant past at Akrotiri, then enjoy the sand and surf at Red Beach, and then enjoy the sand and surf at Kamari Beach.
To find other places to visit, where to stay, photos, and more tourist information, use the Fira route builder app.
London, UK to Fira is an approximately 7-hour flight. You can also do a combination of bus and ferry; or do a combination of bus, taxi, and ferry. The time zone changes from Greenwich Mean Time (GMT) to Eastern European Standard Time (EET), which is usually a 2 hour difference. Traveling from London in August, expect Fira to be a bit warmer, temps between 36°C and 28°C. Finish your sightseeing early on the 2nd (Mon) to allow enough time to ride a ferry to Mykonos Town.
Things to do in Fira
Side Trips
Mykonos Town, Greece
Chora Mykonos
Your itinerary includes some good beach time at Panormos Beach and Agios Sostis Beach. And it doesn't end there: take a stroll through Little Venice, stroll through Paradise Beach, kick back and relax at Kalo Livadi Beach, and discover the deep blue sea with GoDive Mykonos PADI Diving Resort.
For where to stay, more things to do, ratings, and other tourist information, you can read our Mykonos Town attractions app.
Traveling by ferry from Fira to Mykonos Town takes 2.5 hours. Alternatively, you can fly. Expect a daytime high around 33°C in August, and nighttime lows around 27°C. Finish up your sightseeing early on the 6th (Fri) so you can catch the flight to Amalfi.
Things to do in Mykonos Town
Side Trips
Amalfi, Italy
Painted Town
Your itinerary includes some good beach time at Fornillo and Arienzo Beach Club, Positano. Explore Amalfi's surroundings by going to Boat Tours & Water Sports (in Positano) and Torre di Grado (in Praiano). And it doesn't end there: enjoy the sand and surf at Spiaggia di castiglione, tour the pleasant surroundings at Villa Cimbrone Gardens, take in the exciting artwork at Ceramiche Cosmolena di Margherita di Palma, and contemplate in the serene atmosphere at Duomo di Ravello.
For ratings, photos, other places to visit, and more tourist information, use the Amalfi itinerary planner.
Traveling by flight from Mykonos Town to Amalfi takes 5 hours. Alternatively, you can do a combination of ferry and car; or do a combination of ferry and bus. The time zone difference moving from Eastern European Standard Time to Central European Standard Time is minus 1 hour. In August, daytime highs in Amalfi are 34°C, while nighttime lows are 28°C. Finish up your sightseeing early on the 9th (Mon) so you can go by car to Rome.