Что привезти из Пизы в подарок. Сувениры Пизы.
Главный символ этого итальянского города – падающая Пизанская башня. В мире не найдется ни одного человека, который бы о ней не слышал и, уж тем более, не видел фотографии «подпирающих» башню туристов. В любом туристическом месте Пизы Вы найдете несметное число сувениров и подарков с ее изображением: магниты, тарелочки, подвески, футболки. Наши соотечественники особенно часто стараются привезти кружки, бокалы и рюмки, кстати, тоже «падающие».
Фигурки из проволоки
Еще одним необычным пизанским подарком станет фигура из проволоки. Представляют они собой модели зверей, птиц, разнообразных технических приспособлений и прочих сувениров, выполненных из медной или алюминиевой проволоки. Попадаются как самые простые, так и весьма сложные конструкции. Вы легко найдете их на главной площади Пизы, так щедро усыпанной торговыми палатками. Такая фигурка с легкостью впишется в любой интерьер и станет замечательным его украшением.
Вино
Тоскана, частью которой и является Пиза, считается самым известным винным регионом Италии. Местные вина делаются из винограда сорта санджовезе, который по праву считается гордостью Тосканы, а также алиатико, мальвазия, шардоне и ряда других. Здесь производится огромное количество сортов вин. Из красных стоит привезти Chianti Classico Riserva,Carmignano, Vino da Tavola, Vino Nobile, Brunello di Montalcino. Наилучшие же белые вина: Vernaccia di San Gimignano, Bianco Vergine Valdichiana, но на вкус и цвет универсального подарка нет, так что возможно Вам понравятся другие сорта вин, и именно их Вы привезете в качестве сувенира, который долго не залежится.
Сувениры из фаянса
В Пизе в большом количестве продаются разнообразные фаянсовые изделия. Это и статуэтки в виде различных птиц, рыб и животных, и расписные тарелки и блюдца, и чашки с кружками – выбор огромен. Каждый турист сможет найти что-то по душе, прогуливаясь по пизанским улочкам.
Африканские сувениры
Как ни странно туристы любят покупать в Пизе различные вещи и подарки из Африки. Продают их сами же выходцы с черного континента около Площади Чудес. Здесь Вы сможете найти барабаны там-там, африканские маски и талисманы, фигурки из красного дерева. Эдакий кусочек Африки в центре Пизы.
Шоколад ручной работы
Пиза является родиной лучшего в мире шоколада марки Amadei по версии лондонской Chocolate Academy. Здесь же производится и самый дорогой шоколад этой же фирмы – Amedei Porcelana. Причина его уникальности кроется в том, что выпускается он в ограниченном количестве (20 тысяч плиток в год). Ингредиентами для него служат какао-бобы из Эквадора, Мадагаскара и Венесуэлы. Заинтригуют любого сладкоежку и названия шоколада: корни рабарбара, искра лакрицы и т.п. Также можно заглянуть за фигурным шоколадом в магазинчик De Bondt – Вы будете удивлены разнообразием форм и размеров сладких сувениров и подарков, продающихся там.
Tuscan Vin Santo
It is just as well to clarify one issue with regard to Vin Santo: it is not the sole prerogative of Tuscan wine-makers. Indeed, according to Attilio Scienza, a leading expert on the subject, the Vin Santo produced on the Greek island of Santorini probably has the longest history. In late mediaeval times, the sweet wine imported from Greece was considered the best on the market, and so Italian producers started to imitate its style, beginning with the Venetians. This is recorded in one of the most important books on wine history: "Tuscan Oenology" by the Florentine doctor and botanist Giovanni Cosimo Villafranchi. So Vin Santo certainly did not originate in Tuscany, although the history of wine is full of chance encounters and the exchange of ideas. The origins of the name ('Holy Wine') are also far from clear. Some claim it derives from its use in the Mass, others say it relates to the fact that the grapes were dried during Holy Week, while others maintain it comes from the Greek word "xantos", meaning yellow. However, the most interesting explanation, if not the most plausible, comes from Giacomo Tachis, winemaker and father of the Italian wine Renaissance. He claims that when Cardinal Bessarione was attending the Ecumenical Council in Florence in 1439, he was served a glassful and immediately exclaimed: "This wine is from Xantos" – in reference to a Greek wine.
Surrounded by legends and history, for many centuries this was a wine for the few, drunk by the nobility but not by the ordinary people. Today, it lives on as a secondary product, enjoying general popularity. It is mainly produced in Tuscany, not only in Chianti but throughout the region, and also in Emilia Romagna and Umbria. What unites all types of Vin Santo, and makes it unique and different from any other wine, is the particular method of production. We will give a brief description of what this entails, so that even wine novices will be able to understand this complicated process. Firstly, there are the grapes: every region and terrain has its own varieties, Malvasia and Trebbiano in Tuscany, but Pinot Bianco or Grigio, Chardonnay or Sauvignon in other parts of the country. In general, thicker-skinned varieties in smaller bunches are better suited to the drying process and less susceptible to rot. The most painstaking part of the operation is undoubtedly the drying of the grapes, a costly but clearly essential process. There are three ways of doing this: one way is to let the bunches wither on the vine, i.e. let them over-ripen and then pick them after the rest of the crop, but this is not the best or safest method; the traditional and most widespread practice involves laying out the grapes in wooden boxes or on mats in spaces under the eaves, where they can slowly dessicate without exposure to the weather; finally, the bunches can dried in rooms equipped with fans: this method is used when making Amarone, but much less commonly for Vin Santo.
The grapes are ready for crushing when their sugar level reaches between 25% and 40% (depending on the type of Vin Santo you want to produce). The crushed grapes are then squeezed, and the resulting must, with all the lees and grape marc, is usually allowed to rest for 3-4 days at a temperature of 20-22 degrees. After the decanting process, the phase begins that will ultimately determine the quality of the wine: fermentation. This traditionally takes place in "caratelli", oak or chestnut kegs similar to barrels, but only designed to hold between 50 and 200 litres. An important element here is the 'madre': a starter culture of yeast containing lees from the final racking of the previous year's production. The resilient micro-organisms in this older wine encourage the fermentation process. When this is complete, the wine is racked to separate off the dregs, and allowed to age, once again in wooden kegs. After a minimum of three years, the Vin Santo is removed from the 'caratelli', filtered and bottled. This long process also takes place in the cellars of the Castelli del Grevepesa cooperative, leading to the production of the Castelgreve Vin Santo del Chianti Classico and the Clemente VII Vin Santo del Chianti Classico Riserva.
Our wines
Vin Santo Castelgreve
Vin Santo Clemente VII
Facebook
VIN SANTO.
Одним из самых древних вин, технология производства которого дошла до наших времен, является Vin Santo, или «святое вино». Уходящее корнями в Древнюю Грецию, оно замечательно прижилось на территории Италии, в частности, в Тоскане.
Способ производства остается традиционным:
1. При сборе отбирают здоровые и неплотные грозди, которые идеально подходят для appassimento – процесса дегидратации винограда с целью концентрации в ягодах сахаров и кислот.
В течение несколько месяцев грозди проводят на соломенных матах в сушильных помещениях «appassitoio». Ими часто служат чердаки или мансарды. Также используются специальные помещения «fruttaio», использующие механизмы принудительной вентиляции.
В случае с греческим Vin Santo, виноград подвяливается на открытом воздухе на солнце несколько дней (от 7 до 14 дней).
Кроме производства Vin Santo, процесс appassimento применяется также для производства других десертных и сухих вин: Recioto из Венето, Sforzato di Valtellina в Ломбардии, Passito di Pantelleria о-в Пантеллерия и Malvasia delle Lipari Сицилия, Picolit и Verduzzo di Romandolo из Фриули, сладкие Primitivo и Aleatico из Апулии. Самое известное сухое – Amarone della Valpolicella из Венето.
В результате лишняя влага из винограда испаряется, в нем концентрируются кислоты и сахар.
2. Затем виноград бережно отпрессовывается и сусло помещается в бочки.
В зависимости от технических условий, характерных для каждой зоны производства, это могут быть «caratelli» — 50 литровые бочки, либо в бочки большего объема, но не более 500л, для медленной, натуральной ферментации. В бочонках, как правило, сохраняется дрожжевой осадок предыдущего брожения, именуемый «madre», который способствует началу ферментации и придает дополнительную ароматику.
3. Бочки наглухо запечатываются и отправляются в специальные помещения vinsantaia, находящиеся, как правило, под крышей. Именно здесь сильное влияние на созревание вина оказывают сезонные перепады температур. Минимальный срок пребывания вина в бочках составляет 24 месяца.
Таким образом, винодел, не принимая участия в естественном процессе брожения вина, не знает, что же он получит на выходе в финале. То есть все находится в «руках Господа» и вино получается «святое».
# vinsanto , # uTruby , # biscotticantucci
Зоны производства и характеристики:
DOC Vin Santo del Chianti
Действует c 1997года (совпадает с территорией Chianti DOCG – провинции Флоренция, Прато, Пистойя, Пиза, Сиена, Ареццо).
Белое: сорта Trebbiano di Toscana и/или Malvasia Bianco Lunga с общей долей мин.70%.
По типологии: secco (сухое), abboccato (полусухое), amabile (полусладкое), dolce (сладкое).
Красное: Vin Santo Occhio di Pernice производится из мин.50% Sangiovese,
По типологии: amabile (полусладкое), dolce (сладкое).
Брожение и выдержка в бочках объемом не более 500л.
Минимальный срок выдержки 3 года, в продажу не ранее ноября третьего года от даты урожая.
На этикетках разрешено указывать субзону производства: Colli Aretini, Colli Fiorentini, Colli Senesi, Colline Pisane, Montalbano, Montespertoli, Rufina, и информацию о сладости вина.
DOC Vin Santo del Chianti Classico
Действует с 1995 года, границы соответствуют зоне Chianti Classico DOCG. Белое: сорта Trebbiano di Toscana и Malvasia delle Chianti, вместе или отдельно составляющие не менее 60%, с добавлением до 40% других белых и красных сортов.
Красное: Vin Santo Occhio di Pernice производится из мин.80% Sangiovese, с добавлением других белых и красных сортов.
По типологии: от сухого до полусладкого, а # VinSanto_Occhio_di_Pernice – только сладким.
Брожение и выдержка проводится в деревянных бочках объемом не более 300л в течение 24 месяцев. В продажу – с ноября на третий год от даты урожая.
DOC Vin Santo di Montepulciano
Белое: сорта Malvasia Bianca, Grechetto Bianco, Trebbiano Toscana, вместе или по отдельности не менее 70%. Выдержка не менее 2 лет в бочках объемом не более 300л.
Красное: Vin Santo di Montepulciano Occhio di Pernice.
По признанию производителей # Avignonesi для производства Vin Santo di Montepulciano Occhio di Pernice объемом 375 мл требуется столько же винограда, сколько для производства 24 бутылок сухого вина объемом 750 мл.
Демонстрирует комплексный букет с ароматами сушеной сливы/чернослива, прополиса, имбирного пряника, табака. В сладком, пряном вкусе присутствуют ноты вяленого абрикоса, копченого фундука, корицы и гвоздики. Вино удивляет с каждым глотком своей концентрацией и глубиной.
Производится из 100% Sangiovese, который вручную собирается с лучших участков виноградника.
Затем виноград несколько месяцев проводит на соломенных матах в сушильных помещениях «appassitoio», бережно отпрессовывается и сусло помещается в # caratelli — 50 литровые бочки для медленной, натуральной ферментации. В бочонках сохраняется дрожжевой осадок предыдущего брожения, именуемый # madre , который способствует началу ферментации и придает дополнительную ароматику.
Бочки запечатываются и на 10 лет отправляются в специальные помещения visantaia, находящиеся под крышей. Именно здесь сильное влияние на созревание вина оказывают сезонные перепады температур.
DOC Vin Santo di Carmignano
Является важным вином для области Carmignano с конца 19 века, а в 2013 году область производства была выделена в отдельную зону, границы которой совпадают с зонами DOCG Carmignano и DOC Barco Reale di Carmignano.
Виноградники располагаются к северо-западу от Флоренции, на почвах, состоящих из мергелевых известняков, глинистых сланцев и песчаников.
В базовом составе Trebbiano Toscana и/или Malvasia Bianca Lunga до 75%.
Vin Santo di Carmignano Occhio di Pernice состоит мин на 50% из Sangiovese.
Выдержка в бочках, объемом не более 300л.
В продажу вино выпускают с ноября на третий год от даты урожая.
DOC Vin Santo San Gimignano
Белое: сорта Trebbiano Toscana (мин 30%), Malvasia delle Chianti (макс 50%) и Vernaccia di San Gimignano (макс 20%). Может быть сухим или полусладким.
Красное: Vinsanto Occhio di Pernice должно содержать мин 50% Sangiovese. Содержание сахара не регламентируется. Для брожения и выдержки используют бочки объемом не более 250 л.
В продажу вино выпускают с ноября на третий год от даты урожая.
Vin Santo Sant'Antimo DOC
Неподалеку от Монтальчино есть аббатство Сант'Антимо – средневековый комплекс, один из лучших образцов романской архитектуры в Тоскане.
Белое: сорта Trеbbiano Toscana и/или Malvasia Bianca Lunga мин 70%.
Красное: Sangiovese 50-70% Malvasia Nero 30-50%.
Выдержка в бочках объемом не более 500л. В продажу с ноября 3 года от сбора урожая
Vin Santo Valdichiana DOC
Долина Valdichiana располагается на востоке Тосканы и протянулась от Ареццо в сторону Умбрии.
Белое: сорта Malvasia (Bianca di Candia, Bianca Lunga и/или Istriana) и/или Trebbiano Toscano минимум 50% и другие разрешенные белые сорта максимум 50%.
По содержанию сахара от сухого до сладкого
Выдержка: минимум 3 года, включая 2 года в бочке, в продажу не ранее начала ноября третьего года от сбора урожая.
Для Vin Santo Riserva срок выдержки минимум 4 года, включая 2 года в бочке
Vinsanto Santorini PDO, Греция
изготовленное из высушенного винограда разновидностей Ассиртико и Аидани. Собранные ягоды винограда раскладываются на террасах под открытым солнцем, где проводят, в отличие от Тосканского варианта, от шести до восьми дней. Далее они поступают на прессование и ферментацию.
Вино проходит трехлетнюю выдержку в дубовых бочонках четвертого и пятого залива. Вино Vinsanto Santorini янтарное обладает насыщенно-сладким вкусом с нюансами лимона и меда.
Вино vernaccia di Санторинии gimignano
July 15, 2018 – August 14, 2018
Pink Places in France
We don't expect you to take rosé as seriously as we do. For us it has taken over a healthy portion of our summer wine business. For you, we hope that you enjoy these delightful wines in beautiful settings with stupendously fresh summer foods.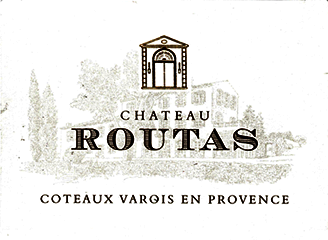 Var
2017 Coteaux Varois en Provence (Chateau Routas)
Sale Price $9.99 – $101.90 case of twelve
The Varois is surrounded on three sides by the sprawling Côtes de Provence appellation and on the western side by the Coteaux d'Aix-en-Provence appellation. This isolation may explain why the Varois wines remain excellent values. The 2017 Routas is a crisp, dry, full-flavored rosé that is perfect for fresh salads and anything grilled and slathered in garlic.
Bandol
2017 Bandol (Chateau Val d'Arenc)
Sale Price $19.99 – $203.90 case of twelve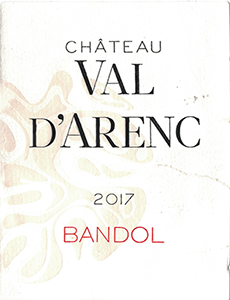 Bandol rosé is the rosé that you serve to people who say they don't like rosé. If they still say they don't like rosé, give them a beer, a local craft New England-style IPA, and enjoy the rest of the rosé yourself. Val d'Arenc is piney, peppery, and delicious. It's both fresh and full-bodied and ready for the best summer foods you can gather.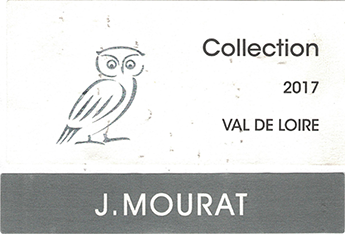 Loire
2017 Val de Loire (J. Mourat)
Sale Price $11.99 – $122.30 case of twelve
This Loire Valley rosé from J. Mourat, made from Pinot Noir, Cabernet Franc, Negrette, and Gamay, is a decidedly herbal and minerally wine that is perfect for spicy grilled chicken and a cooling coleslaw.
Nîmes
2017 Costières de Nîmes 'Galets Rosés' (Château Mourgues du Grès)
Sale Price $11.99 – $122.30 case of twelve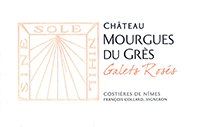 This has become an old favorite and continues to be a great value. The Galets Rosés with its good weight and smoky fruit is perfect for grilled lamb chops and a bubbling cauldron of ratatouille.
Aix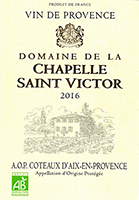 2017 Coteaux d'Aix-en-Provence (Domaine de la Chapelle Saint Victor)
Sale Price $13.99 – $142.70 case of twelve case of twelve
The Chapelle Saint Victor's color is the beginning of a sunset with light pinks and streaks of orange. The flavors are crisp and lively with a mix of raspberry and grapefruit. This delicate style of Rosé would be perfect for a cold poached salmon and a cucumber and radish salad.
Côtes de Provence
2017 Côtes de Provence 'Petit Clos' (Domaine du Clos d'Alari)
Sale Price $15.99 – $163.10 case of twelve
Clos d'Alari is a classic dry Provençal rosé with its mix of herbal garrigue, black olives, and peachy fruit. This is perfect for a fish stew and a pile of fresh fava beans.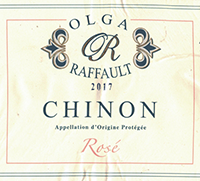 Chinon
2017 Chinon (Olga Raffault)
Sale Price $17.99 – $183.50 case of twelve
You may have noticed that we have great appreciation for Cabernet Franc, and that Olga Raffault may be at the epicenter of our enjoyment. This rosé is deeply rooted, with gravelly minerals and gorgeous strawberry fruit.
Listed prices are honored through August 14th, 2018. We will not honor mistyped prices. Vol. 42, No. 8
Tuscan Towers
2017 Vernaccia di San Gimignano (Casa alle Vacche)
Sale Price $10.99 – $112.10 case of twelve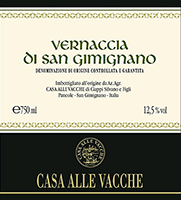 Vernaccia di San Gimignano is a Tuscan white wine with a long history. First cited in the 13th century, Vernaccia has managed to remain an important local grape. Last month we featured the Fiore from Montenidoli, one of Tuscany's greatest whites. This month we have a more down-to-earth Vernaccia from Casa alle Vacche. Their 2017 is wonderfully flinty and perfumed with almonds and apricots. With its full flavor, it will be a fine match with linguine and clams. Followed by a wedge of Pecorino Toscano.
Santo Santorini's 70th
2017 Santorini Assyrtiko (Santo)
Sale Price $17.99 – $183.50 case of twelve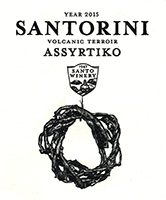 Because we've only carried this for a few vintages, we did not know that the cooperative winery on the Greek island of Santorini is now into their 70th vintage. Just one sniff of this expressive dry white makes us want to put a branzino on the grill. There is a little more peachy fruit than in the last vintage, but the volcanic stoniness comes through in the sea-scented finish.
Cap Royal
2017 Bordeaux Blanc (Cap Royal)
Sale Price $13.99 – $142.70 case of twelve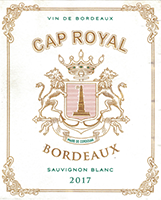 Cap Royal is a tribute to the oldest lighthouse in Europe. It is also a terrific Bordeaux Sauvignon Blanc from Jean René Matignon, winemaker from Château Pichon Baron. We'll get around to the 2017 vintage for red Bordeaux later, but for white it already is a terrific vintage. This pure Sauvignon Blanc is packed with aromatic fresh fruit and flowers, while the back palate is creamy and rich, with a zesty dry finish. Perfect for broiled haddock and wilted spinach with garlic.
Pinot Nero
2017 Pinot Nero (Colterenzio)
Sale Price $17.99 – $183.50 case of twelve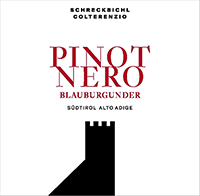 Northern Italy is no longer an unlikely source for Pinot Noir, given Colterenzio's ability to deliver this beauty in vintage after vintage. We adore the 2017 for its exquisite lightness that somehow does not sacrifice flavor. Gorgeously subtle berry fruit and a mineral-laden dryness make this a serious Pinot Noir. Producers from the Côte de Beaune to the Willamette Valley and back would surely consider paying a premium for these grapes.
Bouzeron
2015 Bouzeron 'Les Trois' (Chanzy)
Sale Price $17.99 – $183.50 case of twelve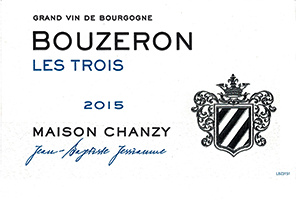 The village of Bouzeron is the privileged home of the only appellation solely devoted to the Aligoté grape. While this may somehow translate into Grand Cru status it does not translate into Grand Cru prices. Chanzy's ripe and rich 2015 has the ample aroma and mouthfeel of fine white Burgundy, but being Aligoté instead of Chardonnay it has minerals and crispness at the front and ripe green plum and apricot fruit at the finish. A fascinating gymnastic twist of balance. Perfect for swordfish.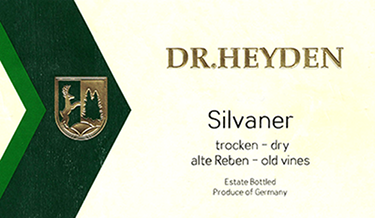 Dr. Silvaner
2017 Silvaner (Dr. Heyden)
Sale Price $9.99 – $101.90 case of twelve
Frank Heyden's old Silvaner vines always deliver a great value dry white. The combined aromas of apples and minerals are enticing enough, but the crisp bracing dryness in the finish make this a complete and lovely white. Try with a spicy shrimp sautée.
Pic Saint Loup
2015 Pic Saint Loup 'Tour de Pierres' (Ermitage du Pic Saint Loup)
Sale Price $17.99 – $183.50 case of twelve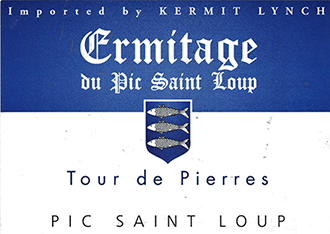 Pic Saint Loup, Languedoc's finest growing area, has now been awarded appellation status. The consistent quality delivered by the three Ravaille brothers certainly contributed to this upgrade. Their Tour de Pierres is a delicious Mediterranean blend of Syrah (50%), Grenache (40%), and Mourvèdre. Its spicy herbal flavors and wonderful ripe tannins are perfect for burgers off the grill and ripe summer tomatoes.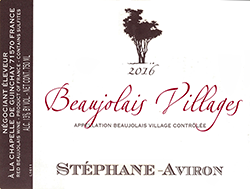 Beaujolais
2016 Beaujolais Villages (Stéphane Aviron)
Sale Price $13.99 – $142.70 case of twelve
We recommend that all of the wines in this newsletter, reds included, be served chilled. Putting a chill on a bottle of Beaujolais is de rigueur in July and August. It brings together the lively fruit and the pronounced minerality in this superb Beaujolais Villages from Stéphane Aviron. The vines that produce this wine are now 65 years old. They contribute extra sap and vigor into a beautifully rendered expression of the Gamay grape.
Specialty Foods
Grafton Village Grand Reserve Cheddar $15.99 per lb  (Regular Price $17.99)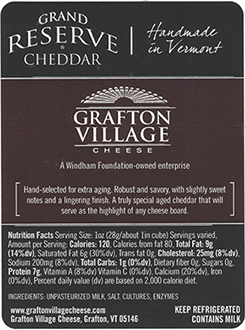 Grafton Village Cheese makes a range of cheddars and cave aged cheeses, with their cheesemaking tradition dating back to 1892 when the Grafton Cooperative Cheese Company was originally founded in Grafton, Vermont. For their line of cheddars, they use only raw cow's milk sourced from local family farms. Their Grand Reserve cheddar is aged around 4 years, though they determine its readiness for sale based on a target flavor profile rather than adherence to a strict schedule. This is a bold, savory cheddar with a long, sweet and sour finish, so it demands equally bold pairings.
La Casera Pecoretto al Tartufo $22.99 each   (Regular Price $25.99)
La Casera, the affinage operation of Eros Buratti, is consistently one of our favorite Italian producers. Pecoretto al Tartufo is a small wheel made from pasteurized sheep's milk and featuring delicate slices of black summer truffles. The wheels are aged just long enough to provide a little firmness and body while maintaining some moisture. The result is a relatively mild and creamy sheep's milk cheese, with just enough sweetness from the milk to match the earthiness of the truffle.
Cypress Grove Humboldt Fog Pepper Remix $27.99 per lb  (Regular Price $29.99)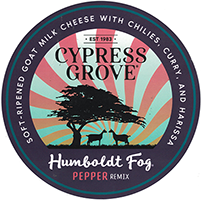 This limited edition of Cypress Grove's award-winning goat cheese features an exciting twist. Rather than the customary line of vegetable ash, wheels are bisected by a thin layer of chilies, curry, and harissa.Not just visually appealing, the spices give the cheese a slight kick, complementing the creaminess and the bright, citrus flavors of the goat's milk. This one is only available for a short time, so get it while you can!
Grace Hill Farm Valais $25.99 per lb  (Regular Price $26.99)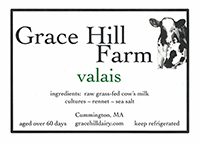 Max and Amy Breiteneicher founded Grace Hill Farm in Cummington, Massachusetts in 2012, after Max learned to make cheese during stints at Jasper Hill Farm in Vermont and Chase Hill Farm in central Massachusetts. Made with their own raw, grass-fed cow's milk, Valais is a firm cheese that would be excellent for melting (try in a grilled cheese or on a burger). It is also complex enough to enjoy on its own, with salty, sweet, and nutty flavors in good balance.
Wines of the Month — July 15, 2018 through August 14, 2018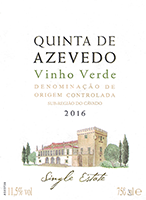 2016 Vinho Verde (Quinta de Azevedo)
Sale Price $7.99 – $86.29 case of twelve
Vinho Verde is a terrific summer white, and the zesty dry version from Azevedo is perfect for sardines and salads.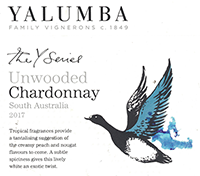 2017 Chardonnay 'Unwooded' (Yalumba)
Sale Price $8.99 – $97.09 case of twelve
Our ideal of affordable Chardonnay is an un-oaked Macon-Villages. Little did we know that Yalumba's Y series comes close. This has a solid core of ripe fruit and a crisp, dry finish. Perfect for crab cakes.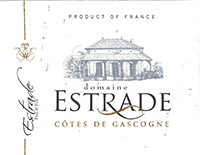 2016 Côtes de Gascogne (Domaine Estrade)
Sale Price $6.99 – $75.49 case of twelve
Estrade is a classic Gascon blend of Colombard, Sauvignon Blanc, and Ugni Blanc. This is a lively, refreshing dry white for grilled pork and cold sesame noodles.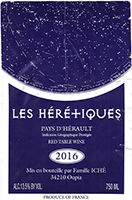 2016 Pays d'Hérault (Les Hérétiques)
Sale Price $7.99 – $86.29 case of twelve
Les Hérétiques is a ripe and round Carignan from the Languedoc. This juicy red is perfect for burgers, whether they be beef or poultry, veggie or salmon.
That Useful Wine Site
Vernaccia di San Gimignano is an ancient and long-respected white-wine grape originating in the Italian town of San Gimignano, and still grown only in that vicinity. Note well that there are numerous Italian grape varieties called "Vernaccia"-Something, but the only one of interest is the "Vernaccia di San Gimignano", which is a distinct variety not related to any other Vernaccias. The grape does poorly when tried away from its home ground; the general belief is that the grape and the distinctive sandstone soils in its home area are a magical marriage of demand and supply, and it may well be so.
Despite many centuries of appreciation and fame, Vernaccia di San Gimignano was notably on the decline in the first half of the 20th century. But when the area was proclaimed by law as Italy's first official DOC, that—and its inherent superiority to the grapes that were than supplanting it—led to a return of its premier status.
This is one of those unusual cases where the name of the grape and the name of the authorized wine are the same. The named wine is often monovarietal, but can include up to 10% of other white wines. Some bottlings have been exposed to oak-barrel aging, but the use of oak is controversial: the wine has subtle flavoring, and while a kiss of oak may enhance it somewhat, the least excess of oaking will largely destroy the wine's native qualities. Indeed, even blending is frowned on by many as tending to submerge the Vernaccia distinctiveness, as it doesn't take much of other added varieties to do so.
A typical Vernaccia di San Gimignano has a gold coloration and manifest floral aroma, and tends to be full-bodied and powered by crisp acidity, with distinct minerality and citrus overetones. A frequently mentioned quality is a mild but noticeable bitter-almond after-taste (remember that Italians are fond of bitter as a taste) that adds to its interest.
Factoid: Vernaccia is mentioned by Dante (Purgatorio XXIV) as an example of Pope Martin IV's gluttony.
Some Descriptions of Vernaccia di San Gimignano Wines
"Since the Renaissance, it has been considered one of Italy's finest white wines. It was the first Italian wine to be awarded Denominazione di Origine Controllata (DOC) status in 1966; on July 9th, 1993 it was upgraded to Denominazione di Origine Controllata e Garantita (DOCG)…Due to the difficulties in cultivating the Vernaccia grape, the wine fell out of favor in the early 20th century as the more prolific Trebbiano and Malvasia grapes were planted. By the 1960s, Vernaccia di San Gimignano experienced a resurgence as its distinctive, crisp qualities established it as a popular alternative to the blander wines produced from Trebbiano and Malvasia blends…In San Gimignano, the Vernaccia grapes planted in sandstone based vineyards tend to produce the best examples of Vernaccia di San Gimignano. The wine is characteristically dry with crisp acidity and a slightly bitter finish. Most consider Vernaccia di San Gimignano to be a simple, everyday white; its popularity being owed less to what is in the glass and more to it being the local wine of San Gimigniano, one of Tuscany's most touristy towns. Despite this reputation, modern winemaking has introduced the use of oak aging to give the wine another layer of complexity and roundness. While very different from the historic style of Vernaccia di San Gimignano, the success of these more modern and international styles has not yet been established. According to DOC regulations, Vernaccia di San Gimigniano must contain 90% Vernaccia, with up to 10% other nonaromatic approved white varieties. In order to meet 'riserva' status, aging must be a minimum of twelve months, including four months in bottle."
"Despite its prominence, Vernaccia di San Gimignano does not seem to be as internationally renowned as many other prestigious Italian wines, particularly the limelight-grabbing reds. Nevertheless it is one of the most charismatic and distinctive Italian whites. It is recognized for its golden-hued color, powerful and full-bodied nature, heady floral bouquet, dry, crisp and persistent flavors, high levels of acidity and a characteristic bitter aftertaste. It also reflects its terroir, offering mineral characteristics of stone (particularly flint) from the sandstone soils where the grapes are grown. DOCG rules stipulate that this white must be made predominantly from Vernaccia grapes, although wineries are permitted to include small quantities of Sauvignon Blanc, Riesling and non-aromatic white-wine varieties permitted for use in Tuscany. The DOCG's riserva wines are made from the best grapes, and must spend at least one year aging in the cellar, either in stainless steel or oak, as well as a further period of four months in bottle before release."
"The [soil] in this area is filled with fossils and therefore is composed of pliocene soil and clay – shells and remnants of the ancient of the Ligurian sea which lapped up against the peaks in Tuscany. The mineral composition give the wine its charactistically dry taste with crisp acidity and a slightly bitter finish. The color will range from pale straw yellow, tending to golden with aging."
"Vernaccia di San Gimignano has a pale straw yellow color which goes to golden with the aging; fine, penetrating and characteristic aroma; dry, harmonious, with a characteristic bitter aftertaste. The minimum alcohol content is 11º (11.5% for the Reserve, after minimum mandatory aging of one year from January the 1st of the year following the year of harvest and last four months of aging into the bottle)."
"There are compelling reasons to learn about this wine. It's versatile, ranging from a light crisp invigorating white ideal for summery fare to a Riserva style that has more body and oomph that makes it a good choice for more intensely flavored dishes…Vernaccia is well suited to the unusual—for Tuscany—well-drained sandy clay soil, which probably explains why the grape thrives in San Gimignano and nowhere else…Vernaccia di San Gimignano has a range of styles, which is both a blessing and a curse because while it gives consumers choices, it also has the potential to confuse them. But, to put the range into perspective, it is no broader than the spectrum of Chardonnay that extends from unoaked and lean (Chablis-like) to opulent and rich (think Meursault). The vast majority of Vernaccia di San Gimignano wines seen in the U.S. convey vibrancy with crispness and energy from mouth cleansing acidity. There's often a subtle citrus or nutty nuance in the finish. At the other end of the spectrum are the Vernaccia di San Gimignano that have been aged in oak barrels and have a rounder, more full-bodied profile. Fortunately for the consumer, the wood-aged ones are easy to identify since they are almost always labeled Riserva."
"[Noted Italian-wine expert Ian] D'Agata wisely cautions that one should not expect mind-blowing intensity from vernaccia di San Gimignano. Like most indigenous Italian whites, it tends to whisper, particularly in its most familiar, unoaked style. Zippy and lean, unoaked examples tend to be redolent of citrus and, more intriguingly, a heady floral quality along with bitter herbs and almond, perfect for lighter fare, particularly seafood. Some producers have had compelling results with barrel maturation, which can impart suggestions of vanilla and spice. But they walk a fine line, because vernaccia is easily robbed of its delicate essence when wood takes charge."
"As a crisp and youthful white, it's most likely to be completely fermented and aged in stainless steel tanks for release sometime during the following year. As a Riserva, there's a minimum of 11 months ageing (usually in oak/wooden vats) from January 1st of the year following the harvest plus 3 months bottle ageing before release. Patience and an intelligent hand are needed not to overdue the wood. Got to keep it real."
"[S]ome estates will produce a top quality wine one year and one would expect this to be repeated with consistency in the following years. Were this the case, then a positive message would be sent, one of a stylistic maturity. However, this often does not happen with disastrous effects not only for the estate but the appellation in general…There is then another small problem regarding the Reserve wines. The latest vintage is 2017 and again it suffers from the 'wood syndrome'. While I am not against the use of wood, it is important that it be used wisely otherwise the attack of the mouthfeel is too sweet-vanilla and the finish is flat due to a lack of acidity and too much alcohol that creates a boomerang of boredom."
"The typical characteristics of vernaccia include being a lighter to medium style wine that is dry, crisp, perfumed and floraly with notes of almond and citrus. Producers in the area will typically add some other grapes including chardonnay or vermentino to add more complexity and beef up the wine. For those of you that are big on regulations, to qualify as a Vernaccia di San Gimignano DOCG, the Italian law requires the wine to be made of at least 85% vernaccia with the allowance of 15% of other grapes. A Vernaccia di San Gimignano Riserva must age at least 11 months plus an additional 3 months in the bottle before release. Plus, the wines must be produced within the area of San Gimignano as well."
Some Vernaccia di San Gimignanos to Try
We have included one wine that is not technically a "Vernaccia di San Gimignano" because the blend grapes amount to 20% of the wine; if that seems too far from a varietal specimen, we included a fifth true San Gimignano bottling.
Montenidoli — Vernaccia di San Gimignano Tradizionale 2019 (750ml)
We currently only have 0 bottles of the wine you've selected in stock. We receive new deliveries daily and can often acquire additional bottles on request. Please call us at 703.356.6500 or email us at wineteam@cbcwine.com to learn whether/when we can supply all the bottles you would like. Your quantity below has been reset to the number of bottles on hand at this time.
| | |
| --- | --- |
| Producer | Montenidoli |
| Country | Italy |
| Region | Tuscany |
| Varietal | Vernaccia |
| Vintage | 2019 |
| Sku | 00807 |
| Size | 750ml |
Organic/Bio One of the benchmark whites of Italy takes the light, crisp, easy-drinking white of Italy's first white wine DOCG and turns it into something very serious and special indeed by going back to the style of wine that earned Vernaccia di San Gimignano its award as Italy's first white wine DOC (now DOCG). The legendary Elisabetta Fagiuoli takes her best, organically grown, high-altitude, Vernaccia and allows it to start fermentation on the skins before the free-run juice finishes in concrete tank. The skin contact and no-sulfur approach (other than a tiny bit at bottling) means this has a darker, golden, color – once so prized that low-end producers added caramel to their wine to get the same effect.
It's explosively and wildly scented, showing aromas of clove, lemon, lily, smoke and wild herbs. On the palate it's richly textured without apparent weight, delivering a shifting kaleidoscope of flavors: peach, yellow apple, wildflower honey, sweet lemon, chalk, summer flowers, toasted almonds and more. The lightly grippy finish — from skin tannin and a deeply stony minerality — and concluding squirt of lemon lift and sustains a long, long, finish. There's lots of fruit here, but the wine is decisively not «about» fruit, but something more complex and fascinating. A perfect match for fresh crudo, fresh fish sauteed in butter, or seafood and vegetables kissed with a bit of smoke from the grill.
Decanter: 97 Points
«The Vernaccia grape has been documented in San Gimignano since 1276, while the Montenidoli estate appeared in a 1404 will. Elisabetta Fagiuoli and her late husband, Sergio Muratori planted the then abandoned Montenidoli with vines from 1965. Red grapes are grown on Triassic clays (very rare in Tuscany), the Vernaccia on younger, well drained calcareous ground. The Vernaccia is made like a red, a waning local tradition, with short skin contact before pressing and fermenting leaving deeply textured yellow fruit with staying power and an unmistakable tang.»